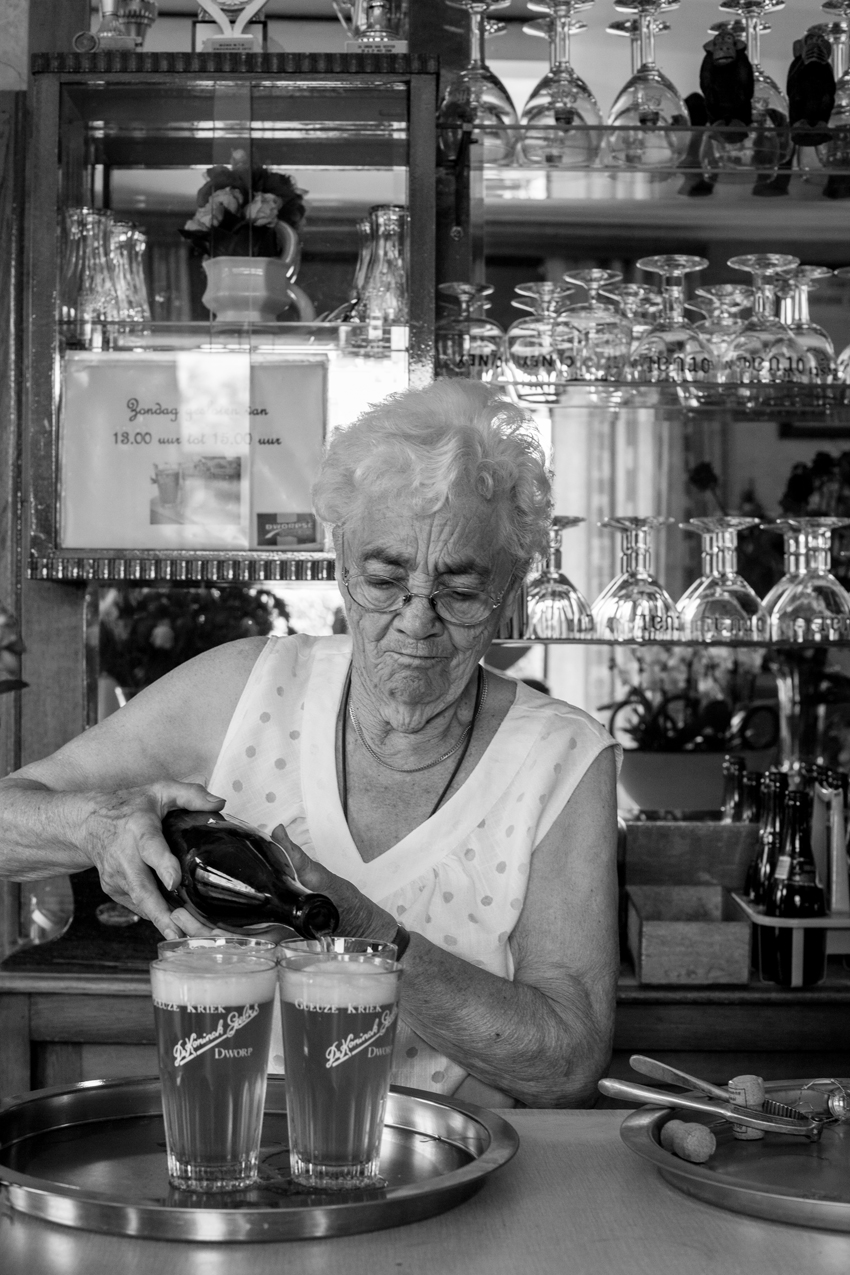 Scroll down for English
8 december 2017 stierf Leza.
Leza was 66 jaar de kranige cafébazin van In de Welkom in Dworp. Haar echte naam was eigenlijk Barbara, maar iedereen noemde haar met veel genegenheid Leza. Het café was 110 jaar in de familie: de grootouders van haar reeds overleden echtgenoot, Michel Wouters, kochten het in 1906. 
Michel was niet alleen cafébaas, hij was ook de laatste burgemeester van Dworp; vandaar dat het café soms ook 'Bij den burgemeester' wordt genoemd.
Als Michel burgemeester was dan maakte dat Leza de 'first lady' van Dworp, en dat was zij zonder twijfel.
Toen ik Leza voor het eerst ontmoette om haar verhaal vast te leggen voor mijn boek was ze net 90 geworden. Haar geliefde café stond overvol bloemen en enkele dagen ervoor werd ze in een oldtimer met open dak rondgereden in haar Dworp, begeleid door de zestig 'Dworpse Bikers' die elke zondag in haar cafeetje samenkwamen.
Maar Leza was ook bekend buiten de dorpsgrenzen van Dworp. Bierkenners en café toeristen kenden haar voor haar formidabele geuze schenkkunst. Leza kon wel vier glazen geuze tegelijk uitschenken en deed dit met grote concentratie. Vervolgens bracht zij nog zelf iedereen zijn bier op haar kleine sloefkes.
Toen Leza als kind over de vloer kwam 'In de Welkom' had ze nooit gedacht dat ze er ooit zou wonen maar nu zoveel jaren later vond zij het ondenkbaar om haar café achter te laten. Zolang haar hoofd er nog bij was zou ze blijven café openhouden.
Op 8 december verliet haar hart het café en was Leza niet meer.
Hoe het verder moet met haar geliefde 'In de Welkom' dat weet ik niet. Dat wist Leza ook niet.
Ik kan enkel maar hopen dat dit iconische café nog jaren openblijft zodat er nog lang kan verteld worden over Leza tussen pot en pint.
Voor de vele jonge stamgasten was Leza een grootmoeder, voor de anderen een dierbare vriendin. Nooit zal er nog een vrouw bestaan in Dworp die zo geliefd was als zij.
Slaapwel lieve Leza. Slaapwel Barbara.
<<<
EN
For 66 years Leza was the formidable landlady of café 'In de Welkom' in Dworp. Her real name was Barara, but everyone lovingly called her Leza. The café had been in the family for 110 years:
the grandparents of her late husband, Michel Wouters, the last mayor of Dworp, bought the café in 1906. That's why the café is also nicknamed 'At the Mayor's'. 
As Michel was the mayor than Leza definitely was the first lady of the village.

 
When I met Leza to write down her story for my book she had just turned 90 years old. Her café was packed with flowers and a few days before she was driven around the village in an open top oldtimer accompanied by the sixty 'Dworpse Bikers' who congregated in her café every sunday.
Leza was also famous outside village borders of Dworp. Beerlovers and café tourists knew her for her excellent beer pouring skills. Leza was able to pour four pints of geuze beer at the same time and did this with the concentration of an eagle. With her 91 years she still served her customers at their table, taking small steps in her little slippers.
When Leza visited 'In de Welkom' as a child, she never thought she would ever live there but years later she could not imagine herself anywhere else. As long as she could she would open the doors to her café.
On 8 december the doors closed and Leza was no longer.
What will happen to her precious 'In de Welkom' I do not know. Leza didn't know this either before she passed. I can only hope that this iconic café will remain open for decades to come so that Leza can live on in the stories that are told.
For the many young customers Leza was a grandmother, for the others she was a dear friend. Never has there been a woman in Dworp who was loved more than Leza was. 
Sleep well Leza. Sleep well Barbara.