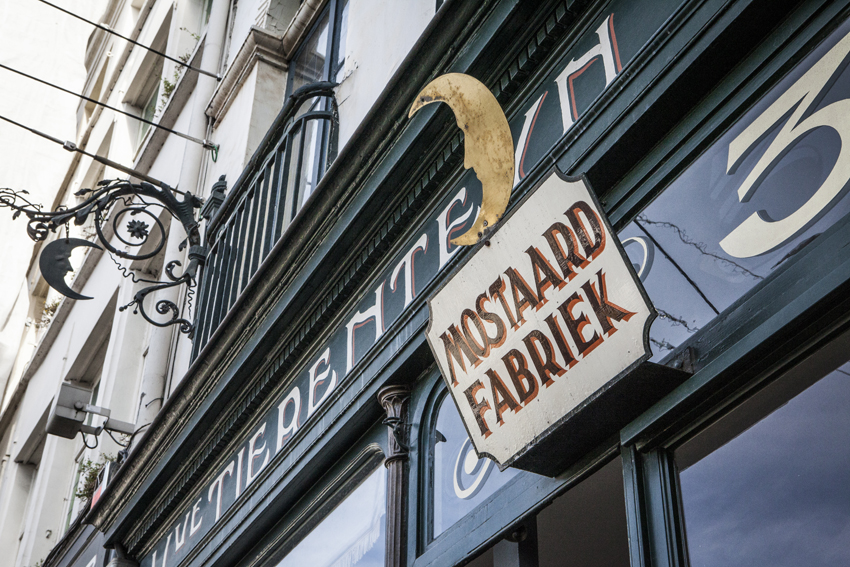 Nearly everyone I know abroad who visited Belgium tells me they only went to Bruges… Such a shame! I usually exclaim because Ghent is just as beautiful! Don't get me wrong, I love Bruges but Ghent is Bruges rock'n'roll sister, the badass of the family, full of subcultures, underground music scenes and home to 'Vooruit' one of the most incredible music halls located in an old socialist arts centre – the place where I saw my first show at 16. On top of that, Ghent has all Bruges has to offer architecture-wise minus the annoying hordes of tourists and unimaginative souvenirs shops selling lace from anywhere but Flanders.
Ghent is constantly reinventing itself, people are friendly and the atmosphere is relaxed. You can have a good glass of Belgian beer on nearly every street corner but the last few years exciting new places have been opening all over the town. Ghent has been reputed being the vegetarian capital of Europe and that is something I had to be told by a friend who is vegan and visited Ghent a few months ago.
Ghent has been our nearest town for the last 12 years and with our move a few months ago we hardly ever visited because life has just been to busy and we no longer live a 20 minute drive away. But I find I look at Ghent with different eyes now when we do manage to carve out some time to travel there. We no longer pop over for lunch at our favourite Italian (Trattoria Della Mamma), but venture further into the city to try other things, stay longer to have dessert or afternoon tea (Huset), or an ice cold glass of Belgian style.
If shopping is what you are after, Ghent has it all. You have your highstreet chains in de Veldstraat but if small independent shops is your thing – it sure is for me – you have an array of little shops dotted around town.
If you saved all your pennies for the train fare and have not much extra to spend, fear not. On a budget Ghent is still as appealing as if you've got an envelope of cash in your purse. Walks around town are of course free and beautiful and a traditional meal of Flemish fries in a paper cone is romantic as well as cheap. Ghent has something for everyone.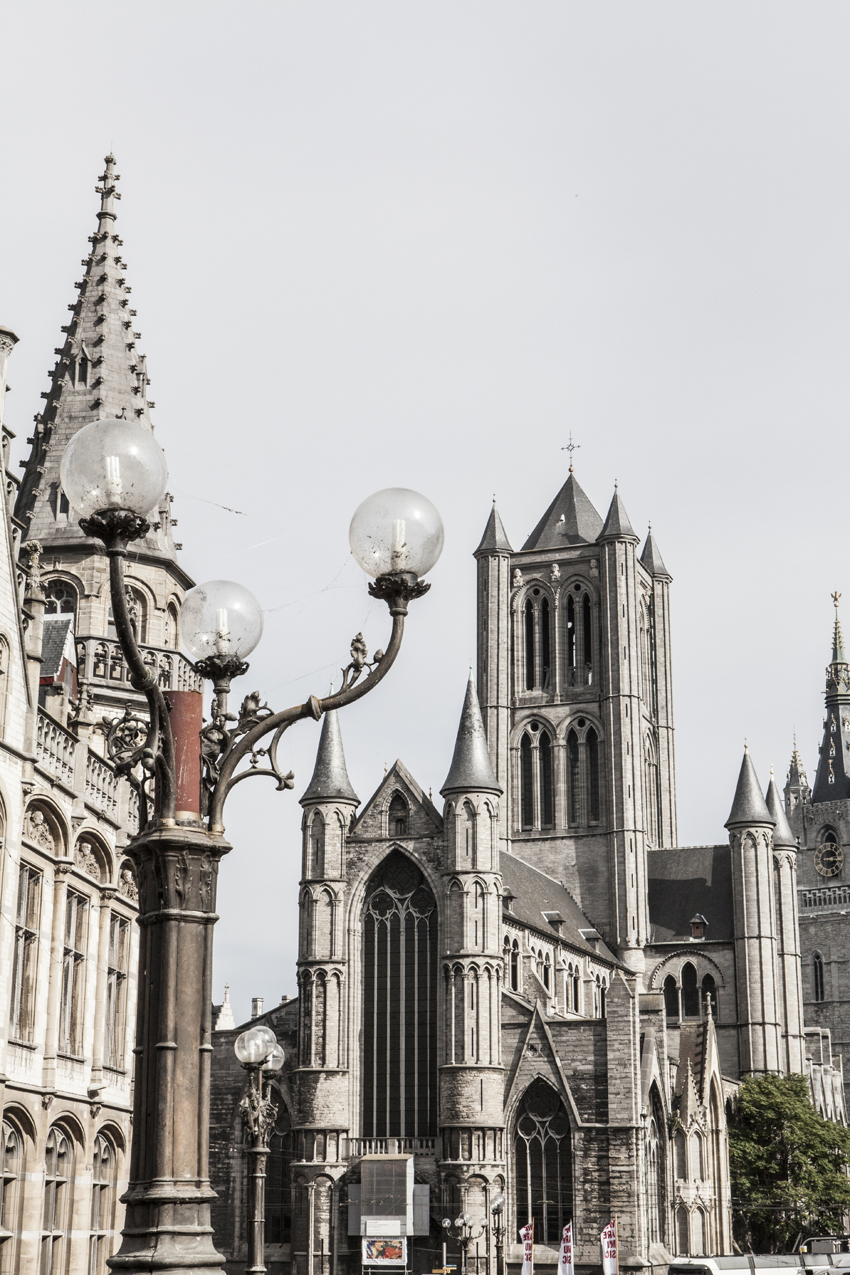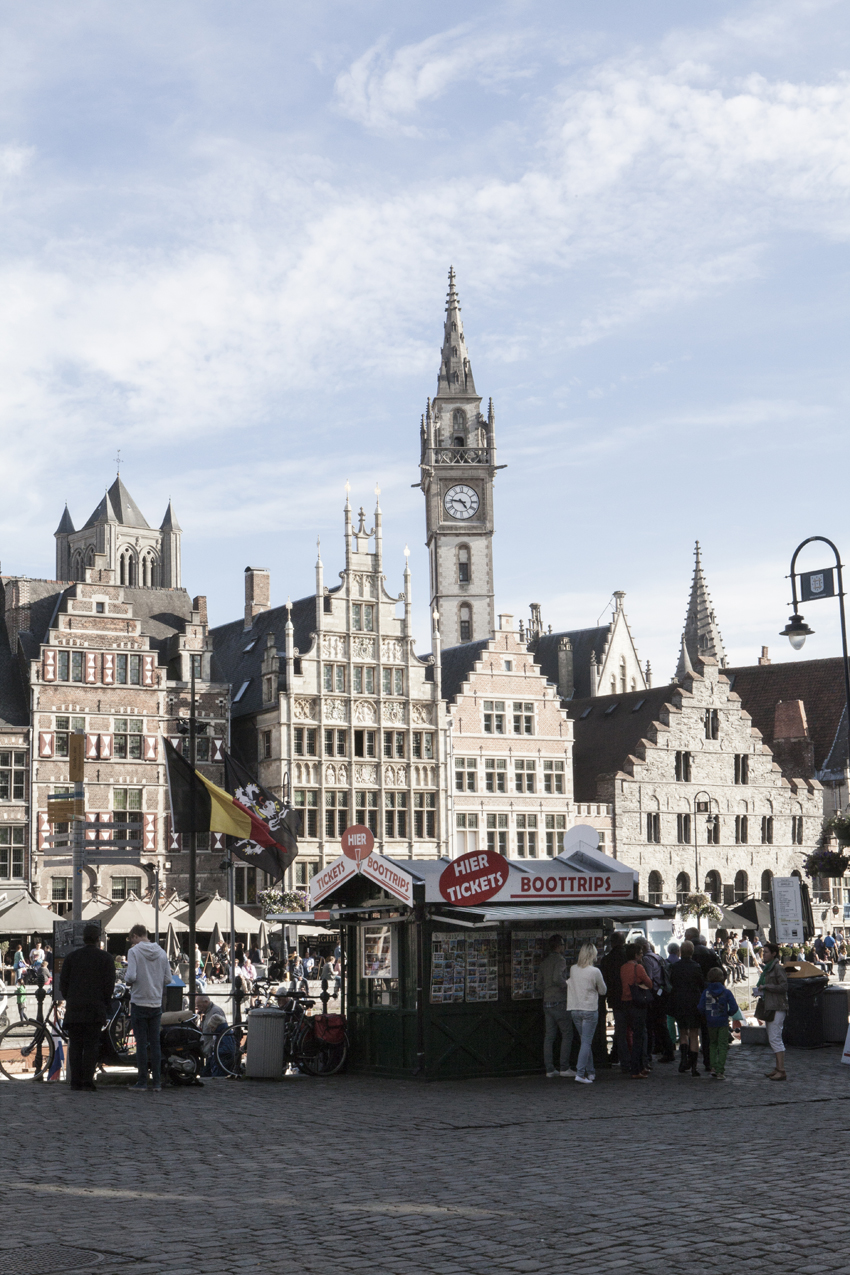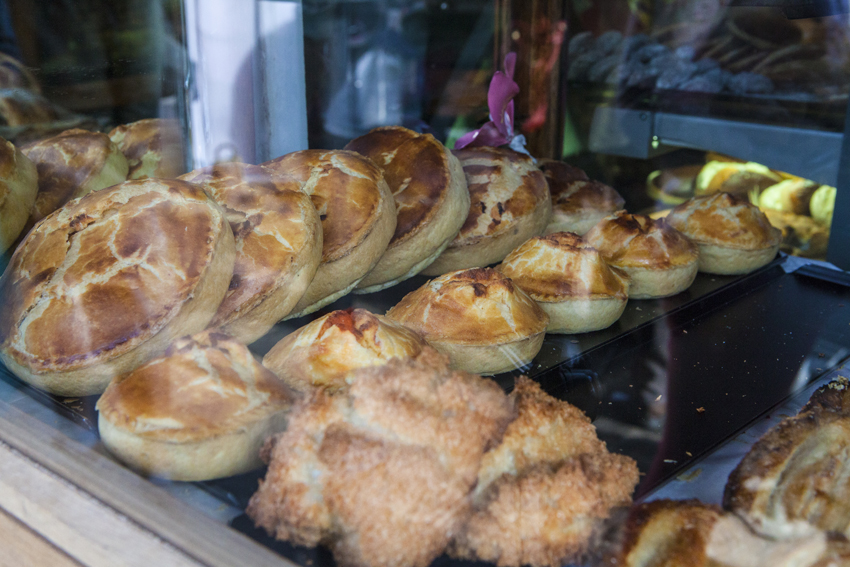 Let me share with you my favourite addresses to make your trip the best it can be. And if you're visiting around this time, Ghent has a shopping on sunday (shops are usually closed on sundays) and next week there is a folk festival in the Patershol quarter (Patershol feesten). This borough is called 'Coté Culture' this summer and there are great restaurants, traditional, ethnical and hipster. I love the shops here like Louise & Madeleine for gifts, jewellery and pottery, Maaike kleedt for fashion and an old fashioned wallpaper shop you just have to go and see to be transported back in time.
These shops are all situated on or just off the Kraanlei, a beautiful street by the water where you just have to have a walk even if you don't feel like shopping. There are plenty of places to keep you watered from tea (Julie's House), coffee (Jetje) to the more stronger stuff.
For shopping (excluding highstreet chains)
I love shops where you can find unique or home made things, these are shops selling those things and if you have prop shopping in mind, some of these will be great for you.
Dille & Kamille (baskets, crockery and props, a larger chain but I still love the fact they sell smaller brands like Doves farm organic products, and did I tell you about the baskets??)
Hoornstraat
Louise & Madeleine
Kraanlei (a very nice street by the water with a few nice places to have a drink and eat)
Maaike Kleedt (fashion)
Kraanlei
Confiserie Temmerman (old fashioned sweet shop, great facade)
Kraanlei
Behangwinkel Priem (vintage wallpaper, this store has been here for decades)
Zuivelbrugstraat
Piet Moodshop
Sint Pieternieuwstraat
Seventy One (Vintage revival shopping)
Brabantdam
Het Paard van Troye (large selection of cookbooks and a café)
Kouter
Mokabon (old fashioned retro coffee place from the 1930's)
Donkersteeg
Tierenteyn -Verlent Mustard shop (mustard, pickles and other delicious preserves, a must visit for the old shop interior)
Groentenmarkt
Himschoot Bakery (where you can find traditional local pastries like mastel breads and mattetaart)
Groentenmarkt

Tratoria Della Mamma (Italian take-away)
Sint Pieternieuwstraat
Traditional Cuberdon sweets (purple cones, tastes like violet)
At various stalls in the town
Cheese shop
Donkersteeg
Cheese Mekka
Koestraat
Hinkelspel (Organic cheese maker, love the fenugreek one)
Ferdinand Lousbergskaai 33
Het Lepelblad (sustainable food, great place, great wine and beer)
Onderbergen
De parkiet
Kraanlei
Boon (Vegetarian)
Veerleplein
Komkommertijd (Vegetarian)
Reep
Le petit Botanique (all produce from city farms in Ghent)
Kammerstraat
Eetkaffee De Lieve (Old fashioned Belgian)
Sint-Margrietstraat 

Aroy Aroy (Fusion)
Lang Steenstraat
Trattoria Della Mamma (Traditional Italian, just for lunch)
Sint Pieternieuwstraat 36
Huset (breakfast, afternoon tea, coffee and cake, beautiful location)
Hoogstraat
Eat Love Pizza (organic, made with love!)
Ajuinlei
Superette (sourdough bread and pizzas, modern cuisine)
Guldensporenstraat
Simon Says (Great lunch spot)
Sluizeken
San (Bowl food, very elegant)
Brabantdam
Roots (imaginative cuisine)
Karel De Stoute (upmarket cuisine)
Bocca Di Lupo (Italian)
De Brouwbar (Brewbar)
Oudburg
Gruut City Brewery (brewery with pub and guided tour)
Rembert Dodoensdreef
Jazz cafe Otis
Oudburg
Jiggers' cocktail bar (for perfect cocktails)
Oudburg
Dulle Griet (beer café)
Vrijdagmarkt
Het Waterhuis aan de Bierkant (beer café)
Groentenmarkt
Dreupelkot (Jenever)
Groentenmarkt
Trapistenhuis (beer)
Brabantdam
Het Véloke (as seen in my book Belgian Café Culture, a very-very unique place run by hoarder Lieven, go there at your own risk, you'll see what I mean)
Coffee and cake, or just coffee or tea or afternoon tea
Mokabon (old fashioned coffee place from the 1930's, a must go even if you don't drink coffee)
Donkersteeg
Huset (beautiful location, great cakes!)
Hoogstraat
Simon Says
Sluizeken
Julie's House (afternoon tea, tea and coffee)
Kraanlei
Jetje
Kraanlei
Madame Bakster
Brabantdam
Sint-Baafskathedraal (cathedral with exhibition)
http://www.sintbaafskathedraal.be/
Gravensteen (Ghent's beautiful castle in the middle of town)
https://gravensteen.stad.gent/en
S.M.A.K (museum for temporary art)
Jan Hoetplein
Weekly market on Friday
Vrijdagmarkt
Organic market on Friday
Groentenmarkt
Organic market on Sunday
Sint-Pieters Railway station