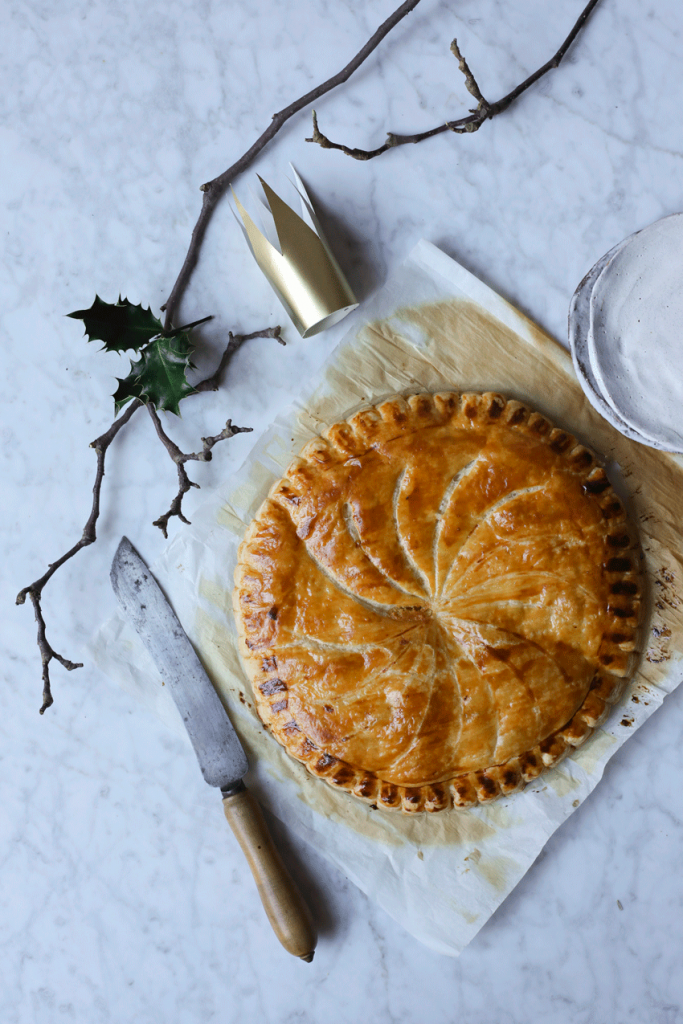 I hope you all had a wonderful Christmas if you celebrated it, and I wish you a smashing new year! There are lots of exciting things to come of which I will tell you more very soon but until then…
Since in the previous years I told you about English Epiphany or Twelfth Day celebrations, I thought I'd share the tradition of my side of the English channel with you today.
Like the Twelfth cake of which I wrote two years ago (see the post here), in my region we also have a cake, or tart with a hidden bean, coin or trinket.
It is called a 'Three Kings Tart' or 'Driekoningentaart', a puff pastry pie filled with the most satisfying almond filling which is when made well – addictive. If you find the bean or trinket in your piece of tart you are king for the day and the crown is all yours. To my regret I never found a bean in my piece of tart until two years ago. Oh the disappointment when I was a little girl, the frustration that it was always one of the adults who got the crown! I mean, they should have hidden it in my piece, shouldn't they?? Traditionally the children would go out to sing from door to door for sweets and money, dressed up like the three kings.
We sadly haven't got a traditional drink like the Lambswool (see that post here) which comes with the beautiful tradition of 'wassailing' which means to feast and run around the orchards to chase away evil spirits and wake up the trees.
I can't tell you how much I adore this tart and the sight of bakery shop windows filled with 'Galette Des Rois' all topped with a festive golden paper crown. It reminds me of the stories I read about children gathering outside the bakery's shop window to see the magnificent Twelfth Cakes over a century ago. The seasonal bakes that appear in bakeries always make my heart skip a beat. I walk passed Antwerp's oldest bakery just to see the window display: the large speculoos figurines around Saint Nickolas, the chocolate eggs around Easter, the prune tarts when it's Ash Wednesday and these terrific 'Three Kings Tarts' which the French and our French speaking Belgians call 'Galette Des Rois'. In France the tarts are also known as Pithiviers, named after the town in the Loiret in the south of Paris, where they allegedly originated from….