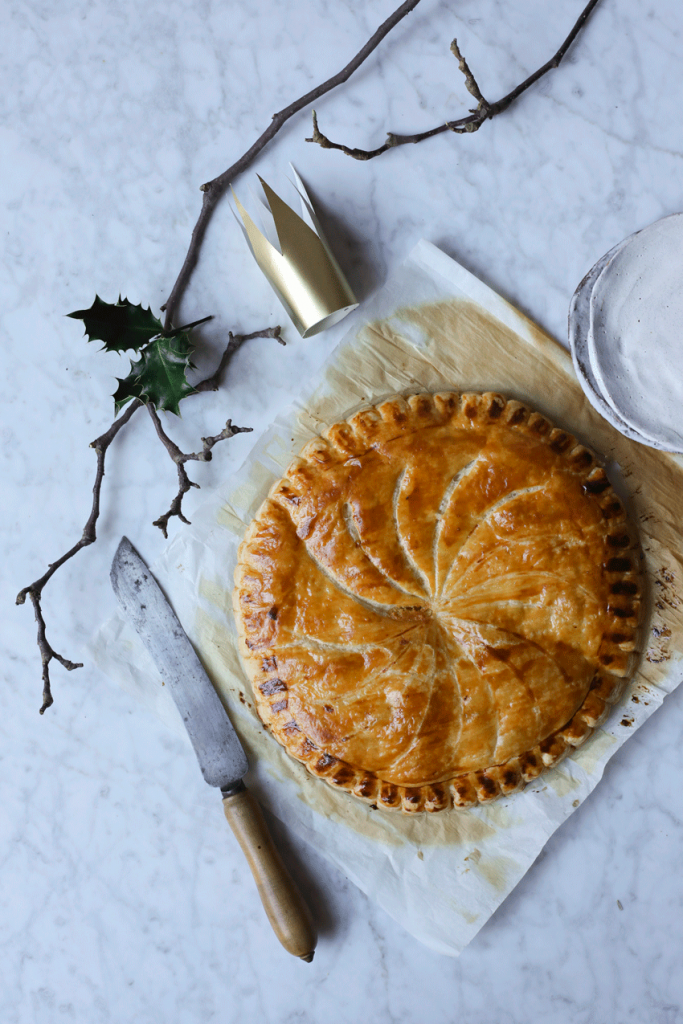 I hope you all had a wonderful Christmas if you celebrated it, and I wish you a smashing new year! There are lots of exciting things to come of which I will tell you more very soon but until then…
Since in the previous years I told you about English Epiphany or Twelfth Day celebrations, I thought I'd share the tradition of my side of the English channel with you today.
Like the Twelfth cake of which I wrote two years ago (see the post here), in my region we also have a cake, or tart with a hidden bean, coin or trinket.
It is called a 'Three Kings Tart' or 'Driekoningentaart', a puff pastry pie filled with the most satisfying almond filling which is when made well – addictive. If you find the bean or trinket in your piece of tart you are king for the day and the crown is all yours. To my regret I never found a bean in my piece of tart until two years ago. Oh the disappointment when I was a little girl, the frustration that it was always one of the adults who got the crown! I mean, they should have hidden it in my piece, shouldn't they?? Traditionally the children would go out to sing from door to door for sweets and money, dressed up like the three kings.
We sadly haven't got a traditional drink like the Lambswool (see that post here) which comes with the beautiful tradition of 'wassailing' which means to feast and run around the orchards to chase away evil spirits and wake up the trees.
I can't tell you how much I adore this tart and the sight of bakery shop windows filled with 'Galette Des Rois' all topped with a festive golden paper crown. It reminds me of the stories I read about children gathering outside the bakery's shop window to see the magnificent Twelfth Cakes over a century ago. The seasonal bakes that appear in bakeries always make my heart skip a beat. I walk passed Antwerp's oldest bakery just to see the window display: the large speculoos figurines around Saint Nickolas, the chocolate eggs around Easter, the prune tarts when it's Ash Wednesday and these terrific 'Three Kings Tarts' which the French and our French speaking Belgians call 'Galette Des Rois'. In France the tarts are also known as Pithiviers, named after the town in the Loiret in the south of Paris, where they allegedly originated from.
This day we celebrate the arrival of the Three Wise Men, Three Kings or the 'Magi' visiting the newborn Jesus bearing gifts of gold, frankincense and myrrh. With this occasion the celebrational 12 days of Christmas conclude. Although in Belgium and mostly around Antwerp we have an extra food celebration on monday which is called 'lost monday' (lundi perdu or verloren maanday). On this day you eat puff pastry sausage breads (rolls) and apple balls (apples wrapped in puff pastry). There are many explanations about why these items are eaten on the first monday after 'Driekoningen' (Three Kings day). Some say this was the day the dock workers went back to work and were treated to a pint in the cafés by the docks by their foremen or employers. The café landlords would serve spicy sausage rolls so the workers would drink more beer, earning them a fair penny. The sausage rolls would not cost the café landlord much because he would buy meat that could not be sold for whatever reason, and the pastry would be made from cheap ingredients, some say also old. Probably leftover from christmas and therefore unsaleable. This theory sounds very possible since the tradition remained strong in Antwerp where we have the port and a a lot – although fading rapidly – dockworkers cafés (pubs). Because the workers were treated to a pint and wouldn't go back to work afterwards, the day was considered 'lost', therefore 'lost monday'. Another theory is that 'lost monday' actually was the day when some city officials took their oath, calling it 'oath monday' or 'verzworen maandag, lundi parjuré. In this case it also means that this was a lost day, a day on which there wasn't any work done.
After 'Lost monday' I already start looking forward to the next food celebration, 'lichtmis' or 'candlemass' short for this mouthfull: 'Feast of the Purification of the Blessed Virgin Mary and Feast of the Presentation of our Lord Jesus'. This catholic feast with pagan roots is celebrated on the 2nd of februari and this when we eat pancakes. The saying goes "On Candlemass no woman is too poor to heat her pan" – obviously it sounds better in Flemish (Er is geen vrouwtje nog zo arm, of ze maakt haar pannetje warm) and although you think it means that even though people didn't have much, they would still bake pancakes. Funnily enough the reference to the hot pan in old Flemish has sexual connotations. So maybe this was considered the day abstinence ended, or there was no abstinence – who knows! Something to look into, more old books to buy.
So lets look at this 'Three Kings Tart' and how you can make one yourself. May recipes suggest using almond essence, but if you know me a little you will know that if I can sneak apricot kernels into something – I will. Plus I hate artificial flavourings, I want the real deal because it is so much better. But if you can't find apricot kernels (check organic shops, mostly online) you are allowed to use almond essence, but use a natural one – and organic if you can find it. I like Steenbergs but I'm in no way connected to them, I just like what they produce.
I prefer my tart thin, but if you want a thicker one, just double the measurements below except for the rosewater.
100 g of ground blanched almonds
15 g apricot kernels, blanched
1 tsp of rosewater
100 g of soft (not runny) farmhouse butter (get the good stuff), cubed roughly
90 g of golden cane sugar
2 eggs
1 whole almond, bean or coin
1 egg yolk and 1 tsp of milk for eggwashing
2 sheets of puff pastry (or make it!)
Method
Place your ground almonds into the bowl of your food processor – knife in place. Crush the apricot kernels in a mortar adding the rosewater as soon as they start to release their oil (or chuck it in whenever it will work, don't worry too much). Make sure you don't have too many big bits, its very bitter. Put with the ground almonds.
Place the butter in the food processor and pulse 4 times, then add the sugar and finally the eggs one by one. Pulse until smooth. Now I like to let that mixture rest for about 10 to 20 minutes, especially when you are using store bought ground almonds (you did, didn't you?) which have dried out most probably. Don't put it too warm, but also definitely not in the fridge. That said, the mixture should not be too runny either, so if your butter was too soft, do put it in the fridge for a few minutes.
Preheat your oven to 180°C
Roll out the first sheet of puff pastry and spread the filling on top about 1 cm thick. Brush water around the edge to put the lid in place, place the next pastry sheet on top and cut around the filling leaving an edge of about 3 cm (see pictures) . Now crimp the edges with a sharp knife and your finger (careful there). Hide your bean, almond or coin in the filling.
Generously eggwash the pastry and then cut in a design.
Place in the middle of the preheated oven on a heated baking sheet, for 30-40 minutes.
Make sure the child at the table gets the bloody bean!
Until next time
x
Regula