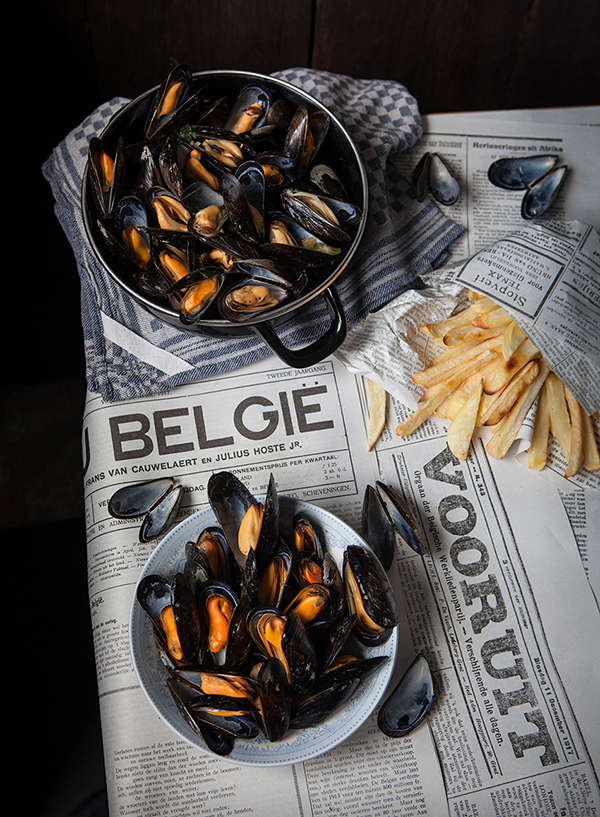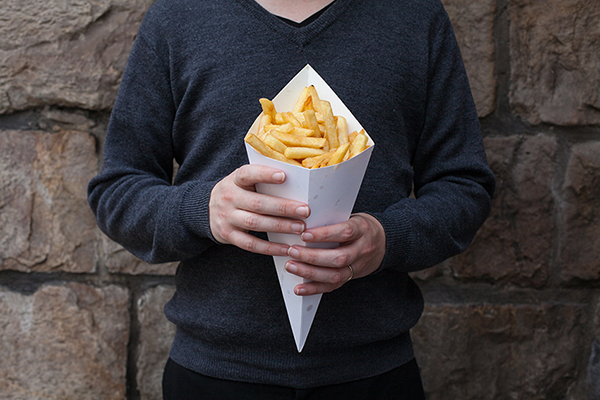 Today we take a stand, for real food, for life and for family.
…
As Jamie says in his article for the Huffington Post, "Food Revolution Day is an opportunity for everyone around the world to
do something. The Food Revolution and Food Revolution Day is about
empowering people through education or, frankly, just inspiring people
to be more street-wise about food, where it comes from and how it
affects their bodies. If you know how to cook you can save yourself
money, feel better and live longer, and the chances are, your kids will
follow suit. After all, we all kind of become our parents in the end."
People tend to see Jamie as that cheeky guy from Essex, the naked chef. What a lot of folks don't realize is the fact that he actually uses his 'celebrity chef' status to do good, to make a change. In 2005 he declared war to the unhealthy British school dinners, in 2010 he took the fight to Amerika. He has built kitchens all over Britain with his Ministry of Food, to learn people how to cook so they can teach others to do so as well. He is passionate about food and people's relationship with food.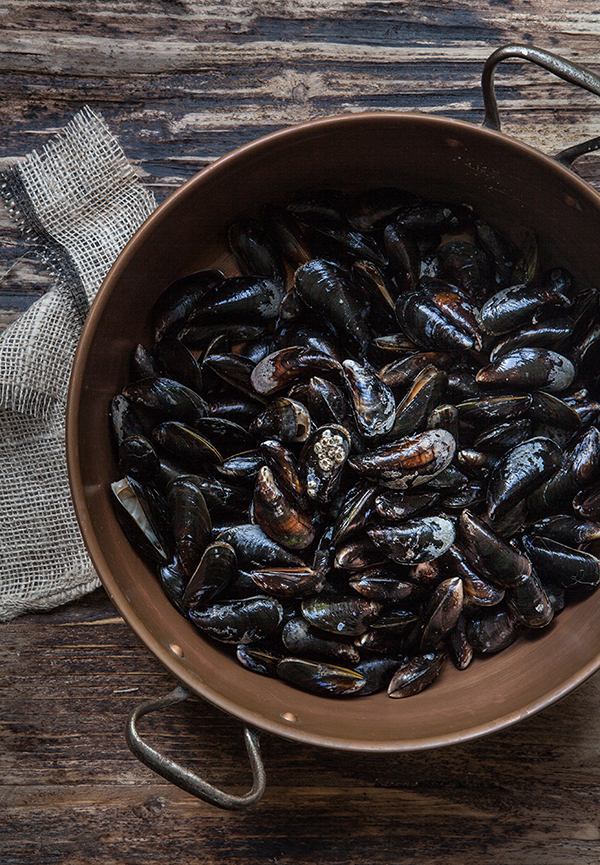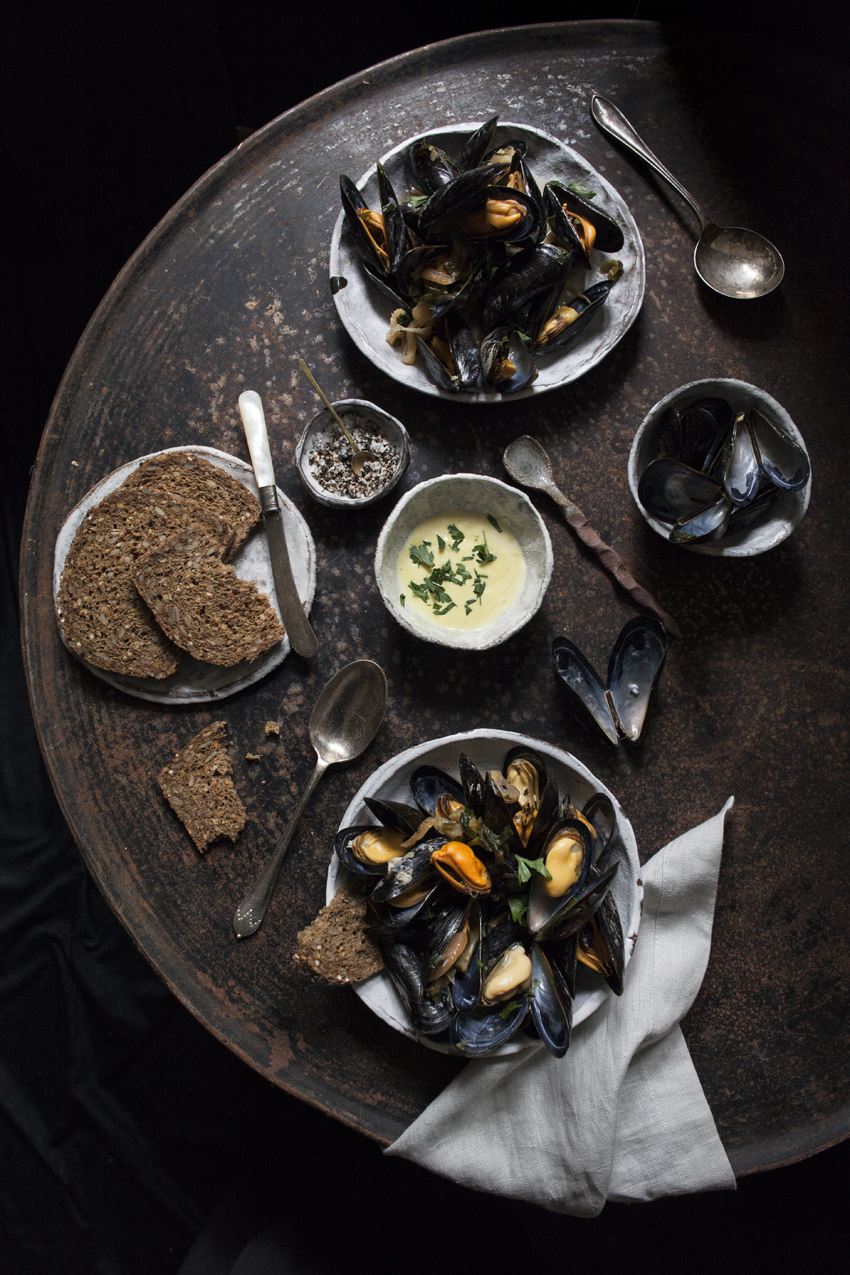 Today on 19 May, Food Revolution Day will happen in kitchens, homes and communities around the world.
In my case
Food Revolution Day
will start on my blog and the blogs of a few other lovely Ladies from all over the globe.
We are friends
who have one big thing in common; our love for food –
real food
. So we found it very important to get involved. As we live in various places around the world and we couldn't sadly be together for this day, we
are having a '
virtual Potluck
' dinner, this is where
every guest brings a dish
she or he made to the table. We are
all
preparing local sustainable food
, in the hope to inspire others to
cook
on this day. The dishes will be easy to cook and
no processed food
is allowed.We can't be together today ladies, but we are closer together than some people will ever be. Have a wonderful Food Revolution Day!
Take a look at our delicious menu
…………………………………………………………………….
Nibbles
by Karin from 'Yum&More' in Germany originally from the USA
Panzanella
by Giulia from 'Jul's kitchen' in Italy
Mussels with real Belgian fries by Regula from 'Foodwise' in Belgium
Vanilla honey rhubarb galette by Zita from 'Zizi's adventures' in Hungary
Rhubarb Panna Cota by Sarka from 'Cook your dream', England-originally from Czech Republic
……………………………………………………………………………
I am preparing Moules et frites, Mussels with real Belgian fries.
Did you know mussels are an eco-friendly, sustainable seafood choice?
Like oysters and clams, mussels actually clean the water they're grown in.
They have no impact on the water because they don't require treatment against disease.
Mussels are also high in protein, zinc, vitamin C, Iron and omega-3 so they are a healthy food choice.It has been said for hundreds of years that mussels are in season in each month that has an 'R' in it, but this is an old tale that originated from a time when there was no cooled transport. The fishermen couldn't get the mussels live and well to their destination.
Now the season runs from July until april for the 'Zeeuwse' mussels, so I was very lucky to get the last of the catch.
I live just a 15 minute drive from Zeeland, where the 'Zeeuwse' mussel happily lives and thrives in the protected waters from the River Schelde.We are going to bake the Belgian fries in the traditional way using 'Beef tallow' for frying. The real 'Frit kot' (chip shops) in Belgium still uses this Beef tallow -rendered beef fat- and swear by it because it is actually healthier than the vegetable oil that is been used in a lot of places these days.
Beef tallow is highly resistant
to rancidity and much more resistant to high temperatures than the
vegetable oil. To be safe to eat you can only use the vegetable oil once
but due to its higher price a lot of places use it twice or more,
leaving the customer often with stomach and intestinal pains. Also in flavour, the vegetable oil can't compete with the beef tallow and as for sustainability… beef tallow also wins because its a by-product!
So if you want to start eating from nose to tail, beef tallow is the way to go. Just ask your local butcher and I'm sure he'll be happy to oblige.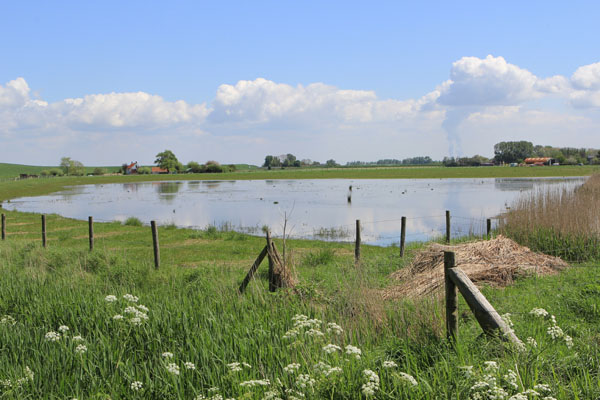 Zeeland
What do you need (serves 1 as a main and 6 as a starter)
• 1 kg live mussels
• 1 leek
• 2 stalks of cellery
• 1 small carrot
• 1 medium sized onion
• 25 cl water (or white wine)
• Seasalt and pepperFor the Real Belgian Fries
• 1 kg potatoes, you need a good starchy potato like Bintjes and Berkeley Bowl
• 'beef tallow' for frying, very important to get the real 'frites' (ask your butcherfor it)
• SeasaltMethod
The mussels
Select mussels that are tightly closed or that close when you tap them.
Discard the ones with cracked shells.
Use you nose, they should smell clean and salty, like the sea.
Rinse them under running water and don't be too gentle because you want all the sand to come out.
Remove the beards, clean the shells if you need to.
Cut your vegetables in small dices and put aside.
The 'frites'You have 3 kinds of frites:
the '
allumettes
' (0,5cm), the '
mignonettes
' (0,7cm) and the '
pont-neuf
' (1,5-2cm).
The 'mignonettes' is the one you want for this dish and also the most common.We have to bake the fries
twice
to get the result we want.
If you are using a Frying pan, add the beef tallow to the fryer and set your thermometer to 150°. It's very important to use the right temperature!Peel you potatoes and rinse them.
Cut you potatoes into +/- 0,7 cm discs, don't be too fussy about the size but do try to keep them all around the same size so they bake evenly.
Then cut the discs into fries.
Dry the fries with a tea towel.If you fat has reached the right temperature, add the fries and fry slightly golden in small batches. (see image below)
Dry them with kitchen paper and leave them on a tray to cool.
You can leave them until the rest of your food is ready and fry them a second time just before serving.
Now back to the mussels
Add the diced vegetables to a large pot to hold all the mussels, sweat the vegetables and add the water. Leave it to boil a few minutes.
Now back to the fries
Get the temperature of the fat to 190°.
Fry the fries in small batches until a beautiful golden color.
Before you put the last batch of fries in in the fat, add the mussels to the boiling water, add the lid and shake.
Leave for 5 minutes and shake.
The mussels should have opened now.
Put the lid back on. Turn of the fire.
Fry the last batch of fries.
Get some mayonnaise and add 1 teaspoon of mustard and 1 teaspoon of cooking water from the mussels. This is you mussel sauce, traditionally you should also add a bit of vinegar to the sauce.
When the fries are ready, sprinkle them with seasalt and serve with the mussels!
Delicious with a pint of real ale or a nice glass of dry white wine!
*Waste none: the leftover vegetables and cooking water of the mussels makes a delicous tomato soup, just add a tin of skinned tomatoes and a tin of tomato puree and bring to the boil. Puree the soup and bring to the boil again.
Enjoy!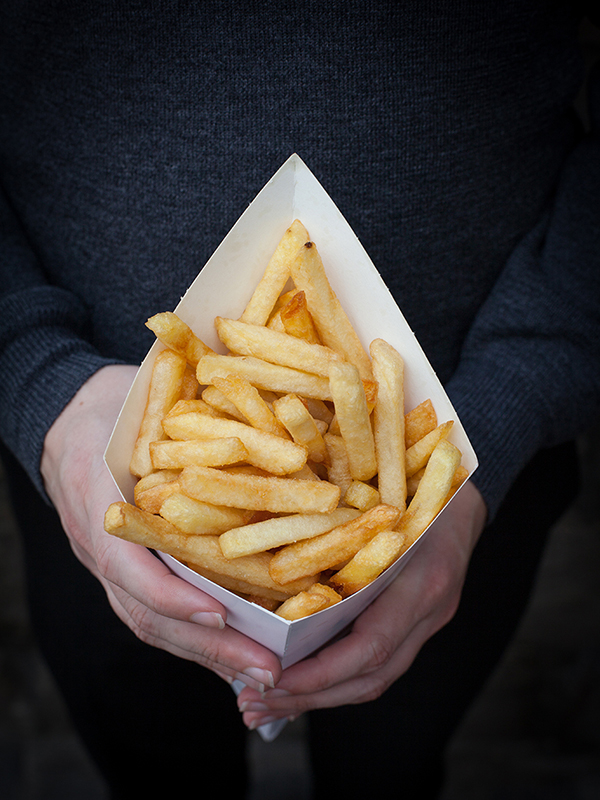 Ah Belgian pride in a cone
Want to know how can you contribute to Food Revolution? Fabulous!
First of all: start cooking! Home cooked meals are the best!
Find out about you local food by asking your butcher, fish monger and vegetable man what's local and in season.
Try and find out if you can buy meat and or vegetables straight from a farm so you reduce your carbon footprint but also by creating awareness about where your food comes from. I will probably mean ordering your meat, veggies and dairy in advance sometimes but this will reduce the trips you usually make to the superstore.
More time to cook!
By buying straight from the producer you reduce the amount of food that is thrown in the garbage and you also have a hand in the fact that less animals will be killed in vain.
I strongly feel that no animal should be slaughtered if it's not going to be eaten nose to tail.
Not just for animal welfare but also for environmental reasons.
The carbon footprint of livestock is huge and if we keep up the current way of life, we will one day need to go vegetarian because the earth is just not producing enough food to feed the whole planet.
Eat less meat, but good quality meat from local farms instead of intensively reared meat.
Happy animals produce better and healthier meat! 
Would you like to donate to Food Revolution Day? DONATE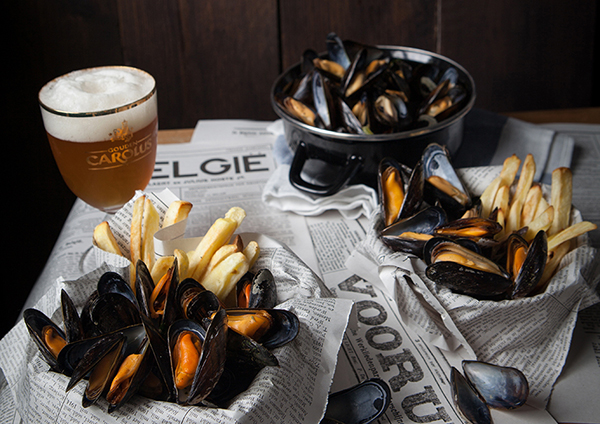 The complete picture, mussels, fries and beer
Please feel free to leave a comment, I love reading them!