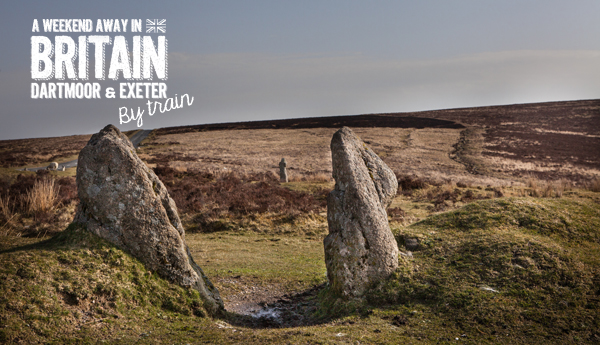 Ditch the car for a long weekend
This online space of mine has always been about my love for Britain, not only British food. Traveling around the country, exploring regional dishes, wandering around small villages and heritage sites is what I love to do most.
So what would I do on this long weekend ahead of us? I would venture out to Dartmoor, the weather is going to be splendid for walking and having a lovely pub lunch outside. And what if you're stuck in traffic with your car every day, or don't have a car, don't know how to drive or just want to get away without your car, just because you want to.
This is a weekend away to Dartmoor and Exeter, without a car, but with plenty of fun.
Day 1: A dinner on a train to Devon
The weekend starts on a friday evening at Padding station in London, we've already spent the day in London browsing book shops and munching our way through Borough Market but the real trip is starting when the train to Devon leaves the platform this evening.
We have a booking on the First Great Western Pullman service, which will wine and dine us until we arrive in Exeter. They journey should have brought us to Cornwall but nature took over in the West Country a couple of weeks ago and the train track at Dawlish got consumed by the sea. Our plans had to change so we decided on a weekend of walking and pub meals in Dartmoor.
I've always had a thing for dining trains, it just oozes Victorian charm and I can just imagine how it used to be on the older and more charming train carriages. We board the train around six and as dinner service is shorter temporary, we are taking our place at our table while we leave the station. It's a full house, or should I say full train to Exeter and dinner service commences with a quick pace. The team on board serving us is professional and witty, it is clear that we have some regulars dining with us today. I heard the Somerset steak has a good reputation so I had to try it and for my starter I chose the Dartmouth salmon with Blackmore Vale Dairy cream cheese. That's the thing with this Pullman dining service, they have sourced the produce from the land and the waters we are travelling past on the train. The menu has been created by Mitch Tonks of the Seahorse in Dartmouth, as is the wine list which is sadly lacking a British wine. I sipped my pint of Tribute when we were approaching Reading, the salmon was delicate in flavour and the cheese a definitely good match, the steak really was devine and cooked medium rare as I asked. The sun was setting and a short while before Taunton we received our dessert, a cheese platter for us as we don't have a sweet tooth. All British cheeses which were at the right temperature, a soft Helford white, a smoky Devon Blue and a Keens Cheddar served with a quince jelly that was so good I finished Bruno's as well.
By the time we left Taunton, we were full and happy and ready to turn in for the night at our hotel in Exeter.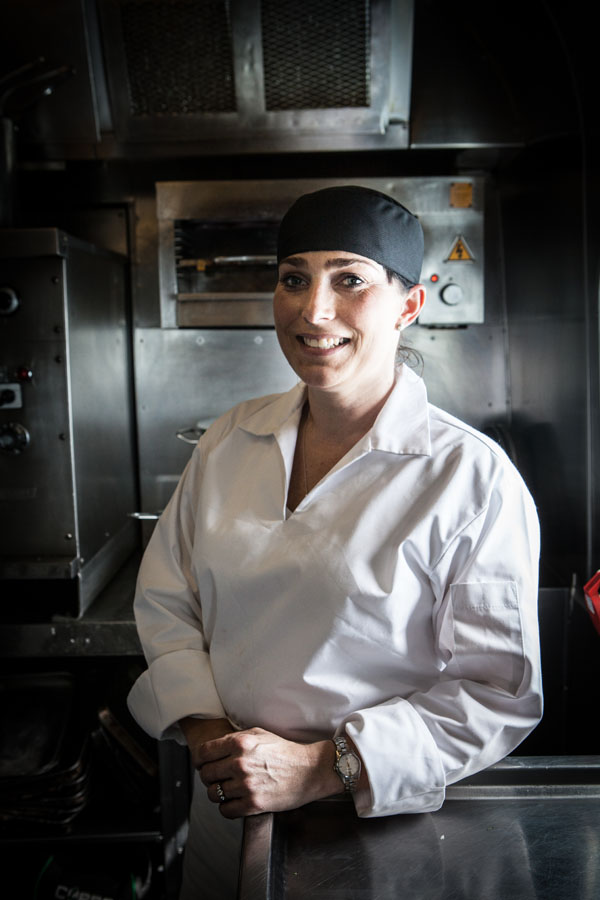 The lady chef of the Pullman dinner service
We were so tired after walking around London all day and enjoying such lovely food on the train, that we had an early night, ready to take the twelve O clock bus to Dartmoor.
Day two: To the Moors
Busses to Dartmoor leave from the coach station in Exeter, after a walk around town with our backpacks we made a quick stop at the Real Food Store for a piece of cake – which was moist and full of dark chocolate and left us pining for more. The bus trip to Moretonhampstead is about an hour and with plenty of pretty views along the way and locals having a chat with you, it is over and done with in no time. We arrive in Moretonhampstead and start the search for our 13th century farmhouse B&B.
The farmhouse is situated a 20 minute walk out of the village, it's a nice scenic walk and as the weather was so warm for the time of the year, we enjoyed it.
As I had seen on the website, the farmhouse was gorgeous. It is a gem, and unspoiled treasure. If you like flowery wallpaper and curtains like I do, this is your B&B. No modern additions except for the bathroom which makes this stay all the more relaxing. The sun tries to enter the room through the bay window in our room and we both make it ourselves cosy and comfortable in the armchairs which have a warm woolen upholstery. No rest for the wicked, after less than an hour we are out the door again, this time with bikes we conveniently rented from the B&B. We drove back to Moretonhampstead with a hungry tummy and thirst for a local ale. After a visit to the local butcher for a pork pie and to the greengrocer across the street for apples, we were ready for a picnic with friends we know in the area. It was my birthday, and although we planned to do some walking that day, we just had too much fun outside in the sun, savouring Devon delights and catching up with friends.
Dinner was booked at the White Heart and as we were with the bikes we opted to eat early at six. The food was great and quite fine for a pub, the pudding sticky and sweet and the ale local. A good evening and day all round and we start our return trip to the farmhouse in pitch black. I must admit I was scared at times, my imagination always gets the better of me and soon I was seeing the hound of the Baskerville in the light of my cell phone. Street lighting is none existing so take a torch with you, we didn't.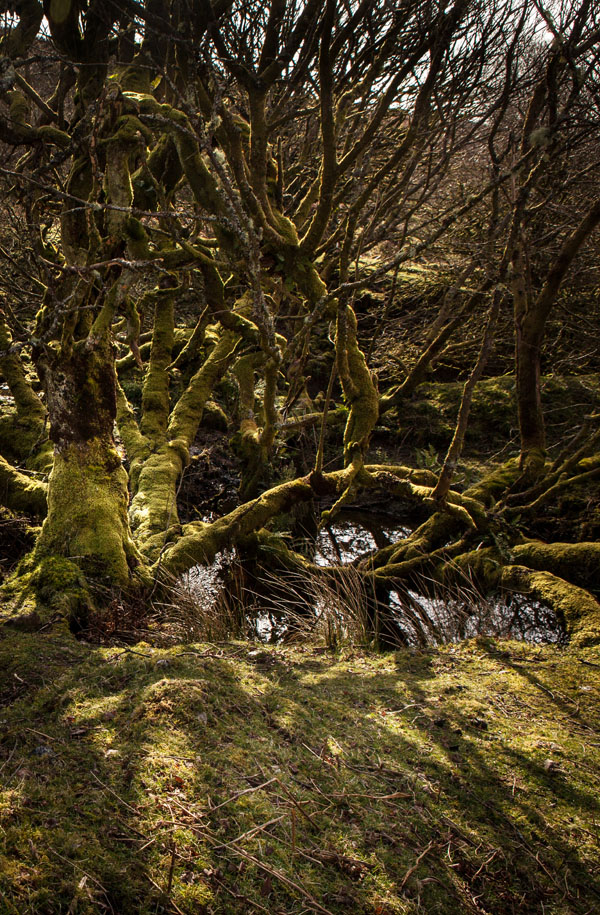 The moss, very Tim Burton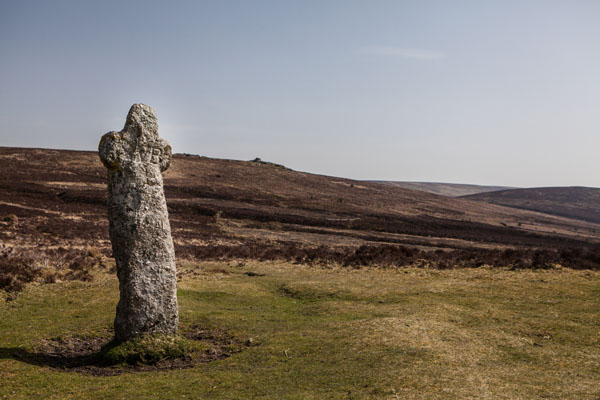 The shivering cross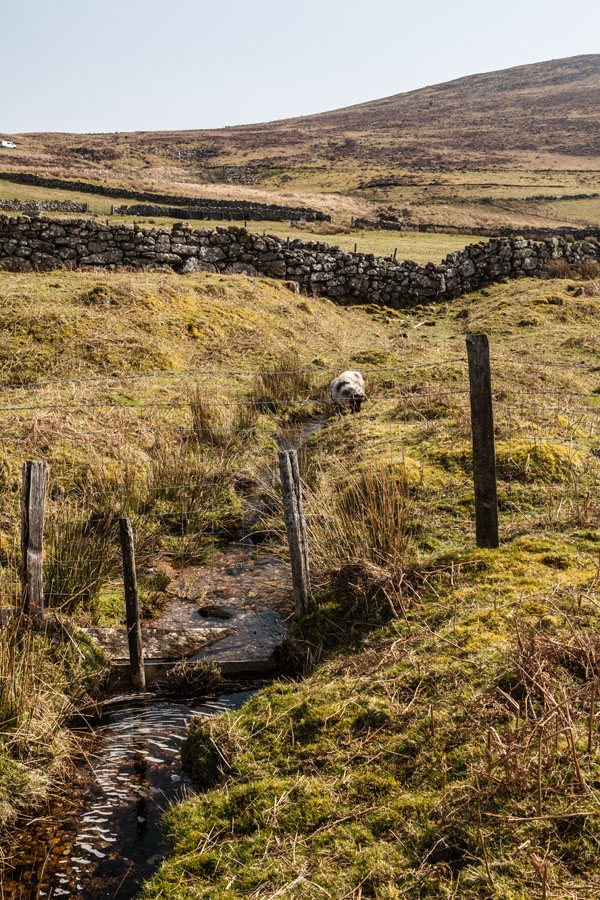 A sheep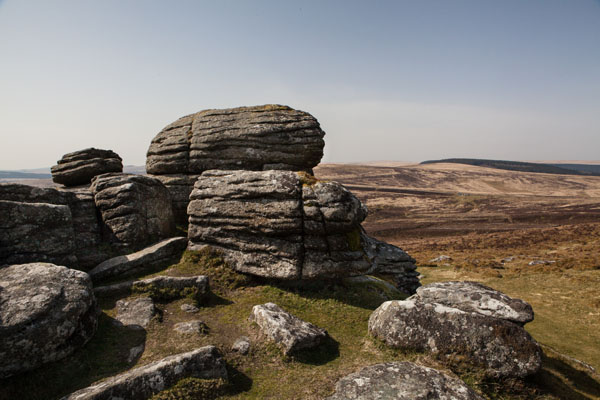 A Tor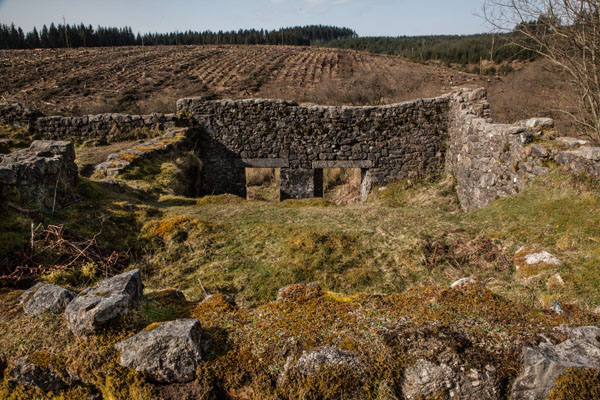 The ruins of a house that was still a home 50 years ago
Day three: big fry up and fried shoes
The next morning we were woken by the song of birds and beams of sunlight peeping through our flower print curtains. We had a full English in the quaint farmhouse breakfast room, which is full of vintage Staffordshire pottery and other kitchenalia. As was to be expected, the breakfast was fabulous with their own fresh eggs, local bacon, great sausages and freshly made yoghurt. All washed down with a nice cup of Earl Grey we put on our walking boots, and were greeted by the door in a ray of sunshine by Inga, our guide to Dartmoor today.
As we only had one full day on Dartmoor and we were without a car, we opted to do a guided walk with Inga. There are no extra busses that drive up the Moors, if you don't have a car, you will not get there so Inga is catering for people who are on foot like we were. A few minutes drive with Inga brings us to the Moors and we embark on a eight or nine mile walk.
Soon it becomes clear that my boots, old army boots, have had their best years and are not waterproof. We are walking on a path that looks more like a stream of water, but as the scenery is so breathtaking, I just don't mind the water getting in and get on with it.
I am happy we went on a walk with Inga as she not only knows where to go in this National Park that hates putting signs up for walkers, she also knows quite a few things about the history of the Moors.
The romantic rough rolling landscape of Dartmoor appears to be a wonder of nature but it is mankind who shaped the land for millennia. The people who lived and worked on Dartmoor for centuries have left their mark and pierced through the the hills to get to the precious tin. From as far back as the 12th century, tin miners created gullies to follow the veins of tin ore back into the hillside.  You can still see where the large water wheels were positioned at the tin mills. The tin was rinsed from the stone and melted down. The mills have long gone, as are the wheels, just leaving behind deep wounds in the hills and small mounds of waste spoil of earlier digging works. When you look closely at the hills around Challacombe farm you can see a round circle of stones on the hillside. This is a bronze-age village called Grimspound. Around 3500 years ago the village was built by celtic settlers who grazed their stock out on the hills to take them in to the enclosure at night to keep them safe from the undomesticated wild animals like wolves, at night. From this settlement where all that remains are a few round circles where the round houses used to be, you can see burial mounds on Hameldown and a stone row that is believed to be badly 'renovated' by the Victorians. On the other side of the hill the side appears to have been terraced. They were probably created by Medieval farmers in a time when the climate in Dartmoor was much warmer and drier. They must have used the strip fields for growing cereal crops. We passed a large stone wall which Inga told us used to be a rabbit warren, as rabbits used to be farmed for their meat here, centuries ago. It reminds me of the Roman Hare gardens which declined after they left Britain.
If were would have been walking on our own, we wouldn't have noticed quite a few things.
We passed at ruined farm which Inga told us was still a home 50 years ago, opposite the ruin we found remains of an old Diesel mill which was active during the war when resource were scarce. After the war it was closed and never re-opened. By the look of the ruins, there must have been a real community up on the Moors. Now there are only a handful of houses left, most of them working farms. The first written mention of people living in the area at Challacombe farm appeares in the Domesday Book and you can still see the remains of 7 medieval dwellings of which one Dartmoor Longhouse where animals and people shared the same building to keep warm.
According to Challacombe farm there were 5 tenements at Challacombe in 1613 and they were in use until 1880. One of the buildings was a cider house to serve the many miners and farmers working the land. In fact there used to be a lot of pubs on the Moors.
After four hours of walking and a welcome slice of lemon cake from our lovely guide Inga, we make our way back.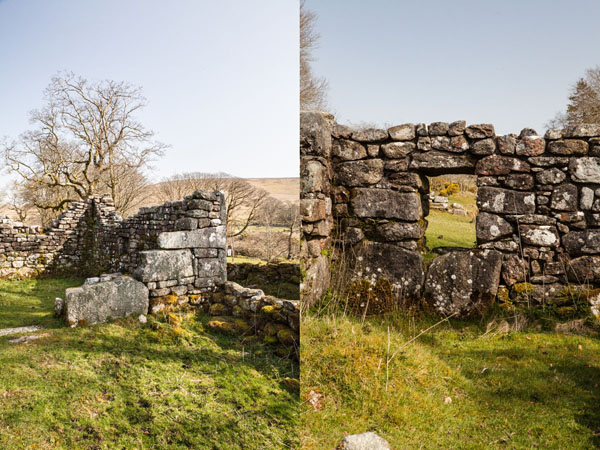 Settlements from 1613, one of them a cider barn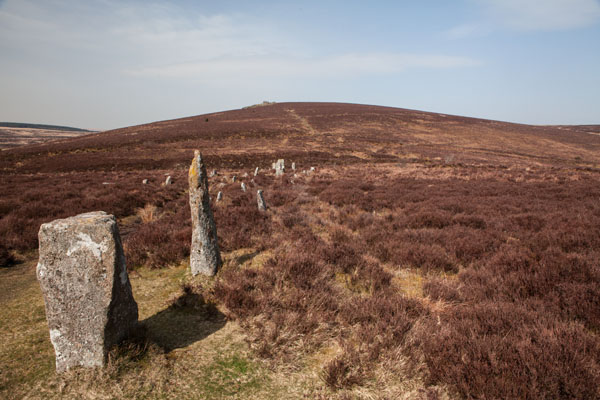 Stonerow, renovated by the Victorians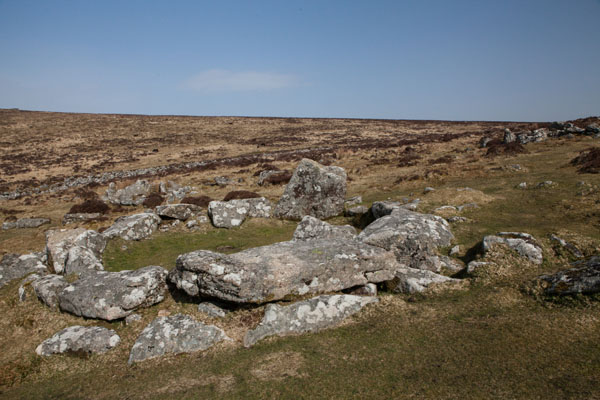 Celtic round house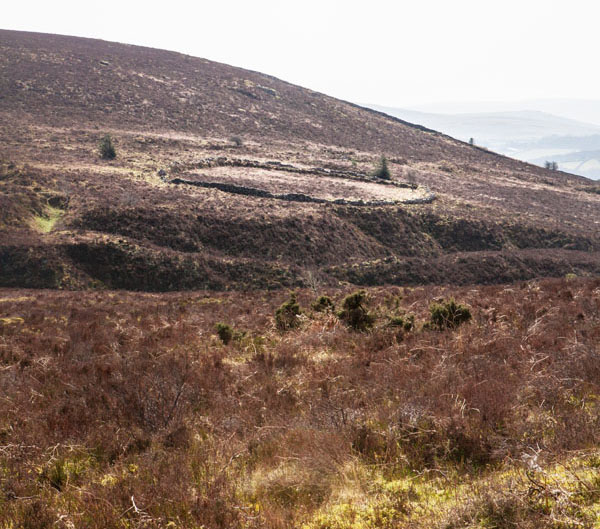 The outer enclosure of the Celtic village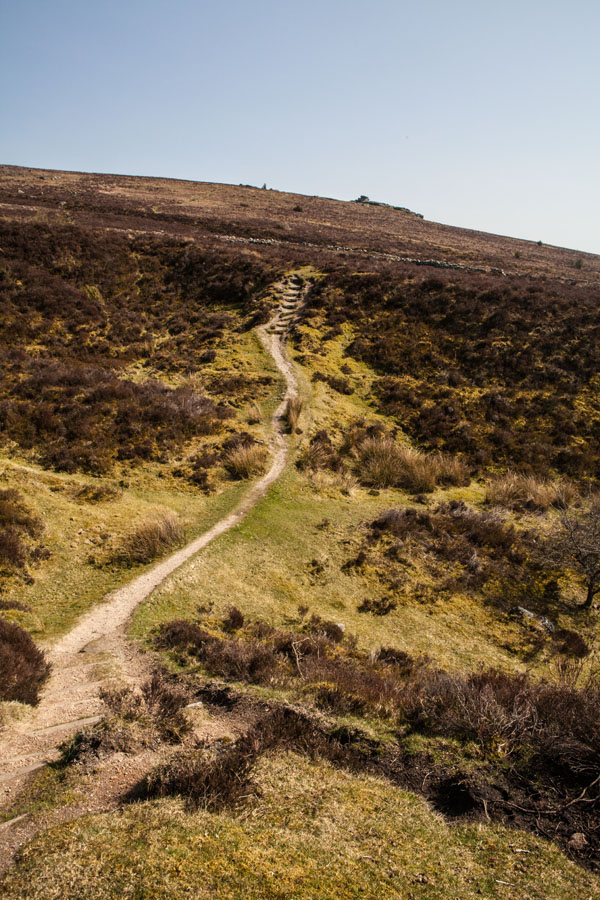 a bit of stairs
We skipped lunch as the sweet fresh air has left us without an appetite. We decided to do yet another walk to North Bovey, a quaint and quiet village not far from Moretonhampstead. After a stroll around the village, the appetites are now well and truly transformed into raging hunger and we walk into The Ring Of Bells where local ale and a pub meal awaits us. After dinner we decided not to walk back to our farmhouse B&B, as were were really only ready to put on our pyjamas and take a trip to dreamland. Ask the bartender to book the cab when you arrive as there is only one, yes only one car running as a cab on the Moors.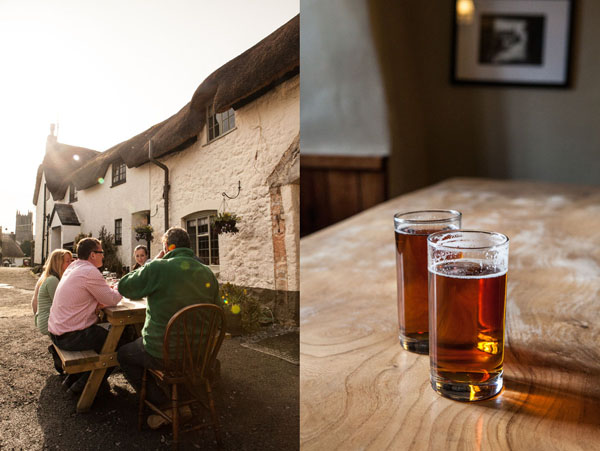 The village people of North Bovey gathering at the pub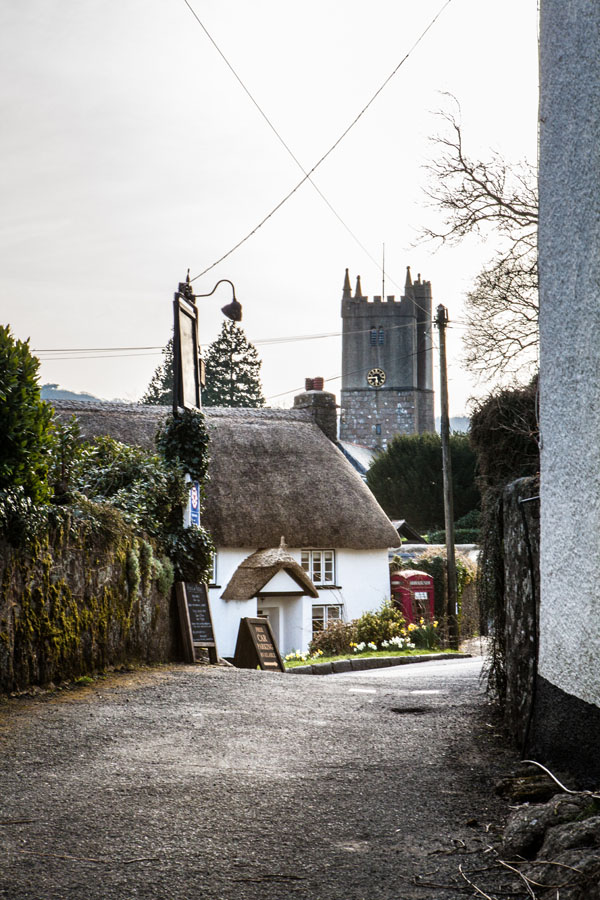 North Bovey, seen from the pub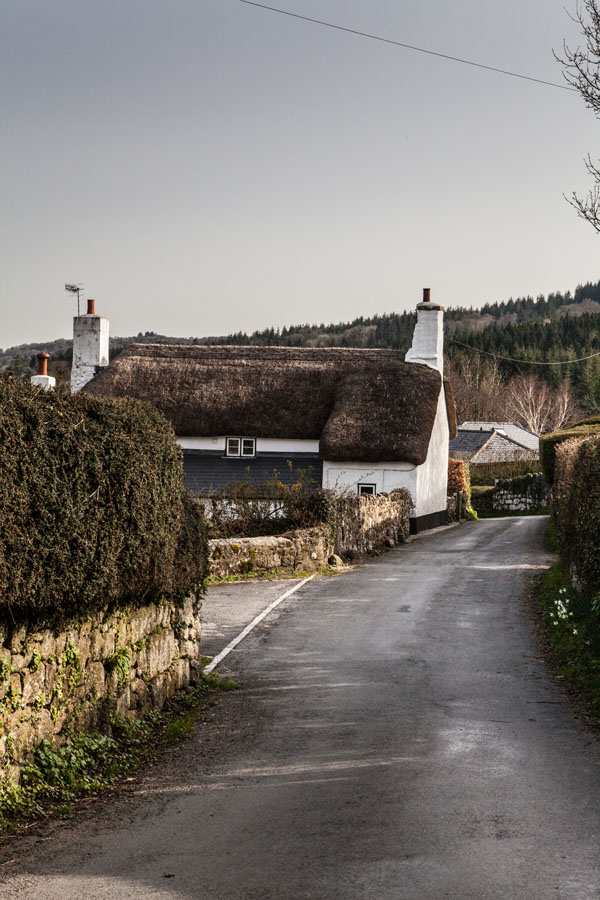 Pretty village, North Bovey
Day four: The farmhouse and the curious cattle
The next morning we enjoy our room for a few hours, reading a book and gazing out of the window after a filling breakfast. Before we leave for Exeter again, we go on a walk round the farmhouse and the farms Aberdeen Angus and South Devon cows. We walk back to Moreton, and have a little walk around town again before we take the twelve O clock bus back to Exeter.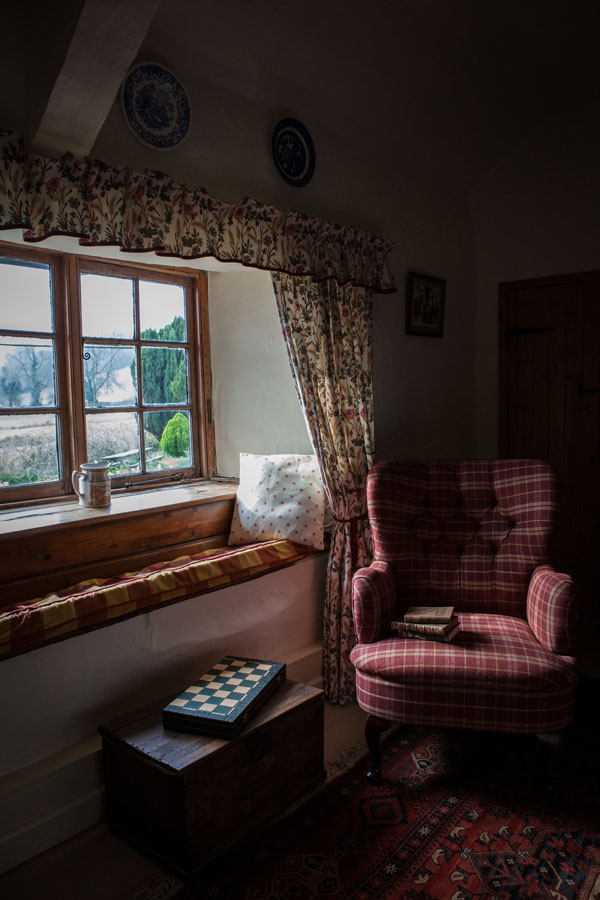 My kind of nook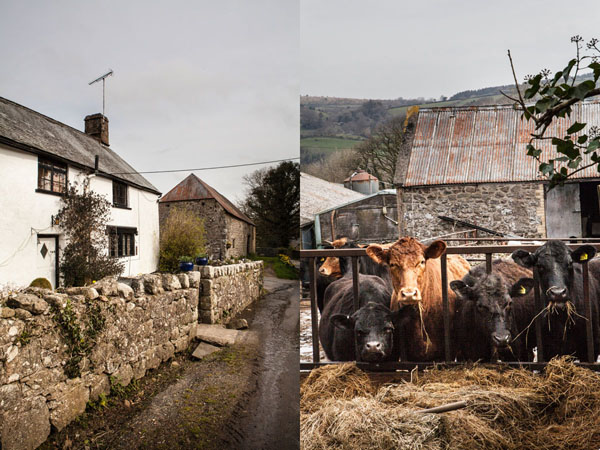 The farmhouse and the curious cattle
 
Exeter
Back in Exeter we do a bit of window-shopping and we head down Magdalene road where a few small local food stores are. A fish monger, a butchers and a green grocers in one street. The coffee shops and small eateries are just a bonus to that. We enjoy a welcome Devon cream tea at Tea on the Green at Cathedral Close which is conveniently located near to our hotel. While visiting a few independent shops on Fore street, we get a dinner recommendation from a local girl.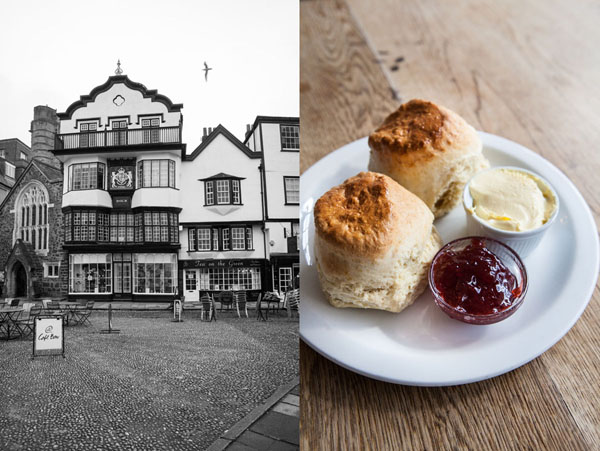 Tea on the Green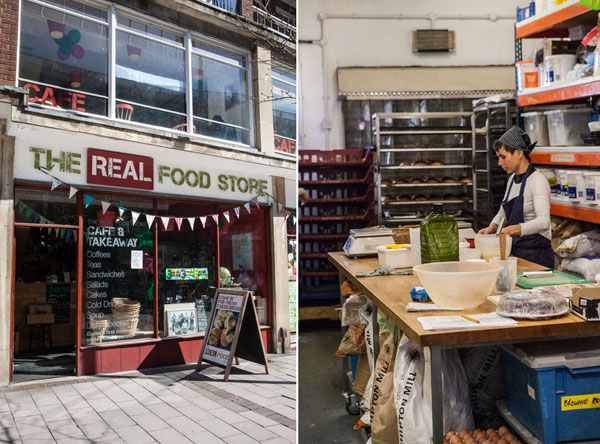 The Real Food Store, good cake and freshly baked bread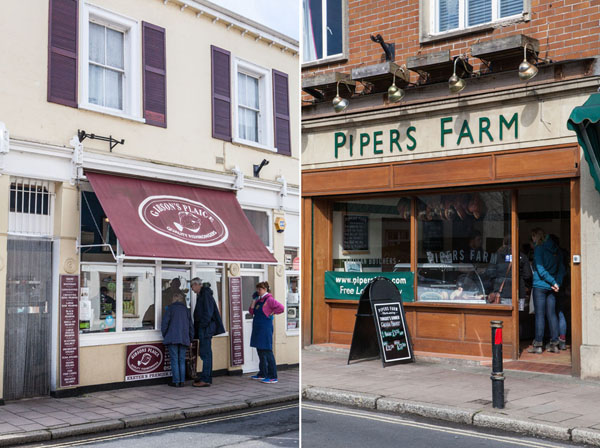 A Butchers and a Fishmonger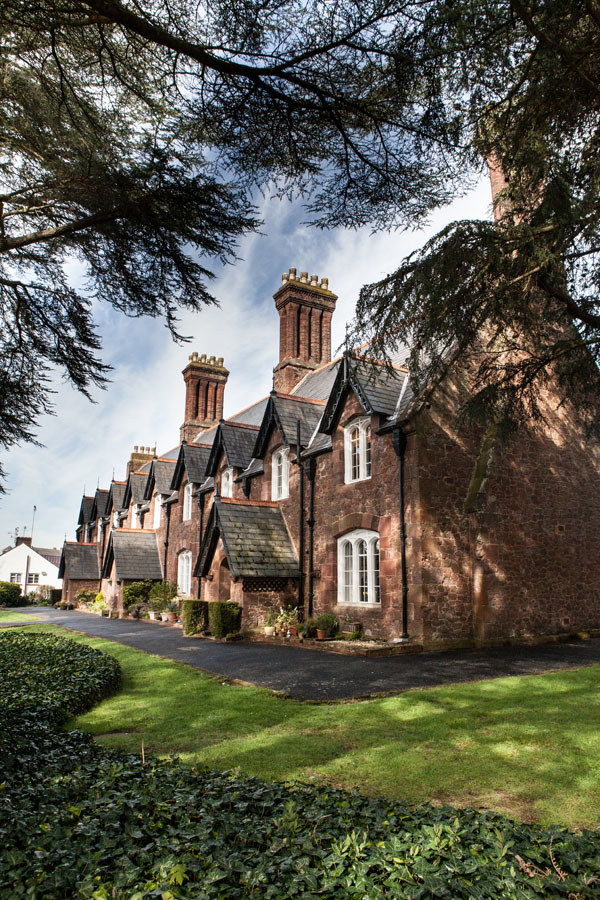 The Fat Pig it is for dinner. We are told it is quiz night but we are kinda curious to see the event so we stay anyway. The Fat Pig is a buzzing pub which has its own smokehouse and brewery. The food is great and the home-brews are very satisfactory, the pub quiz is so funny with questions about serial killers and music that we stay until the end and enjoy a Whisky or two after our food and beer. We can you see, because we don't have a car with us.
Cheerful
we return to our hotel, which isn't a thirteenth century farmhouse but
still very comfortable and located on Cathedral Close – close to Tea on
the Green where we decided to have breakfast the next morning.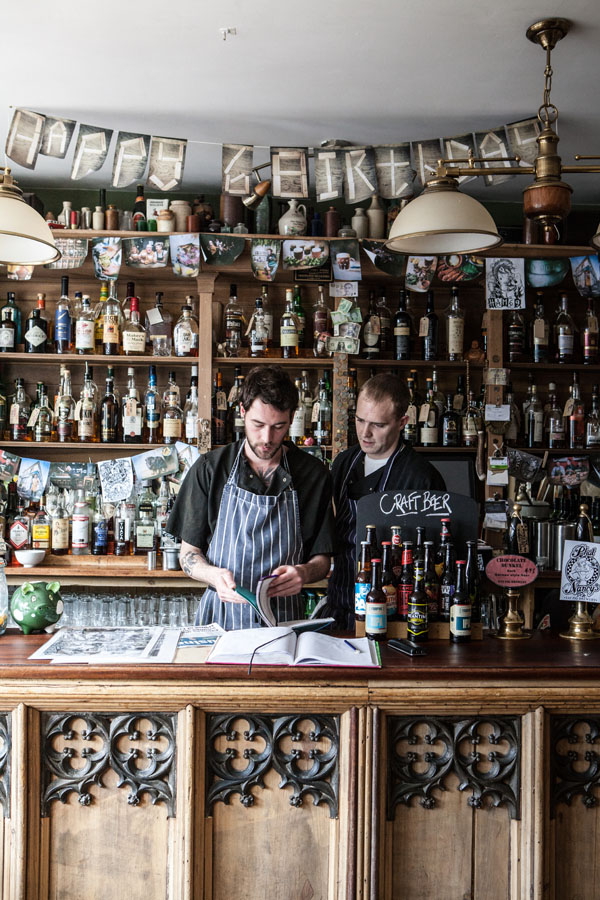 Chef at The Fat Pig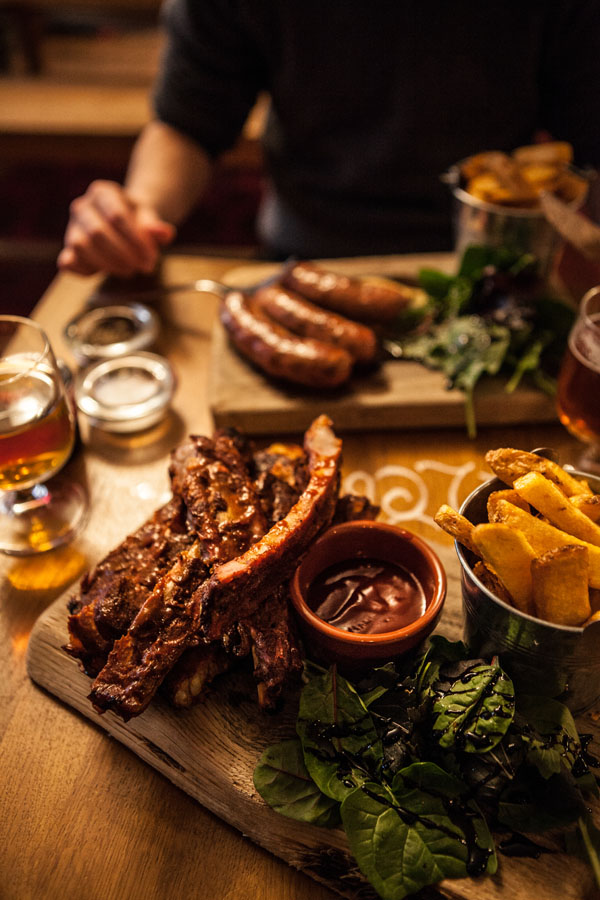 Smoked ribs and bangers at The Fat Pig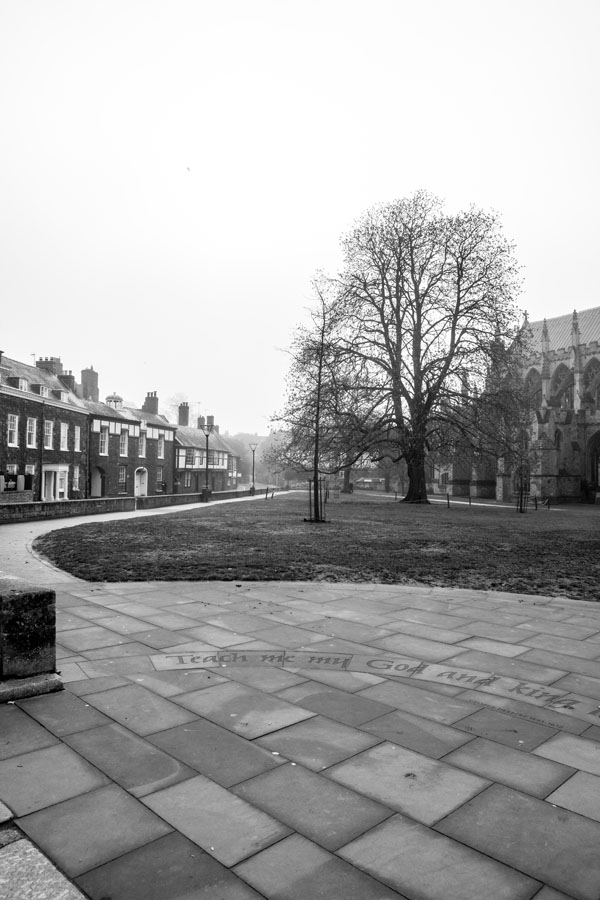 A little fog on Cathedral Close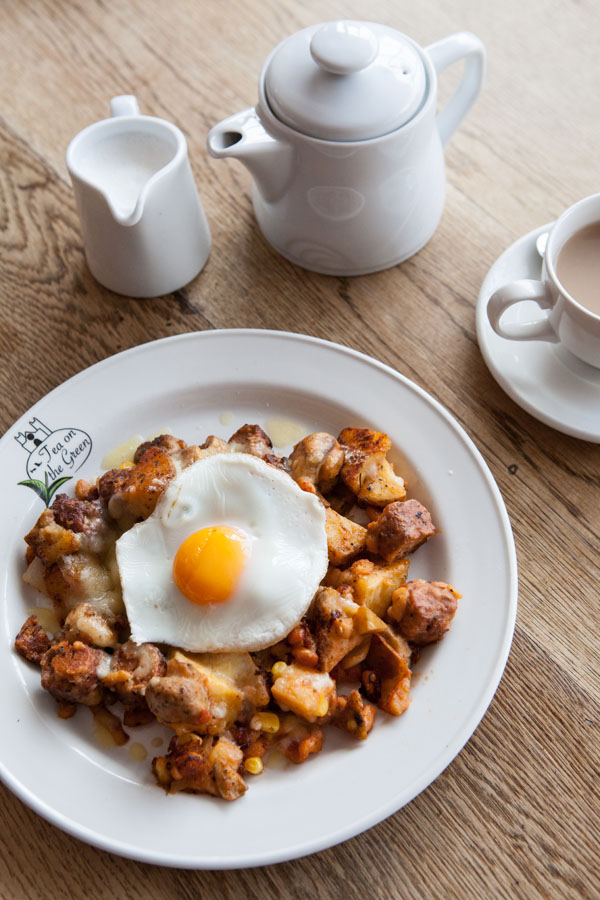 Breakfast Hash on Tea on the Green – it's a discovery, very hearty indeed
I had spotted the owners manifesto at Tea on the Green, he advocates using only small companies and local producers. Serving tea grown in England with the homemade scones and a divers selection of luncheon and breakfast dishes. I went for the small breakfast hash which was still quite large and full of juicy local sausage chunks, crunchy spuds and cheddar, topped with a fresh hens egg. Full again we are ready for a walk around town and at noon the trip back to the station where another splendid meal on the Pullman service awaits us.
Lunch service is more relaxed with only a few tables, it is tuesday after all. I had the daily fish, which was haddock with creamed leeks and the River Exe mussels which were absolutely gorgeous. I'm a mussel woman, I love mussels but I'm also very picky when it comes to mussels. These river Exe mussels had a very solid shell, unlike any other mussel, and were a large size and very meaty. I was intrigued by them I must say, my local mussels are quite small and have a very fragile shell unlike these ones from River Exe.
We have our coffee and dessert when we arrive in Reading and by the time we enter Paddington Station in London we are again, full and happy.
Conclusion
It is lovely to get away from a busy life without a car, taking the train leaves you both with the chance of reading a book, gazing out of the window or having a nice lunch or dinner while you are driven to your destination.
Would I do it again? Yes I would, Exeter has become a sweet little town with some good eateries and pubs; the last time I visited Exeter was with my parents on one of our trips, I can remember us being refused to enter a pub because I was a little girl. The town has transformed for the better with a mixture of independent shops and chains.
I would probably travel after april as there is a bus running across the Moors from may. That way you can go further without needing transport.
Practical
 
Getting to Dartmoor and Exeter without a car:
Take the train from Paddington station, it takes you to Exeter in just over two hours
The First Great Western Pullman lunch and dinner service requires a booking in advance if you don't want to be disappointed
The bus to Moretonhampstead leaves from the main bus station in Exeter and runs every two hours, you can find the time table here
Where to stay
Moretonhampstead
Great Sloncombe farm B&B – a 20 minute walk from Moretonhampstead High street
They offer bike hire and when the weather is fine they can provide a BBQ and the option of buying some of their delicious meat. The rooms are traditional and comfortable
Other B&B's: There are a few others in the village of Moretonhampstead, look here on the village website to find them
Exeter
The Royal Clarence hotel (Abode) with restaurant of Michael Caine (who we bumped into) The rooms are modern and comfortable
Walking
Walking Dartmoor with a local: Inga from 'Dartmoor walks this way' was amazing, highly recommended made to measure walks. She also does bike tours with electric bikes. Email her with your questions. If you're lucky she will bring you cake!
Walking to North Bovey, in Moretonhampstead, turn in Pound Street and follow the signs
Plenty of walks and bike tours start at Moretonhampstead, that's why the village is an ideal base. There's a tourist information center where you can purchase maps and such.
Where to eat and drink
Dartmoor
The White Heart (Moretonhampstead): great food and local ales, good value
The White Horse (Moretonhampstead): Locals tell us they serve excellent pizza
The Gateway Tearooms (Moretonhampstead): essential Devon cream tea
The Union Inn (Moretonhampstead): pub with beer garden and local ales
The Ring of Bells (North Bovey): Pub with pleasant beer garden, local ales and pub food
Where to eat and drink
Exeter
The Fat Pig – 2 St John Street: pub, brewery and smokehouse: Great smoked meats and hand cut chips, home brewed beers and other craft ales
The Rusty Bike – 67 Howell Road: Pub from the same owners as The Fat Pig
The Real Food Store – 11 Paris street: Organic shop with cafe upstairs
Tea On the Green – Cathedral Close: Tearoom serving excellent scones, hearty breakfasts and lunches with local produce
Shops for food
The local butchers at Moretonhampstead, sell local cheeses, pork pies, meats and some other foodie delights
The Real Food Store – 11 Paris street, Exeter: Organic shop with cafe upstairs. Serving local food and baking decent bread daily
Pipers Farm Butchers – Magdalene road Exeter
Gibson's Plaice Fish monger – Magdalene road Exeter
Infinity foods – 25 North Road Exeter
Other shops
Haberdashery: Otton's – 111 Fore Street Exeter
Vintage clothing: divers shops also on Fore Street Exeter
Gifts: Magdalene street has plenty of gift shops
*Everything on this trip was bought and payed for by me except the train tickets who were a kind gift from First Great Western Railways. My views are my own.*