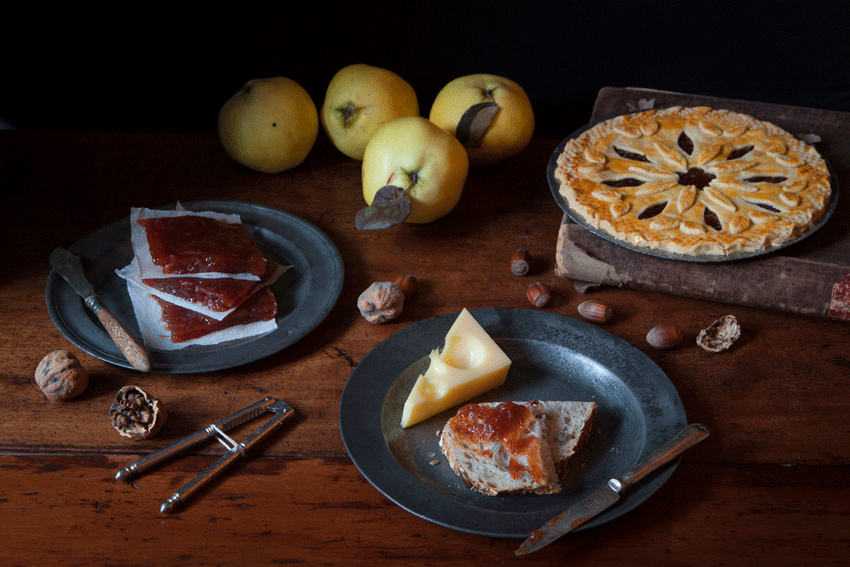 I'm not the biggest fan of sweet desserts after mains, I prefer an afternoon tea where the treats become the star of the show. That way you can enjoy them to the full and they do not become that thing you eat last when you're actually too full to enjoy it. For an afternoon tea you can dress up, wear a hat, and pretend to be a lady of good breeding. Drinking tea with your pinky in the air, back straight, having polite conversations and enjoying the experience of eating from fine bone china. I'm also a sucker for a multi-tiered cake stand, and for clotted cream – lots of it.
Cheese and biscuits are my choice of afters and with a decent fruit cheese and port this quickly becomes my perfect kind of dessert.
Fruit cheeses are reduced jams or pastes. Centuries ago they were served after dinner as a digestive and they were often prescribed by apothecaries to cure minor ailments. The fruit paste was often pressed in a mould with fancy engravings and could look rather stunning. Moulds of this sort are rare to come by, I only know one person who has a mould and I believe he even carved it himself.
Although fruit cheeses should be thick and hold their shape, they should still be spreadable. You can make them into small cake trays for a nice shape or just in a large tray, you can then cut squares of the fruit cheese to wrap them and keep them. They are the most delectable accompaniment to blue cheese, but they can also be eaten all on their own, as a sweetie. A nice idea if you want to know what your child puts in its mouth, factory made sweets can contain all sorts of horrible additives. But it's still sugar, make no mistake, to call it healthy would be wrong, but eaten and treated as a treat it is just fine.
My favourite fruit cheese is made of Quince. Quince are usually cooked and conserved. They look like otherworldly lanterns, large yellow pears with a strange downy covering. Raw they are considered quite unpalatable because of their tartness, but they are high in pectin which makes them ideal for making jams, jellies and fruit cheese. The pectin is most strong in the pips of the fruit, often ground up pips would be used to set other jelly like creations. But this is something I would not recommend you do as the seeds contain nitriles which turns poisonous when it comes in contact with your guts enzymes and acid. A few pips from your batch of quince are fine, just don't chuck in a jar of ground up pips.
Quince and quince cheese was popular all over Europe since Medieval times. In Spain they call it 'Membrillo', in Italy 'cotognata' from the Italian word for quince 'mele cotogne' quince apple, the French call it 'cotignac' or 'paté de coing' from the French 'coing' for quince. Quinces are responsible for the word marmalade as their Portuguese word is 'marmelo' and they were made into fruit cheeses named marmalades. 
Not only quince are used, every type of plum works great too. The Spanish love it with Manchego cheese, others prefer it with sweet cheese curds, but I prefer a good blue cheese like Stilton – the king of blue cheese, Shropshire Blue or Devon Blue.
Recipes for fruit cheeses are plentiful in historical cookery books.  It was common to add red sandalwood or cochineal (a red colouring made from the cochineal beatle) to food to enhance the colour. Cochineal, also known as Carmine, was particularly popular in the Georgian and Victorian era but also in Tudor times the colouring of food was a very common practice in the kitchens of the King.
Cochineal wasn't only used to colour food, it was also used as a textile dye and more recent to give make-up like red lipstick its beautiful red and pink colour. (Since I've been wearing red lipstick for half my life I've probably eaten quite a few of these little cochineal bugs). I have a small batch of the dried beetles sitting in a jar in my kitchen now, ready for making cochineal. I own a small Victorian Cochineal bottle and it is quite amazing to see the dye has not lost colour all these years. That must be the reason cochineal is considered the best red dye. In Italy the cochineal bugs are used to dye Alchermes, a liqueur popular in Tuscany and other regions. That liqueur is then used to dye food too, cake or lady fingers are often soaked in it. The Italian version of a Trifle, the 'Zuppa Inglese' is made with sponge cakes or lady fingers soaked in Alchermes.
See below a period recipe from Mr. Borella, who was the head confectioner to the Spanish Ambassador in England around 1772. He also uses Cochineal to colour his quince cheese.
To make the paste of a fine red, bake the quinces in the oven a long while, then peel and sift them in a strong hair-sieve; dry the marmalade over a slow fire a little while, to about half the consistency of a paste then to redden it the more, keep it a good while on a slow ashes-fire, stirring some time; and to add to this redness, put a little steeped cochineal, and reduce it on a flow fire, to a thick paste; that is, when it loosens from the Pan; put as much sugar as marmalade, or paste, soak it a little while on the fire and let it cool, just enough to work it well with the hands, and finish directly as usual.

Mr. Borella, The Court and Country Confectioner, 1770
The recipe below can be used two ways. You either jar the jam before it goes into the oven to dry and use it as a filling for pies (see the next posting), or you place it into the oven so it becomes fruit cheese.
The trick to get a beautiful dark colour is to cook the quince and the jam slowly and for a long time. The peel I'm told is also adding to the reddish colour so I never peel the fruit.
Quince cheese
What do you need
3 large quinces, 600 g, roughly chopped (you can remove the core but I do not for the extra pectin the pips contain, just take off the black crowns)
1 cinnamon stick
2 cloves
peel of 1 lemon
raw cane sugar, equal amount to the pulp
Method
In a large saucepan cover the quinces with water and boil until tender with the spices. Remove the quinces from the saucepan and save the spices.
Blend to a puree with cores and all to get a good set using a stick blender. Measure the quince puree and add the same weight in sugar plus the spices you saved. Proceed as for making jam, being careful as quince jam tends to spit. A way around this is to not make the jam on a hob but first bring it to a boil and stir for 5 minutes, remove the spices, then transfer the pan covered in greaseproof paper into the oven at 160°C. Leave there for 45 minutes, then check on it, it should be thick and perfect for a pie filling.
Let the puree cool so it is cold enough to handle and strain through a sieve, pushing it through with a rubber spatula. Use for pies or jam or proceed to dry the make the fruit cheese by preheating your oven to 130°C if you haven't already.
Transfer the jam to a shallow tray which you previously lined with greaseproof paper. You can make it as thick if you want but 1 cm is definitely the minimum. Let the paste dry until you feel it is becoming firm. There is no saying how long this will take exactly but it will be around an hour at least for sure.
When ready, leave to cool and then wrap in clean greaseproof paper. Place in an airtight container and it will keep for a few months. It might cristalise a little, but that doesn't make it bad to eat.
You want it super red?
You might have a hard time finding the cochineal beetles but you can use all natural red beetroot powder!
This is nice as an edible gift to someone special!
You might also like
Damson cheese >
Quince Rataffia >
Quince tart Coming next week!
And check out Jul's Kitchen roast quince with rice pudding here >