Two weeks ago on a frosty yet sunny winter morning, we welcomed our workshop attendees at All Hallows Cookery School in Dorset. We started with tea and mini mince pies plus pancakes from the AGA for the early birds. It was hard to get started because we were all having so much fun getting to know each other, or catching up. We made the more delicate puddings from my book, a sweetmeat pudding – otherwise known as the Bakewell pudding, Snake fritters and a quince tart with intricate pastry work. Lunch was beef with prunes, lovingly prepared by our host and owner of the school Lisa Osman. I can't think of a dish more fitting on a day of English cooking. After all, beef and pudding have been the icon of English food for many centuries. There was a time during the Napoleonic war when eating roast beef and plum pudding would have showed your patriotism. Visitors from all over Europe spoke with high regard about the quality of English meat and beef especially.
After our rather festive lunch in Lisa's beautiful dining room which made me feel as if I was in a Jane Austen novel, she taught us wreath making which sounds far more easy than it actually was. We struggled and have a huge respect for wreath makers now. We all concluded we now understood why a impressive wreath is so pricy. It takes a ton of work, and will leave you with very painful hands. I finished mine at home and now have it on my front door for all to see.
We are planing more workshops at All Hallows Cookery School in the new year, so if you fancy coming to one, or gifting a workshop to a loved one, then do get in touch with Lisa. All Hallows also has a couple of beautiful rooms so you can make a weekend out of it, or if you're in the area you can just stay at the house as she is available for bed and breakfast when she has availability.
Now on to that quince tart. I had made the quince jam at home as it takes a couple of hours to make and we didn't have the time to do that on our day in Dorset. As I said in my previous post where I gave the recipe for quince cheese, you can use that recipe and just not let the jam dry in the oven to become paste. You can dry a part for quince cheese, and use the rest for a tart. But what you also can do is make the filling especially, and then you can use less sugar.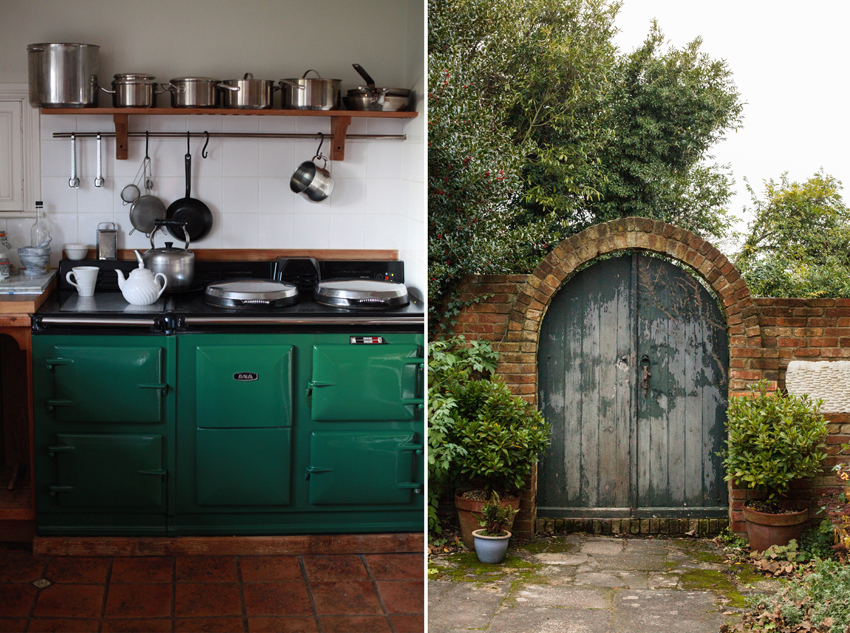 Elaborately decorated tarts like this one were all the rage in 17th century England. Oliver Cromwell the puritan and general partypooper would not have been pleased to see this luxurious tart on his table. He wanted people to eat more simple no-frills meals in order to be closer to god. The whole story about these kind of puddings you'll find in my book of course. But for now here's the recipe.
Quince tart
While the original historical recipe uses slices of quince and a syrup made out of the cooking liquid, this version using a jammy quince puree is much more to modern tastes. I'm pretty sure however that they made the same tart this way too. Why wouldn't they!
The trick to get a beautiful dark colour is to cook the quince and the jam slowly and for a long time. The peel I'm told is also adding to the reddish colour so I never peel the fruit. I do't remove the cores, because there is a lot of pectin in the pips to thicken the jam. But you can of course peel and core, it's just not worth the hassle!
What do you need
Makes a 20 cm tart – I find using a enamel plate gives a better result than a pie or tart casing.
1 quantity shortcrust pastry, recipe in my book, or use high quality all butter pastry from the shop*
*If you are using store bought pastry you need to buy two packs if you want to make a pastry lid as well.
3 large quinces, 600 g, roughly chopped each
1 cinnamon stick
2 cloves
peel of 1 lemon
350 g  raw sugar
1 egg, beaten, for egg washing
Method
Prepare the shortcrust pastry as instructed in my book or use shop bought. If you are using a pastry lid, don't blind bake the pastry base. Line the pie dish with the pastry, leaving enough pastry on the rim to fasten the lid to.
Preheat the oven to 160C (315F).
In a large saucepan cover the quinces with water and boil until tender with the spices. Remove the quinces from the saucepan and save the spices (you might not even find the cloves and lemon peel as they can have disintegrated. Just remove the cinnamon.
Blend to a puree using a stick blender. Proceed as for making jam adding the sugar, put the cinnamon back in, being careful as quince jam tends to spit. A way around this is to not make the jam on a hob but first bring it to a boil and stir for 5 minutes, remove the spices, then transfer the pan covered in greasproof paper into the oven at 160°C. Leave there for 45 minutes, then check on it, it should be thick and perfect for a pie filling.
**If you see any woody bits in your puree, I would advise to strain it through a sieve. If you aren't picky about a few bits, just leave it in.
If using a pastry lid, cut a circle of pastry the same size as the pie dish and carefully place it over the filling. Crimp the edges, or create a nice pattern using a pastry jigger if you have one. Decorate as you please.
Egg wash the pastry lid well and bake in the middle of the oven for 45-50 minutes.
Enjoy as a pudding, or an afternoon treat!
Check out other quince recipes on this website:
Quince Rataffia (quince liqueur) >
And check out Jul's Kitchen roast quince with rice pudding here >
Special thanks to Rebecca Williams from the blog 'Hold the Anchovies Please', who attended the workshop and kindly allowed me to use a couple of shots of the workshop! See her post here >