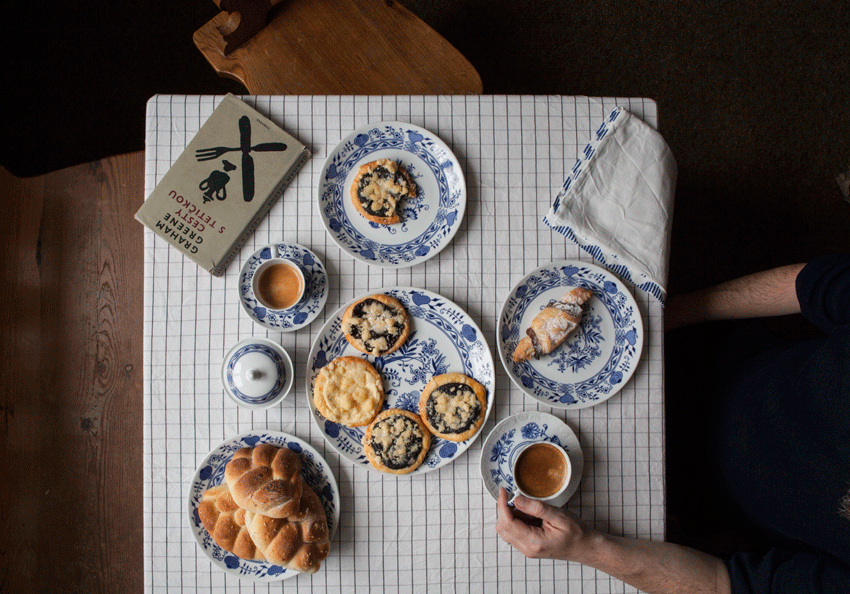 In the late 1980's when I was just a little girl, my parents and I traveled around Hungary and Czechoslovakia just like so many other Belgians did during that time. It was affordable, it was different and there were Balkan travel clubs with meetings where you could get your information much like we get it from Google today. We had the 'Balkan Club' bumper sticker and from time to time would bump into people on the road with the same sticker stuck to their car. Travel advise was then exchanged and we would part saying we might meet each other on one of the Balkan Club slideshow evenings. This was pre-internet socializing, using the sticker meant you were from the same group, it opened the door to a conversation.
I have very fond memories of Prague as a child, it was my favourite place in the world before I first visited England. Every holiday I was allowed to choose a day which was all about me. Most children would choose a theme park, I chose to go to Prague. Sometimes we would stay a while, other times we would stop for the day on our way back home. But on all occasions we would eat and drink at the most beautiful Belle Epoque restaurants, for pennies, because the Balkan countries were cheap compared to crazy expensive Belgium.
On one visit we stayed at a fairly modern looking hotel which required us to go for breakfast in town, we would go to the Wenceslas square (Václavské náměstí). I remember feeling nauseous because I'm the kind of person who needs food before anything else in the morning. We walked, me holding my mothers hand, on the narrow cobbled street, pavement on, pavement off to Grand Hotel Evropa.  And grand it was… The majestic Art Nouveau hotel that towers high above you on Václavské náměstí was built in 1889 and remodeled into Art Nouveau style around 1903. Its Café Evropa and The Art Nouveau restaurant called 'Titanic' are world famous and featured in a number of films. I've always wished to actually stay in the hotel, but when I visited Prague 10 years ago with B, our first trip together, we had no internet, so booked through a travel agency (how old fashioned right!) and Hotel Evropa wasn't on the list. In the years that followed I frequently looked at the hotel's booking page and was saddened by the negative reviews it received. Scared it was going to scatter a precious childhood memory, I didn't dare booking, nor did I step inside 10 years ago, something I still regret and will always regret because today the majestic hotel is boarded up and empty.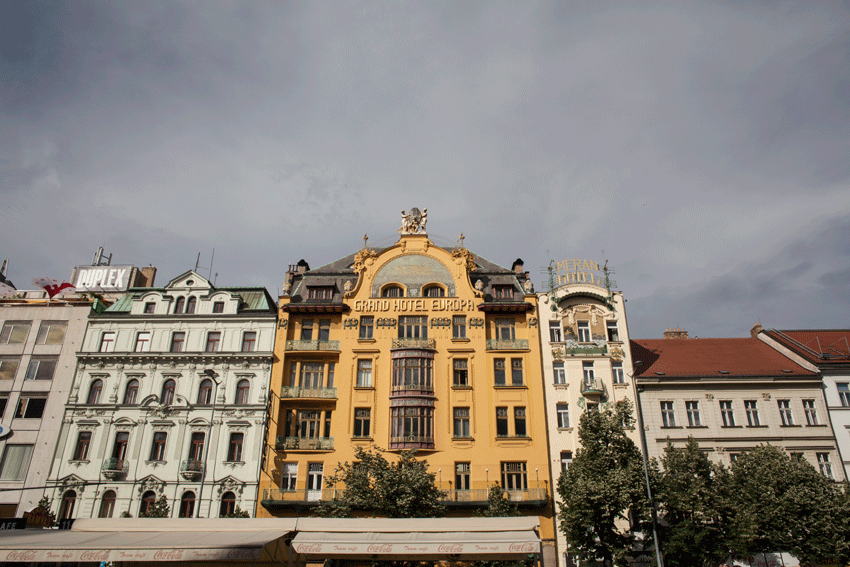 Like in so many of these Belle Epoque restaurants and hotels, you are greeted in a majestic hall with high ceilings, crystal chandeliers and marble statues. Everything you see is carefully thought out to the tiniest detail. Mirrors reflect the space to make it look even grander. I remember the luxurious feel the breakfasts had there. Marble top tables covered in crisp white cloths matching the waiting staffs shirts and aprons. Silver cutlery and branded crockery. The orange juice and jams served in Bohemian crystal matching the chandeliers. The service stern like a strict teacher but correct. There was also a sense of faded grandeur, the walls crumbling, the paint fading, but I find it added to the feel of times gone by. I like to see places cared for and renovated, but to take away the mark time has left can often result into a strange looking interior. As if it looks less real and forced.
10 years ago you could still witness these beautiful relics of the past in the process of fading and crumbling away. The central station of Prague especially was in a very bad state. There at the station cafe under the dome you could have a palacinka (pancake) with pigeons as table companions, the waitress almost trowing your plate at you, not remotely trying to understand any other language than Czech. We sat there wondering why they would not remove the bird shit from the rusty tables and the bannisters, why they weren't saving such a gem. Today the station hall where the cafe was is fully restored to its former glory, the cafe is now a branded coffee bar.
One of the most epic places where you can still step back in time is at cinema Lucerna (a side street of Václavské náměstí, Vodičkova 704/36). It is a gallery with old style bars and shops, and the cinema cafe is untouched by progress since I last visited in 2006. Prague residents have their wine or coffee here before they go up the stairs to see a movie. They also have English movies if you want to experience this place as a whole. As per tradition I drink a glass of Absinthe when I'm there, something only students really drink in Czech republic I'm told by my friend Sarka. 10 years ago you got it in a nice footed glass, with some sugar but no way to burn it. Today you get a juice glass with a generous portion for a tiny price, the waitress arrives with matches and a spoon and burns the sugar for you. Apart from the rather plain glass it is a nice improvement, and frankly when you are sitting by the window looking into the gallery where a large upside down horse and rider are suspended from the ceiling, you don't care about the glass. This is perfect. This transports me back 10 years ago, but also right back to my childhood in the 1980's. The modern shops like H&M are right around the corner, but this seems to be the alternative reality where actual Czech people lead their lives. I ponder a moment over the loss of Hotel Evropa, and yes I have to wipe away a tear. Why is everything changing so much. Why does everything have to be so modern, branded and clean? Why are we copy-pasting the same shopping street in every European town, evicting the small independent businesses that give a town or country its charm and heart. Why does progress often feel like loosing identity and beauty?
There are two other places where you can still taste from olde worlde Prague and one of them is Kolkovna Olympia. This restaurant and bar has been built in 1903 and was renovated in 2003. But the renovation works were done in such a way that it looks like it has always been like it is today. One side of the Olympia is restaurant, the other side is a bar where you – according to our Airbnb landlord – drink the best beer on tap. We had our first lunch there and chose goulash with two kind of dumplings and a side of beer sausage because I wanted to try it and biy was it good. The food was filling and rustic so it was good that we had a long walk ahead of us. Many people complain about the fact that the bread dumplings are like well… bread, so dry like bread, but this is the way they are and the way I have always known them to be. You soak them in the sauce and then they become perfectly soft. But if you detest stodge, even if it is traditional, then stay away from it and order something else. I highly recommend this place if you like to see how Prague was in the late 80's and 90's. They speak little English here, but do their best to understand you. Some German also helps if you can speak a few words. Learn to say thank you, hello and good bye in Czech, it really is appreciated everywhere and only natural as it shows you try. (Kolkovna Olympia, Vítězná 7 in Lesser Town, close to train up to Petrin)
In the same street and more towards the river you'll find the fine looking Cafe Savoy. First constructed in 1893 it was completely remodeled in 2001 and part of the Ambiente group that owns most of the now best places in Prague to visit as a gastronome. Sadly, unlike Kolkovna Olympia, their website or menu tells us nothing of the history of Cafe Savoy, which is a shame. We had dinner there, the schnitzel which comes with a sweetbread as well which was great, but my husbands steak tartare (which is supposed to be renowned) was lacking seasoning sadly. The coffee was good (especially my decaf) as was the decor and service. You really feel transported back in time here, if you can ignore the empty tables with drinks of the people sitting outside by the window to smoke their apparently much needed fag or four. If this were my place, I wouldn't allow people to sit on the window outside. It devalues the place. Takes away it's luxurious charm and reduces it to a mediocre bar which looks the part. But then again, as a non smoker I get annoyed by these things, others probably wouldn't even notice.
When planning a trip to the towns most favourite tourist sights, I can only recommend to go extremely early in the day, and I mean dawn. Or very late, after 6. Or travel mid winter. On weekends it is a popular day or weekend trip from Dresden or Berlin, and it appears to be thé place for a blokes holiday or stag weekend. The drunk men in town are plenty and annoying, so are the hordes of Japanese people with selfie sticks. The astronomical clock on the old town square is beautiful, if you can get a spot to see it and if you look passed the amount of cell phones… I found myself looking at humankind in a very cynical way. We are not looking at things anymore, we are pointing our phones towards it. But hey, smart phones also brought us Google maps, which makes traveling around a town with unpronounceable street names a whole lot easier. So does the public transport app (see information below), because I couldn't find a single flyer with the routes the trams and metros take.
During the day you are best traveling away from the tourist congested Karluv Most (Charles Bridge) and central square. We did a trip to Vyšehrad and found it surprisingly quiet for a saturday. We took the metro to Vyšehrad metro C and walked up to the church and park, to then walk down the stairs to the river to pass the dancing house. We were lucky that on this walk we passed the farmers market just in time, it usually ends at 14h but today there was a beer and cider festival going on as well so all stalls stayed the whole day. The stalls have everything from traditional bread to pastries, vegetables, pickles, meat and cheese. You can also have lunch at one of the food stalls. Everything is low key here, no fancy food trucks, just a table and maybe a top to protect it from the sun, which is kinda refreshing. No hipsters here, no beards, thank god. Prices are accordingly, so reasonable to cheap for our western european pockets. I knew the beer was good but was surprised by the many craft breweries that were there. On the other side of the river were the cider stalls and there we tasted the best scrumpy cider in our lives. This was a succes and even got Bruno excited. He's not that big on the fancy, hipster food truck gatherings of our region.
We had a late lunch at Čestr, another one from the Ambiente Group. Their menu reads that Čestr is a Czech spotted cow which is an abbreviation for the Czech Fleckvieh breed. Not sure they mean abbreviation but the dishes in the restaurant evolve around good meat, matured well, and reminds me of Jamie Oliver's Barbecoa minus the smoking and grilling. Here you can eat modern traditional Czech food, very meaty and prepared very well. The steak tartare (sense a theme here?) was outstanding and served with traditional cumin seed bread, toasted as I like it – with slightly burnt edges. The vegetables, carrot and humble mashed potatoes were so comforting I wanted to snatch the copper pan of mash and finish it all with the wooden spoon that came with it. Someone is being very caring with his seasoning here, and we approve.
The restaurant is housed in the building of the former Federal Assembly of Czechoslovakia so not at all classic. An added bonus is the interior, which is light and full of bull's heads that also feature on their logo and porcelain. Their butchery has an open window so you can see the meat hanging. I highly recommend this place but stay away if you're a vegetarian or vegan. (Legerova 75/57 near the Station, Muzeum and Václavské náměstí)
Our late dinner that evening was more meat at Nase Maso, the most renowned butcher of Prague and again a part of the Ambiente Group. You go into the shop, where again, you can see the meat hanging, and choose from the menu or the counter whatever you want. Seating is very limited so you have to be lucky. We had wiener sausages, prague ham, some traditional salami, their famous meatloaf and very good Czech wine. If you're staying in self catering accommodation, you can stock up on meat here. It's right in the centre and perfect if you are going to see a show or after as it is open late. (Dlouhá 39) In the same street you'll also find some other restaurants, wine bars and shops that were recommended to me. Some of them are, Local (a modern Czech pub), La Degustation (for special occasions, top price mark, with a taster menu), and traditional Czech open-faced sandwiches, at Sisters (also in Dlouhá). I could eat myself to death here.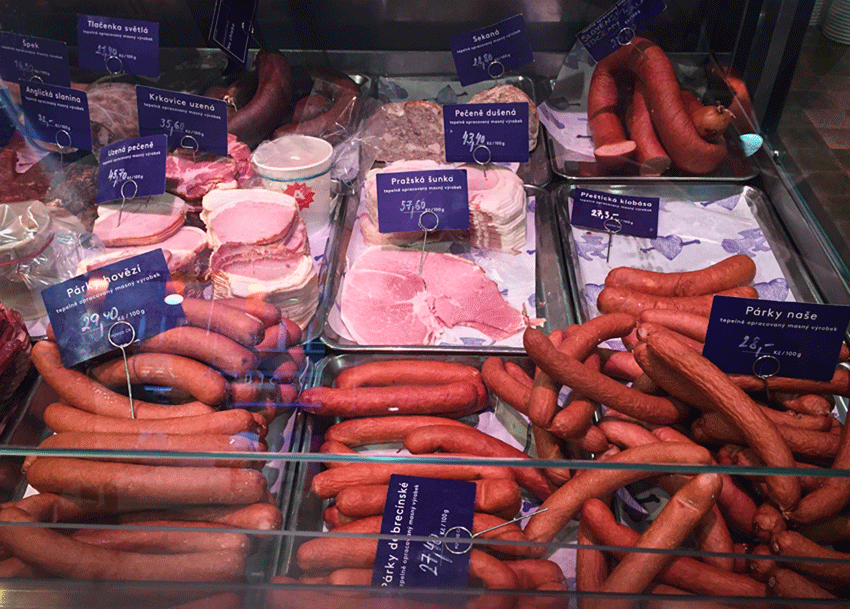 Breakfast in Prague
In the centre you can go to Dlouhá street for various options or you can go for the Belle Epoque experience and head for Cafe Savoy.
To get away from the tourists head over to the Karlin district to have a quiet breakfast in the sleepy streets of this unspoiled part of Prague (metro stop Křižíkova). On saturday there is also a small farmers market at the Karlin Square, but mind yourself when you take pictures, some of the people there get really angry if you do and don't understand you if you ask to take a picture. One lady wanted to charge me 10 euros for a picture, of which I replied that I didn't think she is very kind. She didn't understand, all she could say in English was photo 10 euro's. Especially rude since I was buying kolache (Czech pastries pictured below) from her. But the bluntness is something you have to get used to here. A lot of people are very very brusque and it can shock you at first.
We had breakfast at Můj šálek kávy (Křižíkova 386/105 a short stroll from the metro) on two occasions and absolutely fell for the place. It was a sunny morning and we were sitting outside, the perfect way to unwind from a busy life. I ordered the 3 types of sausages, and Bruno the omelette. It turns out to be an emotionally charged week with flavours transporting me back to my early childhood. First the fragrant ripe nectarines (see blog here) now this mornings spread. We shared, and I felt tears filling my eyes as I tasted the omelette which sustained me on my travels through Czechoslovakia and Hungary when I was little. I was a picky eater but was crazy about the omelettes which seem to have a more silky consistency and a more subtle flavour. Unlike any other omelette I've ever tasted outside of these two countries. A simple omelette, yet such a powerful memory of taste. The artisanal sausages taste of a glorious past when bangers were still made of meat and fat plus herbs, beer, spices or smoke. No nasties. Back was a flavour I have longed to taste again for over two decades since my early years of life. Oh how I love that people are yearning for the tastes of their childhoods, again which require going back to real food rather than industrially produced food. Decent bread, decent eggs and decent meat. This really is a gem. And clearly a favourite with the locals as well as the holidaymakers like us who want to experience the food in the best possible way. The service is friendly and not at all blunt like in so many other places. The coffee is excellent (Doubleshot) and you can choose airopress (as a tea drinker the latter means nothing to me). For those who can not have cafeine like me, they have a good decaf, the fresh lemon and mint lemonade is refreshing, cleansing and doesn't contain any sugar, or just a tiny bit. You can also get a rohlicek, which is a pastry looking a little like a croissant but made with lard I think, and cinnamon filling with some praline. Oh and the bread, the bread!!!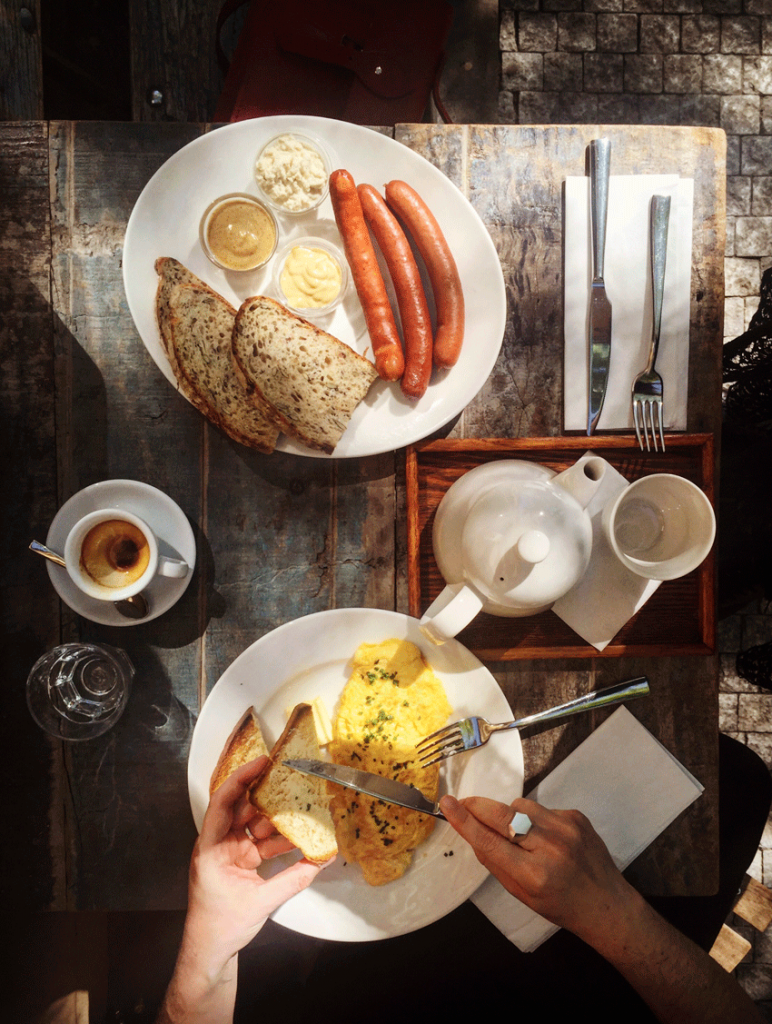 Simply good (146, Sokolovská) around the corner of the metro station was recommended for the best kolache pastries (tarts with poppyseed, plum jam or curd cheese see pictures above) and they also have great buns and bread. I bought a suitcase full to take home. They are indeed good.
There are a few other places to go for food and drink here, I recommend you read the website of Taste of Prague, or book a foodie tour with them.
A nice thing to see in this district other than the sleepy streets is Lyčkovo Náměstí a square with a beautiful Belle Epoque primary school.
A day away from Prague?
Kutna Hora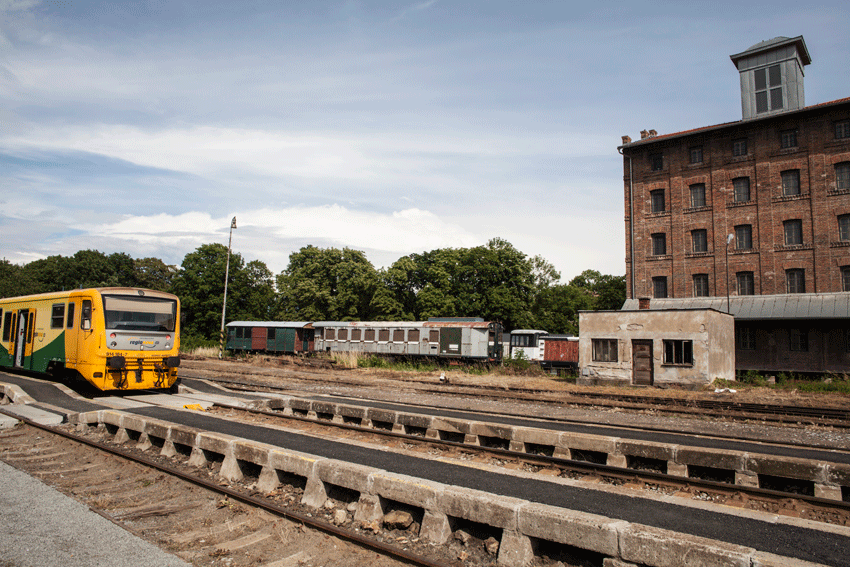 Take an early train (from the central station) to Kutna Hora if you want to see the bone church.  In order to be able to restore the church they want to get as much tourists as possible which spoils the experience. Of course it is a blessing to the parish who is trying to fund the entire renovation, but the teenage girls posing and pulling faces with skulls for selfies made my stomach turn. This is a burial chamber. These are people, not some attraction in a theme park. Everywhere there are signs asking to be silent. All are ignored. Even adults who should know better, pose with the skulls, big smiles on their faces, hands pointing to a dead man's skull. When did people get so horribly insensible and disturbed. Upstairs at the exhibition we see a photo of one of the bone displays that fell of the wall, apparently some tourists nearly went home with some of the bones… how is this possible. My husband collects things with skulls, artwork, sculptures, real ones. They sit in our Victorian book case behind glass. They are treated with respect. Like the Victorian Memento Mori (forget me not). People have often commented saying they think it's weird he's so fascinated by skulls, that it is disturbed. But those same people would be the ones to stand in an actual burial chamber taking selfies with the skulls as if they were Mickey Mouse in Disneyland. Honestly.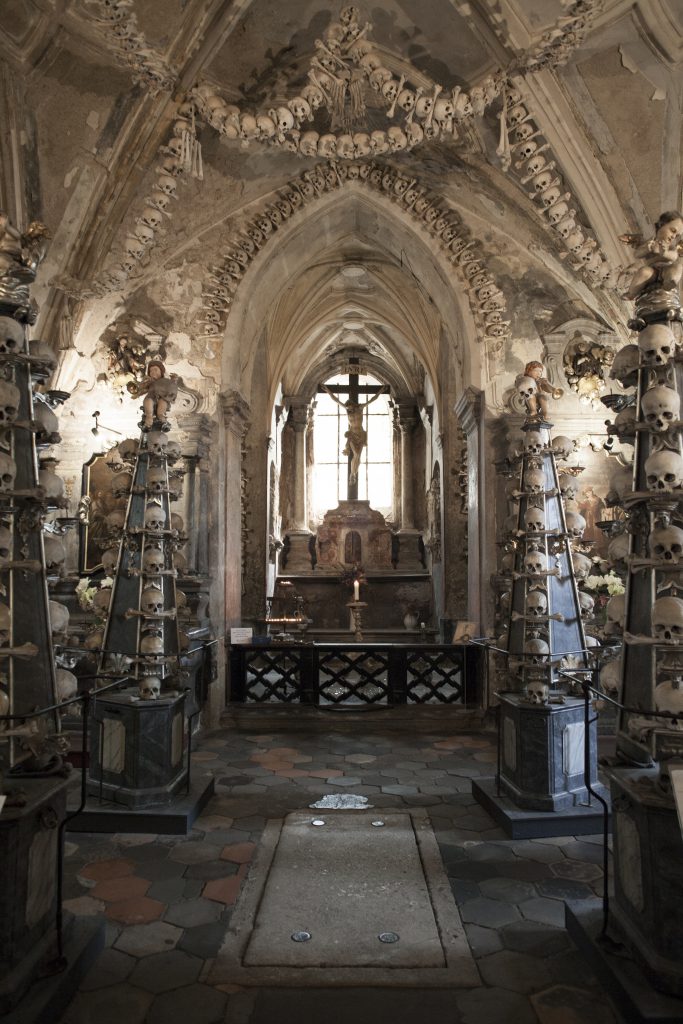 So go early, be there before it opens at 9, we took the train at 8 which arrives just before 9 but already there was a group of Spanish school kids who were loud and obscene. If I had known, I would have taken the train at 7, pack a second breakfast, and respectfully wait at the church for it to open. I hope that in the future when the church has been restored they can change how it is accessed. Maybe only allow 10 people in at a time. You clearly see the parish people love their church, so I'm sure it hurts their eyes as much as mine to see people handle it so disrespectfully.
From the church there is a 2 km walk to the centre of Kutna Hora, the bone church is actually in a small hamlet called Sedlec. The walk is boring, next to the highway, so I would recommend you catch a bus if you have the patience to wait for one. Kutna Hora itself isn't spoiled with tourism yet, it is a sweet little town and they have invested a lot in restoring the site of the Jesuit college (Jezuitská kolej) which has statues like those on the Charles Bridge in Prague. We first saw this site 10 years ago when all the statues were pitch black, today they are restored and so is the vineyard next to it on the mountain slope. In fact, when you arrive in front of the church, you'll see a wooden cabin selling wines from Kutna Hora by the glass or by the bottle. A very beautiful setting for a wine tasting, so we spent an hour just sitting on a bench, taking in the view and tasting the wines. It was wonderful.
We had lunch at Restaurace Dačický where we also had lunch 10 years ago. It hasn't changed and the first language they speak to you other than Czech is still German, like in the olden days. The portions are big, the food filling, no thinking of your waistline when you're here. It's the best restaurant in Kutna Hora, and it is a beautiful place with a courtyard terrace. We had spinage pancakes with sour cream and Smažený sýr the traditional fried breaded cheese.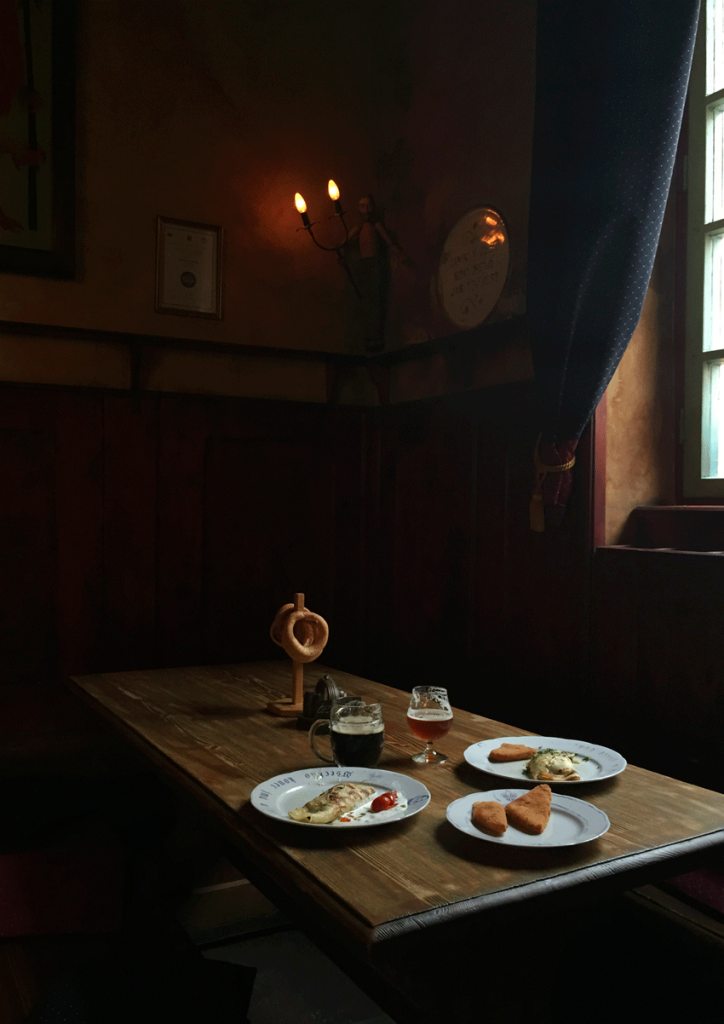 On returning to Prague, take the Kutna Hora station which is another from the one you got out of in the morning, make sure you don't take the stopping train because that takes over 2 hours, so be informed. Tickets can be purchased at the central train station and ask for a return.
My advise for Prague
When to travel
Winter, or weekdays, otherwise you will be stuck in the hordes of tourists and Brits on stag and hen parties.
Where to get away from tourists during the day
The Karlin district, Vyšehrad or Petrin. Though keep in mind that the railway up the hill is very popular.
Or hop on the train, in an hour you're in Kutna Hora.
Where to stay
We stayed in 'Lesser Town' where Café Savoy is situated. It's is a short walk from everything but still much quieter than the rest of Prague.
Where to eat
Inform yourself on the website of Taste of Prague or book their foodie tour, I was to late to book us on the tour but the foodie map that they sell on their website is very useful.
How to get around
Install the public transport app, it helped us loads: it's called IDOS and of course Google maps. In Prague there is free wifi at nearly every bar or restaurant you visit.
Metro tickets can vary from 30 min, 24 hours or 72 hours. You find them at supermarkets, liquor stores and other small shops selling a weird combination of things.
To get from the airport to the town, get a taxi from www.prague-airport-transfers.co.uk – it cost us just under 20 euros one way. It's a 25 minute drive, the shuttle busses take far longer.
Avoid in my opinion
The Trdelnik or chimney cakes either filled with ice cream or plain you see in the centre are something you didn't see in Prague 10 years ago, not in the 80's and according to locals not even 5 years ago. The sickly sweet smell is filling the streets of Prague's centre of town and tourists queue up for it, thinking it is typical of Prague. It is not. They've been very clever making the shops look old and traditional. It's cool that they are finished off over hot coals, but they're not made over the coals as is the way with actual chimney cakes. If you have a sweet tooth, then by all means, go for it. But this isn't a taste of Prague's past, it's very much it's tourist focussed present and basically a scam. As far as my quick research goes, it's not even from this part of the Czech Republic.
The potato chips on a stick, again not traditional at all and a recent fad. They're fun, that is true, but often not crunchy at all and just flat soggy slices of potato.
Don't have the sausages in central town kiosks, they are not the best quality. If you want one in the centre go to butchers shop and eathouse Nase Maso (Dlouhá 39) where you can get a decent one to take away or eat there until late at night.
Don't change money in the street, it's less now then compared to the past, but be aware. My uncle got his watch stolen this way.
If you need crowns, just get them from the ATM.
Don't stop a taxi in the street, use Uber or a pre-booked service.
Don't drink too much Becherovka, you will regret it.
Prague in short
Prague is a beautiful town which is sadly overrun by tourists in large groups, Japanese people taking dramatic wedding photos and irritating stag do's and hen parties. The small shops and food offerings in the centre are all marketed towards those who only visit once. But on the other hand, a younger generation is taking action and small coffee houses, eateries, restaurants and wine bars are popping up everywhere. Prague is great for food lovers, just make sure you are informed. Go to the places I mentioned, take a food tour with the Taste of Prague guys or download their foodie map.
If you stay away from the central town and venture out there only early morning (dawn!!) or late in the evening, you will be able to see the town in all its glory. In districts like Karlin or parts a little further from the centre like the Lesser town, you will get away from the buzzy streets and you will be able to have a relaxing time. Go to the upper town where the Golden street is and the palace in the evening after 5. The palace grounds where the ancient Golden street is, is open until 21-22h at night and blissfully quiet. Walk around there and enjoy the whole neighbourhood in the dark romantically lit by former gas streetlights. The town is very safe at night, but always be cautious.
I can't wait to go back, Prague is still one of my favourite towns to visit. But next up is Budapest, watch this space…
Untill next time,
Regula