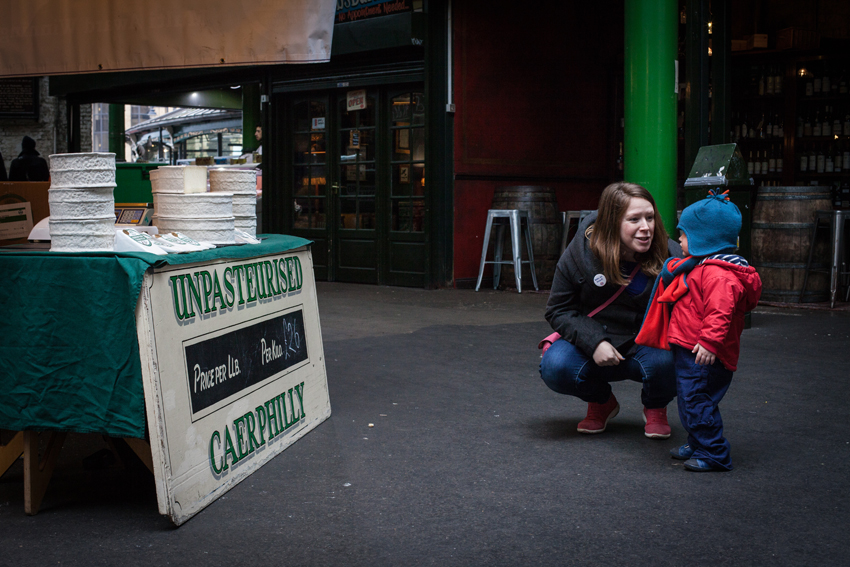 I've been planning to write about Borough Market for a very long time, the draft has been in my folder waiting for the right moment, and now the time couldn't be more poignant. After last weeks terrible events where the market was the victim of a senseless attack I knew I had to write this. Now over a week later, the market is finally opening again and now more than ever the market traders and surrounding restaurants and bars need your support.
Most of the traders are very small often family owned businesses. Loosing a week of custom, and getting over the fact that this beautiful multicultural market was soiled with violence is tough. We all know the way forward it to 'keep calm and carry on' so please if you are in London, take the tube to London Bridge Station and do your shopping at Borough Market. Meet there for lunch or dinner or after-work-drinks. It's safe, probably safer than it has ever been. But mostly, it is a statement, that we will not let terrorism dictate our lives.
On my first ever visit to Borough Market 7 years ago, I never thought that today I would be working for them and writing for their mag and website. Now nearly two years ago I became a photographer for the Borough Market magazine called 'Market Life'. It is beautifully produced and jam-packed with interesting content. Stories about the market traders and their lives, the produce, the provenance and the events at the market which have become plentiful over the years. There are panel talks, tastings, cookery demonstrations and there even is a Cookbook Club. It is such a community. I've worked with many of the market traders, sourcing produce for shoots, they've been generous with advise and for some shoots they've even been on hand to help me. That is why I was especially shaken by the sadness that happened last week. My first thoughts were with the traders and the people who work tirelessly behind the scenes in the Borough Market office. The people I love to work with.
Borough Market is life, it is hope. It is a place where gender, sexual orientation, colour, religion or political preference doesn't matter. It's food, only food. That what keeps us alive, that what we live for, that what brings people together. The market sent out a statement and I want to share with you:
Now more than ever, we need to remind ourselves that what we do here matters. A food market has nothing to do with hate. A food market is about sustenance and wellbeing, pleasure and sharing, companionship and family. That's why it's important.
This post was supposed to be about the history of Borough Market, but for now, it is about the present and the future…
If you can not make it to the market but wish to show your support, many traders have an online shop, but there is also a crowdfunding campaign where you can donate to help the businesses and individuals who suffered financial heartache because of the closure. You can find it here: www.justgiving.com/crowdfunding/bmrelieffund
Visit the Borough Market website for updates and to learn about the different market traders and businesses that form part of this rich and beautiful food community: http://boroughmarket.org.uk/
Also see this 'where to eat' guide compiled by Ed Smith who like me also works for the market: http://www.standard.co.uk/goingout/restaurants/where-to-eat-in-borough-market-a3557376.html
My personal favourites, while are traders are equally lovely are:
A Bread Ahead donut – best eaten somewhere in a corner, slightly private, to enjoy the full finger-licking experience.
Also there brioche burger buns, large white tin loaf (perfect for summer pudding and bacon sarnies!!), and decent sourdough loaves
Karaway Bakery Poppyseed and coconut and white chocolate bun – I always take these home for our breakfast the next day.
Also their caraway sourdough loaves and mini rolls.
Olivier Bakery for their round milk loaf… so good with plenty of butter!
Flour Station for EPIC English muffins and decent sourdough loaves. They make a mean Chelsea bun too!
Excuisite Deli have a great cured Biltong, Brindisa for spanish cured meats, Bianca e Mora for great Emilia Romagna cheese.
Speaking of cheese, Alsop & Walker sell the Lord London Booby shaped white cheese which is ah-mazing, there is also great cheese from Bath from Bath Soft Cheese Co. Borough Cheese Co for everything cheese and Gorwydd Caerphilly for … Caerphilly of course!
Kappacasein makes a mean raclette and cheese sarnie with cheese from Bermondsey which is just round the corner. And don't forget all the others and Neils Yard Dairy who has a large selection.
For all things meaty I go to Dom from Northfield Farm who patiently cuts and wraps all the cuts of meat I carry home in my suitcase after working at the market. Go there for excellent beef from their own farm and friend-farms, check out their meat maturing cabinet thingie! Dom is proud of his mutton, and his lamb is excellent too. And if you are feeling peckish after your meat shop, turn around and order a burger at their stall, they are excellent and have long been my favourite in town.
Furness Fish & Game have excellent game and poultry. They usually have a very lush display of fish.
Cumbrian Speciality meats for some Herdwick and other rare breed meats
Gourmet Goat make mouthwatering dishes with kid goat meat
I'm told one of the Borough Market office workers has to bring home a pie from Mrs King's Pork pies or the spouse at home is very very disappointed indeed. They are very good and award-winning, coming from pie-central: Melton Mowbray
For fishy situations my first stop is always Paul at Sussex Fish. A lovely fellow always in a good mood and always selling smashing fresh fish from his own boat and sustainably caught. He wraps them carefully for me to stock up my freezer at home.
Richard Haward's Oysters have been my little treat for years, I usually get a pint of Stout across the street in the pub and have my oysters with it, proper old school and VERY good.
Shellseekers Fish and Game are usually where I get my lunch when I work at Borough Market, a quick dressed Dorset crab and a ciabatta from Bread ahead. The most luxurious fast food there is.
There is also an excellent mushroom paté that is so delish and the only thing Paté Moi has been selling for years, made to her own family recipe.
For after work drinks Wright Brothers Oyster and Porter house are your spot for oysters. And why not Fish and Chips at Fish!
Fruit and Veg there are plenty of options so browse the whole market. Turnips, Ted's Veg, Elsie's and if apples are your thing then definitely check out Chegworth Valley.
Spices can be found at Spice Mountain, in handy little pots. The local honey man sells a very good honey.
For lunch there are so many options it is hard to pick a few, so have a browse and see what takes your fancy: goats dishes, Indian food, melted cheese sarnies, Balkan bites, burgers, Herdwick lamb wrap, Ethiopan, old school Hobbs Meat Roast, proper Lincolnshire sausage, salt beef bagels and falafel wraps, Sri-Lankan cuisine, British pies… a wonderful mix of cultures! See all the street food stalls here: http://boroughmarket.org.uk/traders/street-food
For a full list of market stalls visit the Borough Market website: http://boroughmarket.org.uk/traders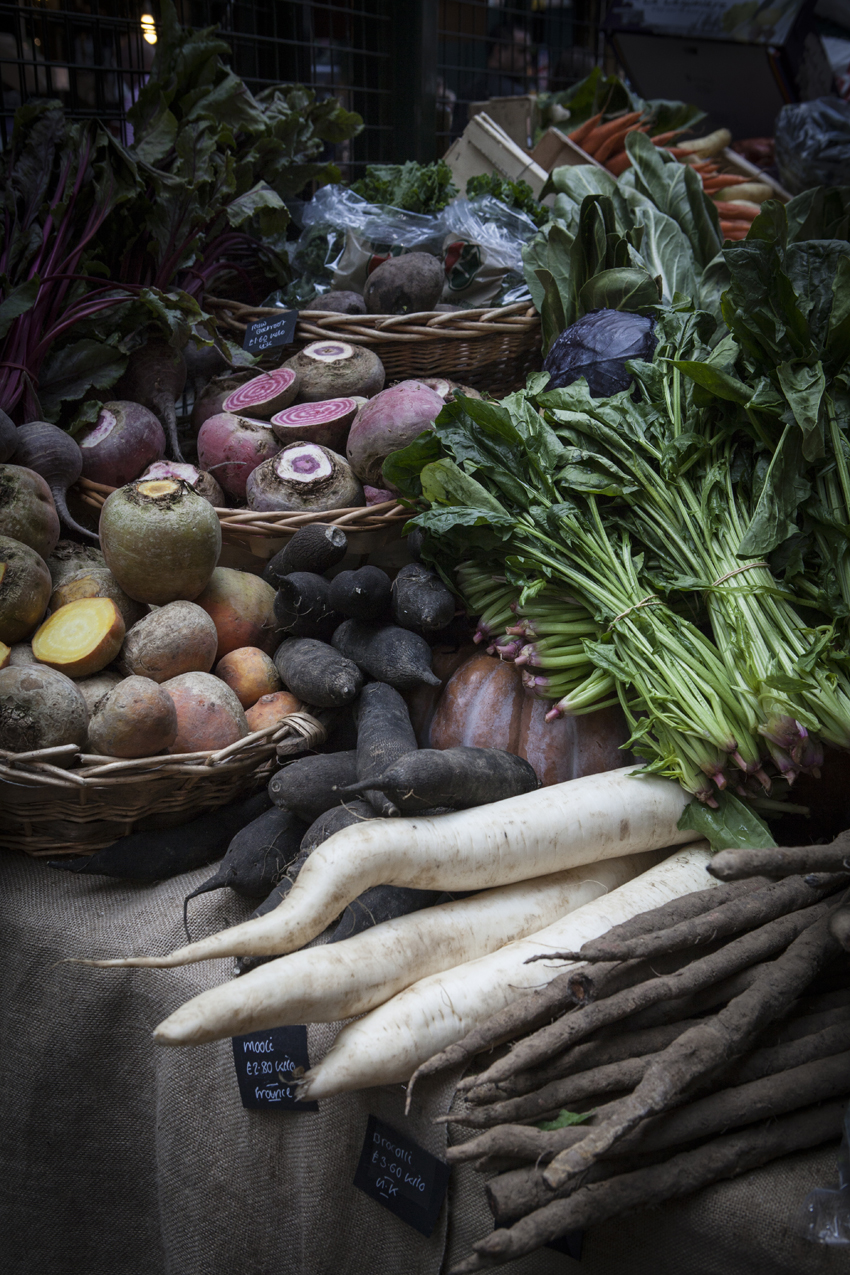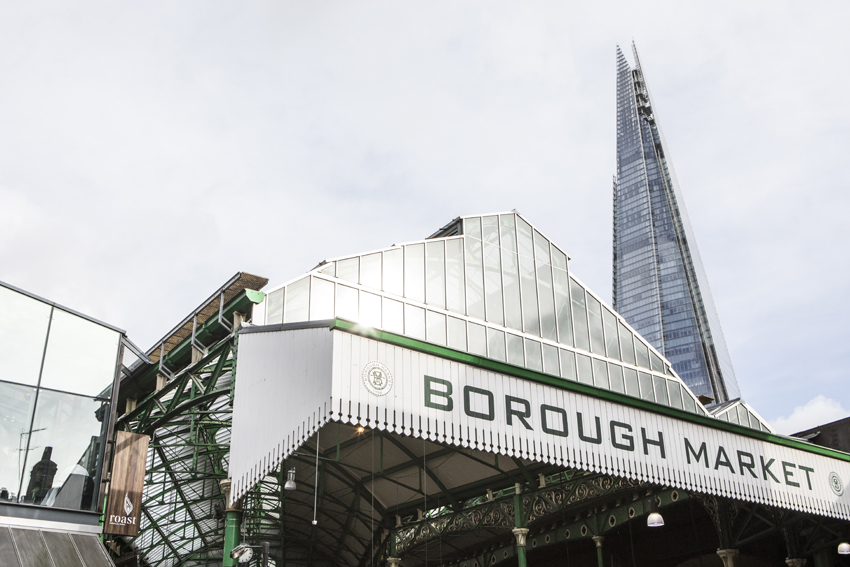 Good luck to all the traders and people involved with Borough Market!