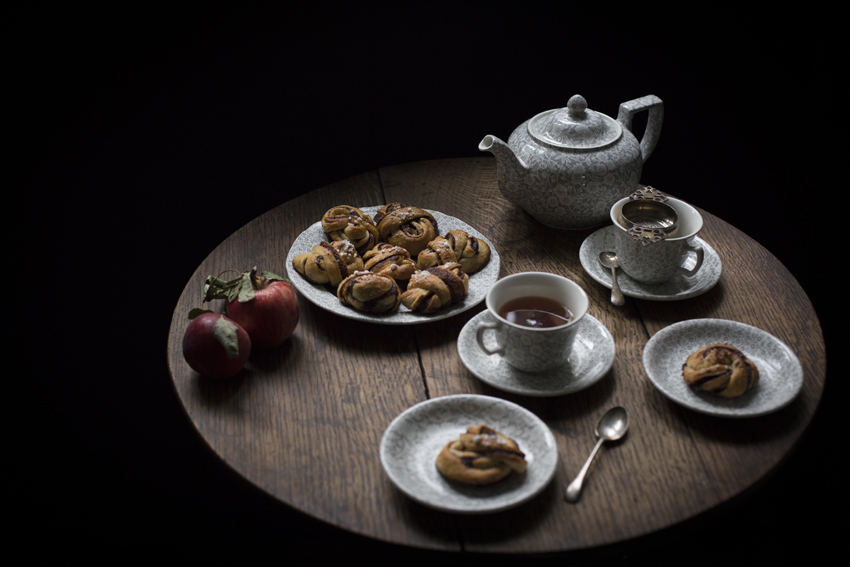 I've always had a thing for cinnamon buns, but I've also always hated half of the ones I've tried.
They're often either too sweet, too soft, too fluffy, too dry or too yeasty.
It's my opinion a bun should not be so light that it is an afterthought, it should be the main affair proudly in the middle of your plate. A bun should fill you up and get all your attention. I'm obsessed by the ones Gails sells in London, I buy a couple to take home to my equally obsessed husband and usually have to go back for an extra one because I could not take waiting until the Eurostar had taken me home… These buns cover your fingers in cinnamony sugar and you just have to continuously rudely lick your fingers. Starting by the outside layer you have to pull away a piece like you do when you're eating cotton candy. Gails buns are sticky in a dry way, they have something delightfully savoury, are made in a mould and often the bottom part will have bits of syrup from the filling dripping out. They remind me a little of a pastry we have in Belgium called 'Bolus' which is also made in a mould.
The last time I was a Gails the customer behind me asked if I really liked them because I was buying five. I told him they were all for me and my husband, over in Belgium. He was impressed the buns would travel to Belgium and got quite a couple for himself.
Another great bun is the Swedish type, kanelbullar, the traditional pastry for Fika, the Swedish coffee break accompanied by a snack. Recipes vary, just like they vary with all cinnamon buns. Some use a lot of yeast which creates a fluffy bun, I am not really looking for fluffiness when it comes to kanelbullar. I've seen these type of knot-kanelbullar and discover those are the traditional shapes.
They are made not by simply rolling up the pastry smeared with filling, these bullar are made by folding the pastry in half, both sides smeared with the butter, sugar and cinnamon mixture and then strips are cut from it. Those strips are then pulled slightly, turned and tied into a knot. Then they get a coating of whisked egg and a drizzle of pearl sugar before they bake in the oven and fill the house with the smell that could sell a house.
I just visited Sweden (
read my long journal here, take your time, make a cuppa, slow down
) and there I was greeted with kannelbullar in the middle of a beech forest, a table laid out with vintage crockery, around it new friends and old. While there I really started to obsess about the Swedish type, inspecting each bullar that came my way. I tried perfect ones, fluffy ones, in between ones. Oh how I love these buns, even possibly more than the ones at Gails…
So I put my mind to recreating them at home, because I'm sick of fluffy or dry buns, really a bad bun can ruin a morning for sure. I think if I can can nail these buns there will be happiness in our lives forever, because who doesn't get happy from a perfect bun?
Swedish Kanelbullar, my favourite recipe so far
What do you need
The dough
255 ml full fat milk

1 tsp of ground cardamom (I like to grind my own)

60 g unsalted soft butter

1 egg, beaten

500 g plain white flour

15 g dried yeast

70 g raw cane sugar

5 g salt
Filling
150 g unsalted soft butter

95 brown sugar

2 tbsp cinnamon (15g)

a pinch of salt
Decoration
1 egg, beaten

Fine pearl sugar

Sugar syrup (optional)
Method
Place all the dry ingredients in a mixing bowl.
Warm up the milk with the cardamom so it can infuse and leave to cool slightly so it is only lukewarm.
Add the butter and half the milk and whisk with the dough hook on your machine, add the egg then gradually start adding the rest of the milk making sure all the cardamom goes in it as it tends to sink to the bottom.
Knead for 5 minutes on medium, the dough will appear quite wet but don't be alarmed, don't add flour, it will sort itself out while rising. Cover the bowl with the dough with cling film or a towel and leave to rest until doubled in size, usually one hour.
Make the filling by combining the soft butter with the sugar, cinnamon and salt. Whisk well, the better you whisk, the smoother the filling can be spread over the dough.
When your dough has rested, turn out gently on a lightly floured surface and press into a rectangle shape. Roll out to about 4 mm making sure the shape is as straight as possible as we need to fold the dough in 3.
Use a spatula to divide the filling over the dough and make sure you smear it all the way to the edges.
Fold one half of the dough to the middle and fold the other part over. Now use a pizza cutter or sharp knife to cut strips of about 2 cm wide.
See
this video here
to learn how to tie the knot, it's in Swedish but you'll get it. (the knotting starts at about 2:45min, I only wrap it around my fingers twice)
Place the knots on a baking tray covered in baking parchment leaving room in between them so they can expand. Cover with a towel and leave to rest for 30-45 minutes, they will not double in size but rise 1/3.
Meanwhile preheat your oven to 200°C.
When rested add a coating of egg wash to the buns and then drizzle with pearl sugar.
Place in the middle of the oven and bake for 15-20 minutes or until nicely golden brown.
If you like your buns sticky you can make a sugar syrup by using equal amounts of sugar to water, I'd say two tablespoons of each should be plenty. Heat until the sugar is dissolved and use a brush to coat the hot buns. They will get a beautiful shimmer.
Eat all of them immediately of show character and eat one and leave the rest for your family or friends.
You can make about 14- 15 larger ones, depending on how large you like your buns.
Many Swedish bakers also make the filling out of almond paste, butter and cinnamon. Others use only cardamom instead of cinnamon in the filling. Either way the pastry gives a good base and you can start experiment!
Warm buns
If you made your buns in advance but want to serve them warm, preheat your oven to 160° and warm them for about 5 minutes or so. The buns will be as if they were freshly baked there and then.
Make it easy:
Freeze half or whole of your batch after the second rise by carefully bagging them. When you're ready to bake, just take out of the freezer, coat with egg and the pearl sugar and you will have warm buns in just 20 minutes… What's better than that?
More buns? You can never have too many buns!