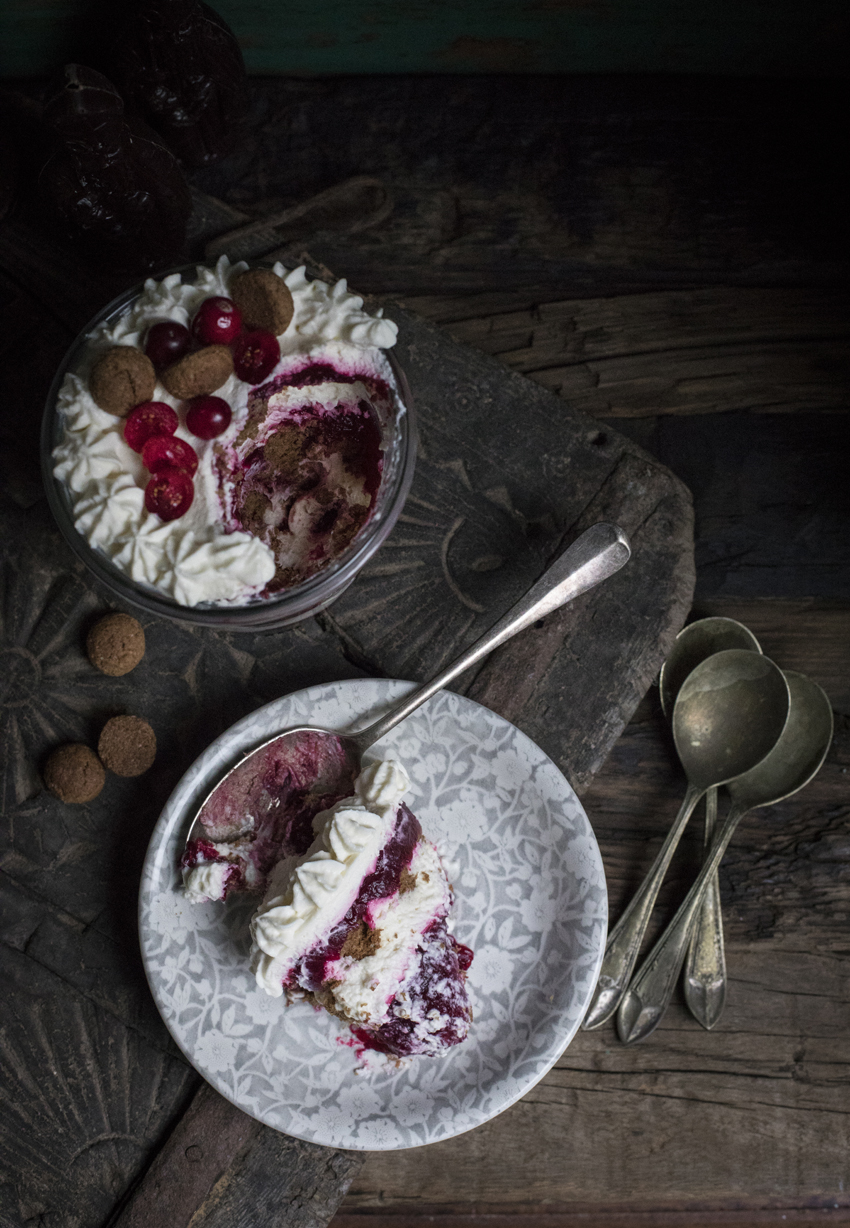 In februari last year I went on a backpacking trip to Latvia, I was doing some research for one of my projects and with it met up with a woman I had met at the Oxford Symposium.
One of the most memorable things I ate while in Latvia was a Rye bread trifle with cranberries on lingonberries they call 'Rupjmaizes kārtojums'. It is made by grating the iconic sweet Rye bread and lightly frying the crumbs then layering it with cream and curd cheese and the tart red cranberries they use so often in their cuisine. It was offered to me by the host in 'Zaku Krogs' a most wonderful Jamaica Inn-like ex-rabbit hunters Inn in Jurkalne which is about an 2,5 hour drive from Riga. The drive there takes you through forests which are laden with berry shrubs and strange small villages with Soviet-style blocks of flats.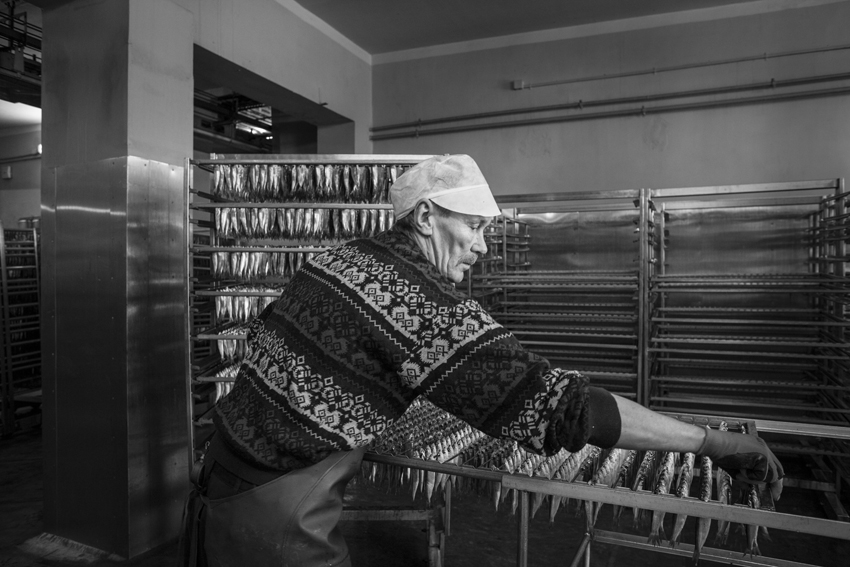 On our way to Jurkalne we visited Ildze's friend who works in the office of a sprat canning factory where all the people from the surrounding villages work. It was a unique insight to how this works, the sprats are delivered daily and extremely fresh and processed that same day. Processing means they are sorted by size and arranged on hooks by a group of women, then they are smoked – no artificial dye here – and then another group of women sorts the sprats neatly in their tins like braided hair. Then the sprats get a generous blob of salt on them, rapeseed oil and the tins are closed and finally pasteurised.
For lunch we had a selection of smoked tinned fish Banga, the factory, produces, it was all delicious. I do adore a bit of tinned fish. If you have a can of fish you always have a fantastic meal. For dessert we had a Charlotte made by Ildze's friend who was celebrating her name day that day. Apparently in Latvia a name day (the day of your saint) is equally as important as your birthday. Latvians love to party and take any excuse to have a slice of cake, or excellent Charlotte with curd cheese in this case. I still need to beg for the recipe as it was so incredibly good.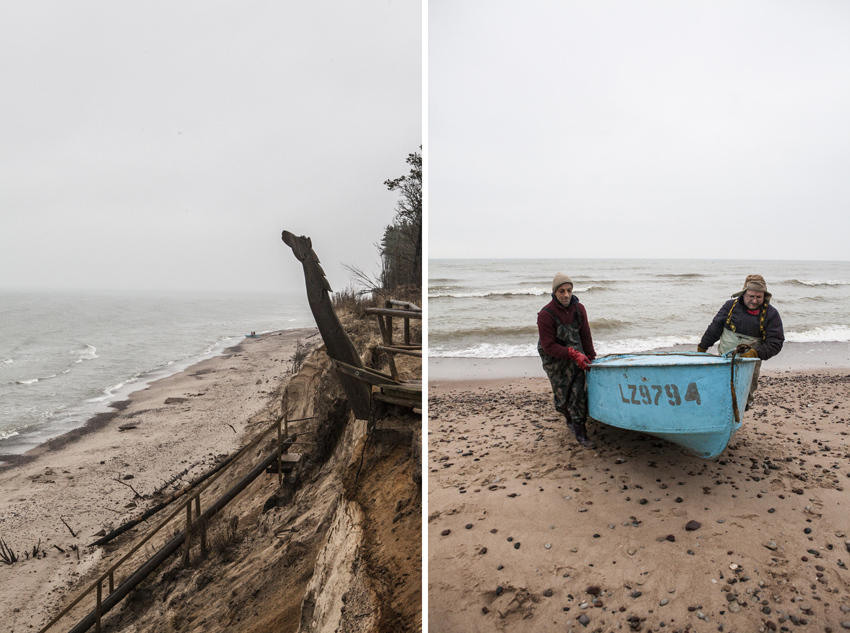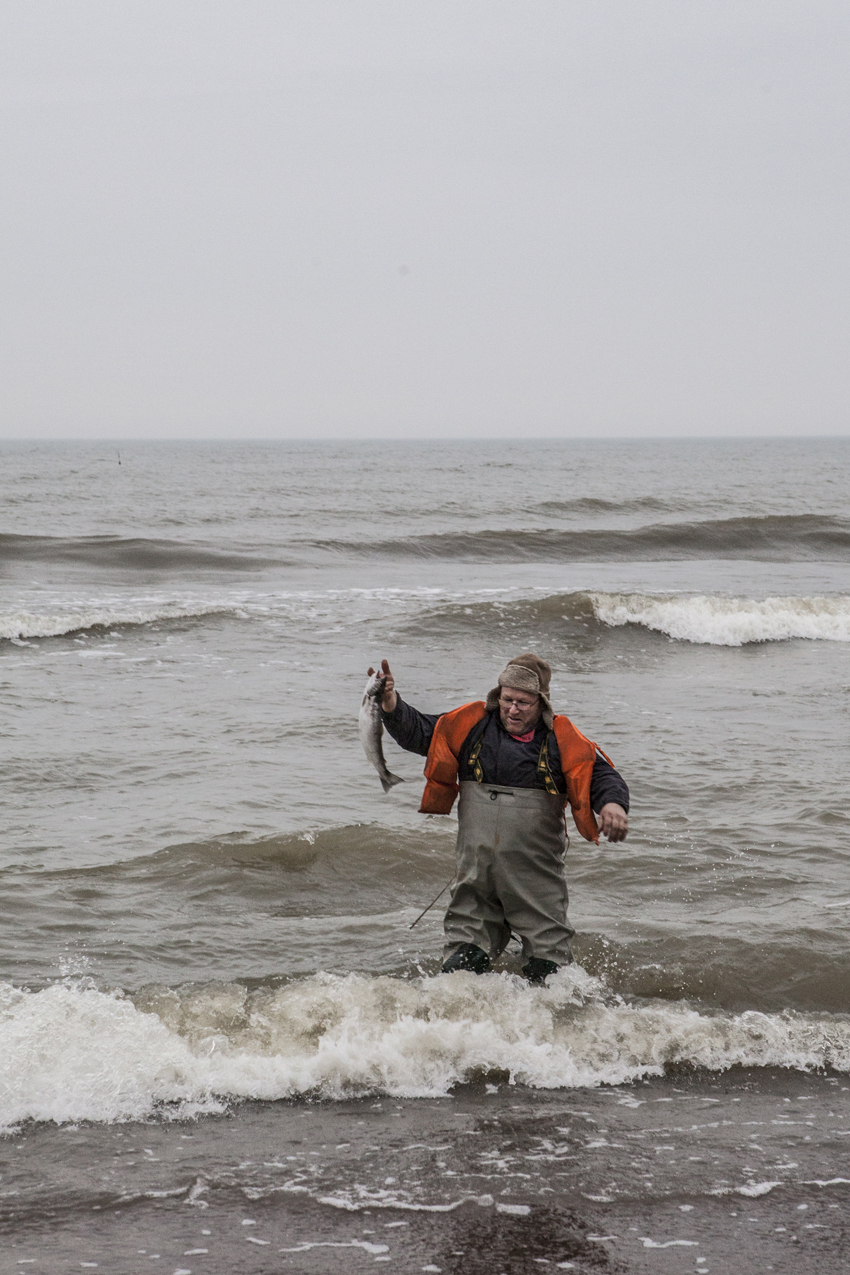 Arriving in Jurkalne we went to visit the local fishermen who operate from the sandy beaches. They caught us a stunner of a wild salmon for our supper which was lovingly prepared by our host at the 'Zaķu krogs' inn. The inn is a wonderful place to stay to unwind. Wooden benches with sheepskins and woolly blankets, an open fire for when it gets really cold, cosy stylish bedrooms and oh my the food… the food was outstanding.
The salad with our dinner was made with picked vegetables from their own garden, preserved for winter. The salmon we ate was collected by us with the owner of the pub just an hour before it was gracing our table, poached gently and surrounded by little baltic herrings like a crown. Dessert was beautiful in its simplicity. The trifle made with crumbled dark rye bread, a layer of lingonberry puree and cream, fresh raw cream. Next was an ice cream made from rogan berries which tasted strangely savoury and although I really am not a big fan of ice cream, I could not stop and dived back in with my spoon as if there was no tomorrow and this was the last food on earth. The tartness of the berries and the flavour packed cream showed us how simply gorgeous food can be if you have great produce. Our third treat for the evening was more of that delightfully addictive cream this time mixed with cottage cheese made from the same decent milk. It was placed right in the middle of a pool of lingonberry puree. The red of the berries perfectly bleeding into the innocent white of the cheese. Oh let me spend a week here with dinners like these and I would never stop smiling. The worlds misery disappeared and we were allowed to just sit back and enjoy the simple pleasures of life which have become such a luxury.
In Riga itself we went to the Farmers Market on the other side of the river. I'm really happy my friend took me there because it really shows you another view of Riga and Latvia. While the big central market is full of great food offerings, the Kalnciema Market is a sweet little market full of artisan producers.
In one of the little wooden houses on the square is a coffee house with a crafts area where everyone's children were painting and playing while moms and dads enjoyed the time-out at the market in peace and with wine. Because it was carnival there was an exhibition with masks made by a sweet looking old lady. I could not buy a mask as I had no space to put it that day but that night I did the google and found her and got in contact to find out if I could buy her masks in town, which I could, in Istaba, a gallery with products made by Latvian designers.
Tasting everyones offerings at the market was a must really, Latvian people are generous and enjoy to share. They would give away everything for free if they wouldn't have to make a living too. There was plenty of pickled fish and vegetables, also preserves of which the hemp spread was the most surprising as it appeared like a hipster thing to me but my friend assured me they have been eating hemp like that for centuries. Cured meats were plentiful and delightfully smoky. If this had been my last day I would have bought a ridiculous amount of food but sadly I had 4 days to go and no fridge in my backpack or the hotel.
Our lunch was sausages and pickled cabbage from a fellar who was especially proud of his bangers. And rightly so because these were the most flavoursome and delicately textured sausages I've ever tasted. Oh how I wish I could have taken a few of them home and they are a thing to come back for. The mustard served with it was so hot it felt like I was on fire. Great timing as I was still recovering from a nasty cold and needed heating up after the amount of snowstorms.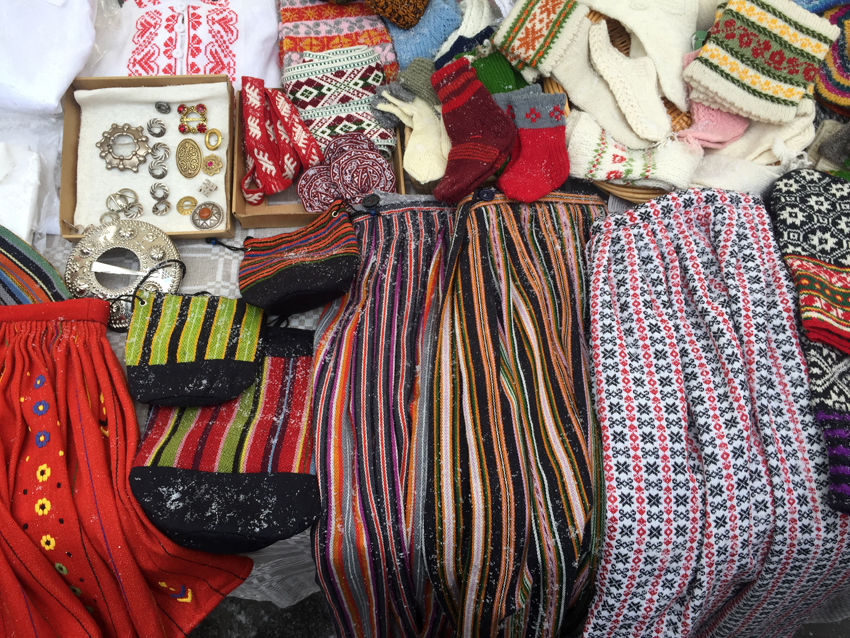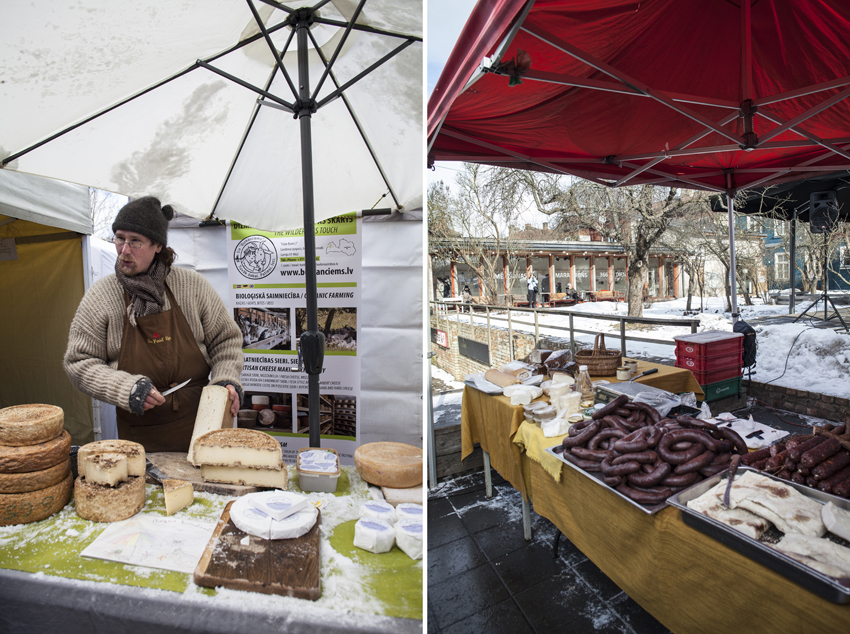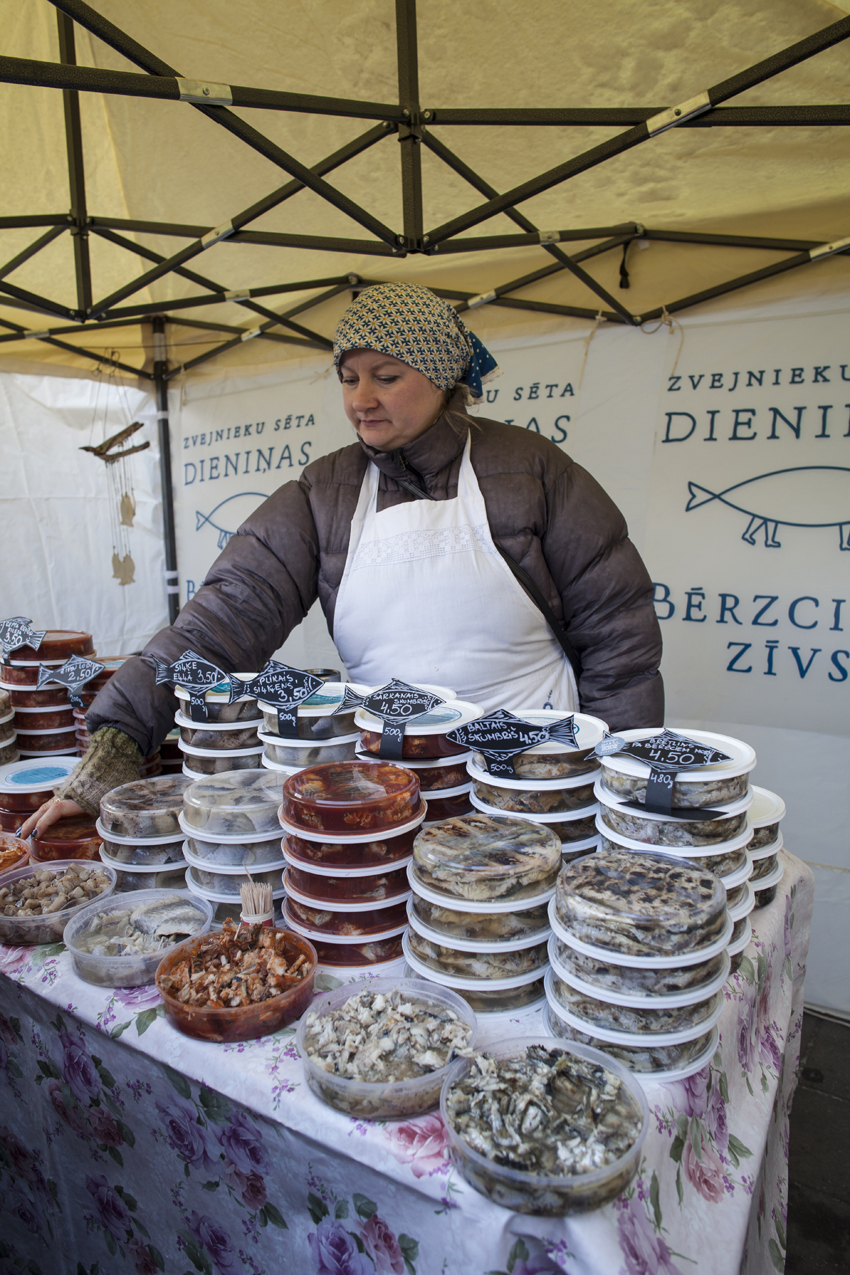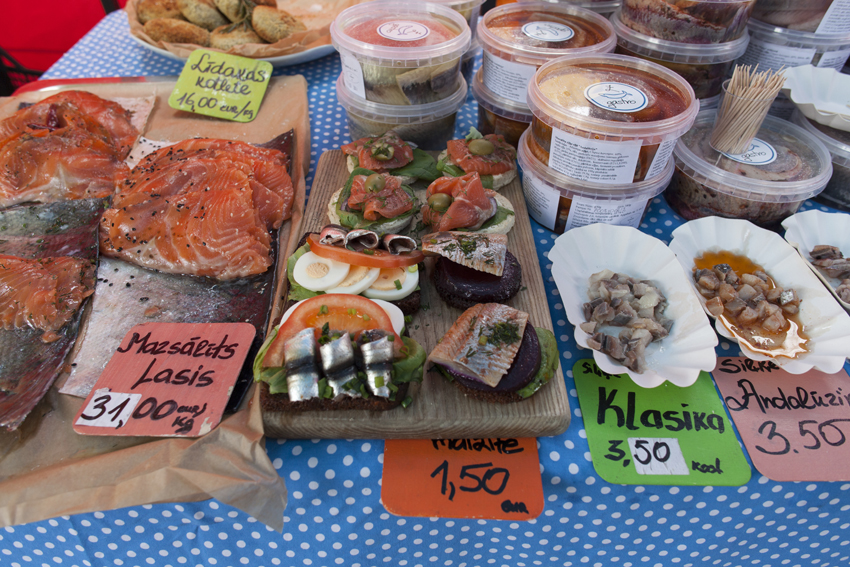 I'd love to go back to buy the Rye bread which is baked on maple leaves to prevent it from sticking to the oven, the smoked meats, the herring, the sausages and preserved cabbage, the jams, the wines and the Latvian potato tarts called 'Sklandrausis'. There was folkloristic dancing with people in animal masks and the men were sharing Vodka behind their stalls. We walked around for 2 hours and I didn't want to leave, I just adored the atmosphere.
After our visit to the Market we walked to Kipsala, an area next to the river with big mansion houses which are often empty. It used to be a troubled neighbourhood but today it is reviving and the restaurant from Ingmars Ladigs 'Ostas Skati' is definitely a big part of it.  From the tall restaurant window you see the river which is at this time icy and coloured a stark grey. The food is contemporary Latvian and Ingmars feels the products quality is the most important thing. The walk there from the bridge is long but I would recommend it as it is scenic and it shows a very different Riga.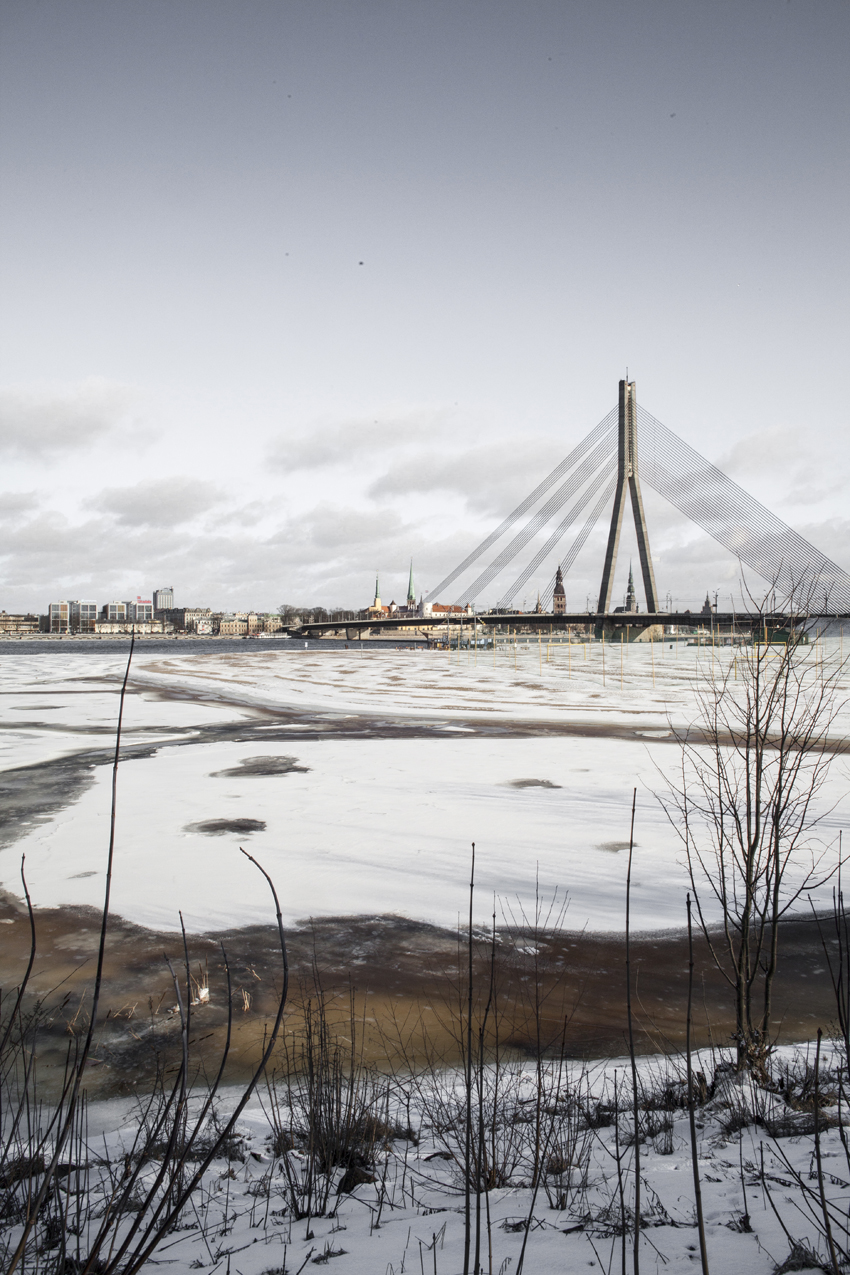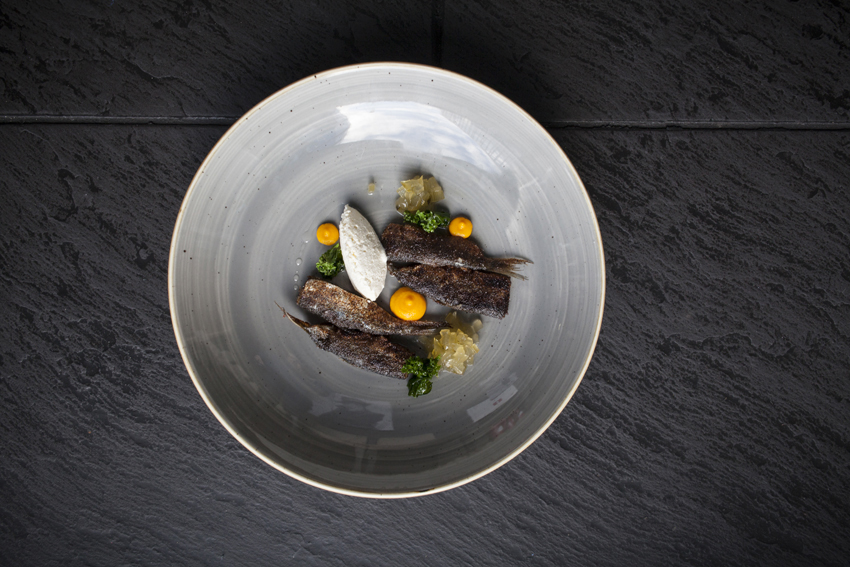 Another restaurant we went to is '3 Pavāru Restorāns' where we met Martins Sirmais. He prepared a smoked eel dish for us which was outstanding. The restaurant is conveniently located not far from one of the main parks in Riga and the interior contemporary and relaxing. I would definitely recommend this place for a nice dinner.
'Ferma' is another great restaurant in Riga, we were served stunning looking food and the atmosphere is great, very modern. You would think you're in London.
The Central Market in Riga is enormous and it is there that Latvias history becomes very clear. There are Latvian traders and there are Russian traders. I'm told that after all these years, Russian and Latvian people still don't really mix. They lead their own lives, each have their own shops and their own culture. In Riga you clearly see the Russian clothing shops and the Latvian ones. The Latvian fashion is garments made out of warm fabrics like wool, the colours and silhouettes are soft and elegant. The Russian fashion is very harsh, short mini skirts and a lot of bling-bling fabrics. It's a stark contrast.
Visit the market for the impressive meat and fish hall and do visit all the pickled vegetable stalls too as they are quite intriguing. In the vegetable hall you'll also find a craft beer café which sells very tasty beers.
In the town there are a couple not to miss shops, Riija is a shop that sells Latvian made homewares, pottery and other beautiful things. Istaba is a smaller shop a little further from the centre but not to miss. It also sells Latvian made products and upstairs is a café that serves great food and craft beers.
I was expecting to find old coffee houses like the ones in Budapest and Prague but unfortunately if there were any, they did not survive Soviet occupation which lasted for 50 years and although now over 60 years ago, Latvia is clearly still recovering from. You will see these majestic buildings everywhere, run down, empty and sad. These were the homes of the well to do who ran from the Russians. These buildings were then turned into military buildings where they had little respect for precious wooden flooring and other delicate interior features.
I can see how majestic Riga must have been before it's joie de vivre was killed by Russian tanks. I think it will possibly take another 20-50 years before this country has fully recovered and wounds can start to heal. I find it everywhere where Soviets have invaded that the people find it hard to talk about those times. Czech Republic, Hungary and those are just the two I visited. The subject is avoided and changed as soon as possible. It is as if something blocks and it is worrying to see how no one feels like opening up. We think of Nazi Germany, but I don't think we've ever considered the terror of Soviet times.
Unfortunately I didn't have the time to visit any museums and such but this gives me the excuse to come back. When I do I'll definitely visit the farmers market, these restaurants I visited and rent a car to stay at  'Zaku Krogs' again.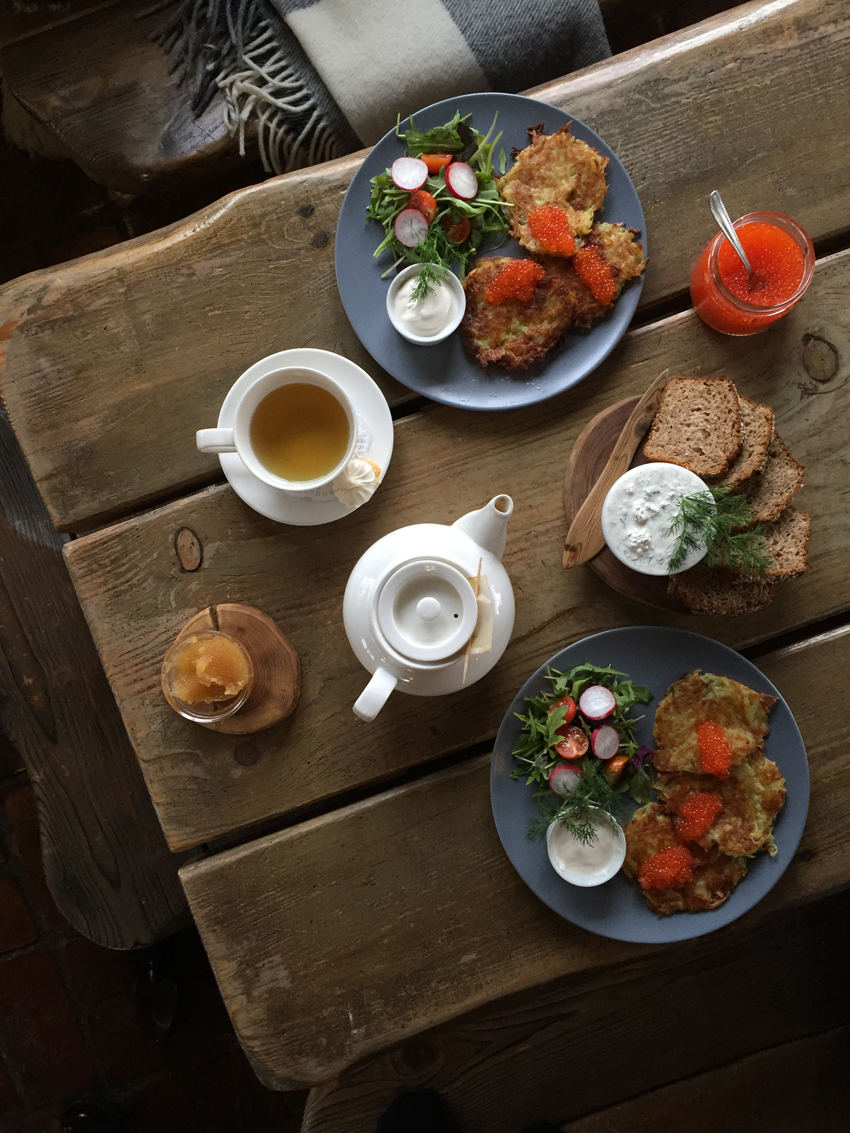 Walking through one of the parks in Riga you will notice the old trees and the sort of scaffolding that supports some of them who are hanging dangerously low over a footpath.
Latvia is a country that does not cut down a tree but supports it with iron pikes to keep it up so it can continue to live and grow. It respects the fact that the tree was there long before most of us, long before soviet occupation, and that it survived that time, just like the people. To cut down a tree for behaving naturally in its old age, would be to forget what it survived, discarding its entire life as insignificant. The trees represent the Latvians.
Thank you to all the people who welcomed me so generously!
Address Book
Shopping
Farmers Market: Kalnciema Market
Kalnciema iela 35, Riga – Only on saturday morning!!
Central Market
Nēģu iela 7, Latgales priekšpilsēta, Rīga
Istaba (shop with café)
Krišjāņa Barona iela 31A, Centra rajons, Rīga
Riija
Tērbatas iela 6/8, Centra rajons, Rīga
Hungaricum
Ģertrūdes iela 5A, Ieeja no Skolas ielas, Rīga
Restaurants
Ostas Skati
Matrožu iela 15, Kurzemes rajons, Rīga
3 Pavāru Restorāns
Jacob's Barracks, Torņa iela 4, Central District, Riga
Ferma
Valkas iela 7, Rīga
Istaba (shop with café)
Krišjāņa Barona iela 31A, Centra rajons, Rīga
Outside Riga
Zaķu krogs: Inn with outstanding food
Disclaimer: I visited Latvia at my own expense.
Latvian Rye Trifle
So what about this 'Rupjmaizes kārtojums' Latvian trifle. You all know I love a trifle and since we just celebrated Sinterklaas yesterday in Belgium I'm as always left with a glut of 'kruidnoten' biscuits. Tasting this trifle in februari I thought by myself this would be a great recipe to use up all the leftover kruidnoten as they are also made with rye flour. And yes, I made the trifle and it was a succes. Kruidnoten are the type of biscuit, very speculaas-like – which are perfect for a trifle. They become just the right amount of soggy. I think as far as trifles go you always have to go with a biscuit that is a good dunker. That way your trifle will never be an English soup. The cranberries for this recipe are made into a coulis, in Latvia you can buy this coulis in a jar and they use it for a lot of dishes. The great thing is that it hardly contains any added sugar so it gives a nice and tart note to the trifle.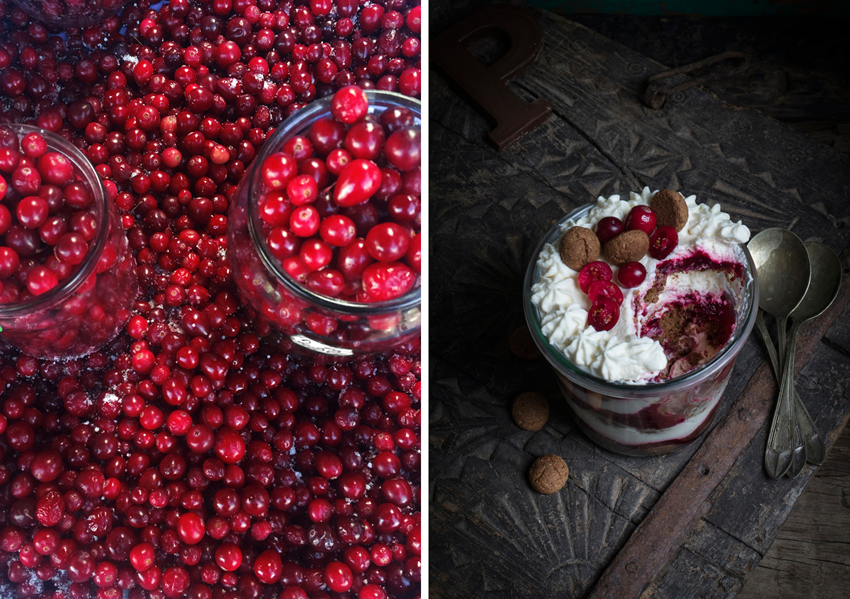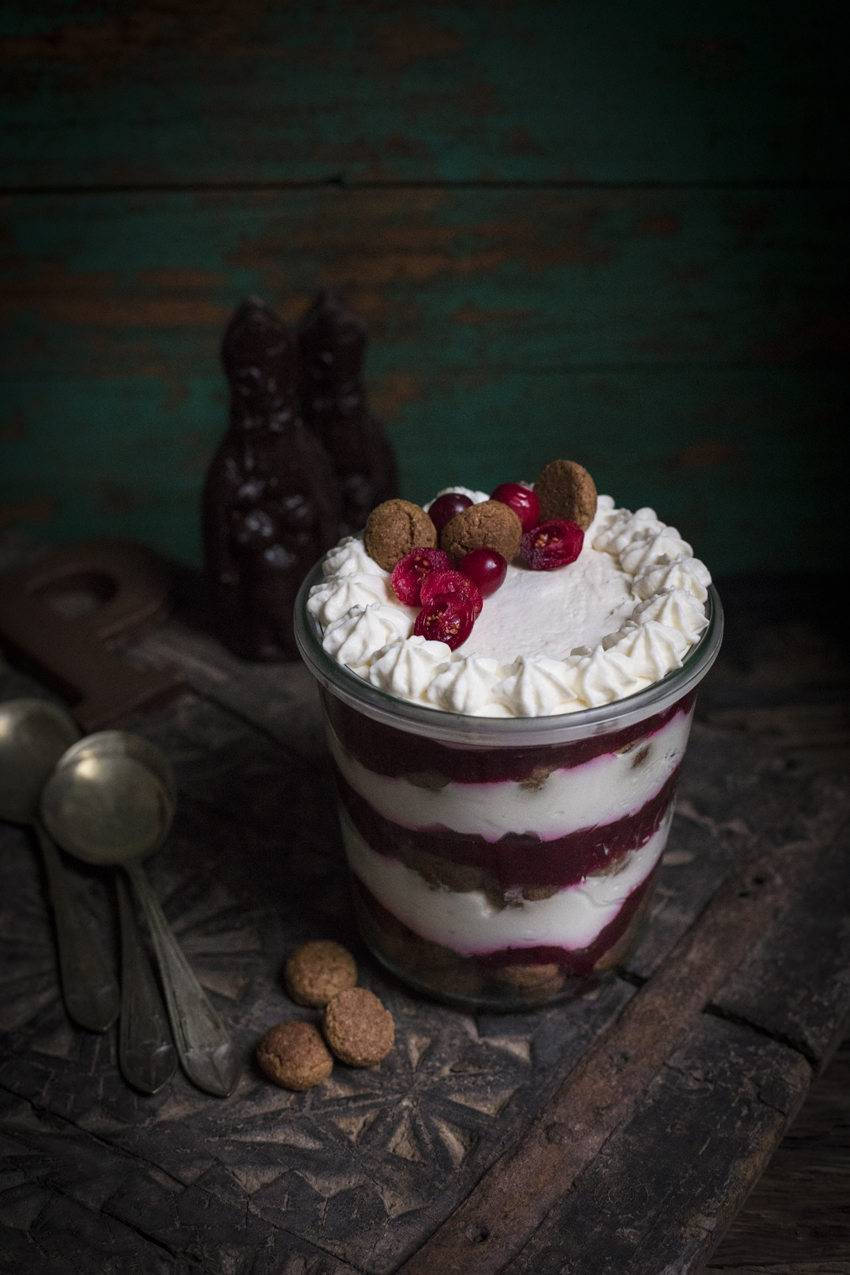 The Recipe
What do you need (serves 4 -6)
350 g fresh or frozen cranberries or lingonberries
1 tbsp of sugar
300g kruidnoten or strong speculoos (no Biscoff!!) – or make the traditional version using 300 g of grated Rye bread
optional: alcohol, I used sloe gin which was incredible
300 g 40% fat cream
100 g ricotta or curd cheese
Method
If you want to make the kruidnoten there is a recipe for them on my blog from way back in 2011, you can find it here >
You need a trifle bowl or individual glasses like jam jars. I used the same jar as my host in Latvia used for this one.
First make the cranberry coulis (keep some cranberries for decoration) by simmering them in a pot with the sugar until you get the texture of apple sauce. You will need to add water from time to time and the ideal consistency should be that it is thick enough to leave a line in the pot when you go through it with your spoon, yet runny enough so it drops from your spoon. Some berries give more juice than others, so it is impossible to give exact instructions. Just think: too wet and the trifle will be a soggy mess, too solid and it will not blend well enough.
If you're using Rye bread crumbs, lightly fry the crumbs in a dry heavy bottomed pan, don't colour them. Let the crumbs cool.
Let the cranberry coulis cool off but let it not be fridge cold when you use it.
Make the cream mixture by whisking the cream until you get nice peaks and then adding the ricotta. Fill your piping bag and place in the fridge while you prepare the biscuits.
Place the biscuits in a bowl but leave some behind for decoration. Drizzle the alcohol over the biscuits, not too much, there should not be a pool of booze in the bottom of the bowl. If you are using Rye bread, don't soak the crumbs in booze. Now take your chosen glass bowl or individual glasses and make a first generous layer of biscuits or bread, then add a layer of the cranberry.
Now pipe a layer of cream on top and proceed by adding another layer of biscuits, then cranberry then cream until your bowl is full or you run out of product. Just make sure you end up with a creamy top.
Place in the fridge for a few hours or overnight so the trifle can blend nicely. Before you serve decorate how you please.
Now enjoy the sound and the feeling of diving into a trifle with your spoon.
And now a few more pictures from my trip…