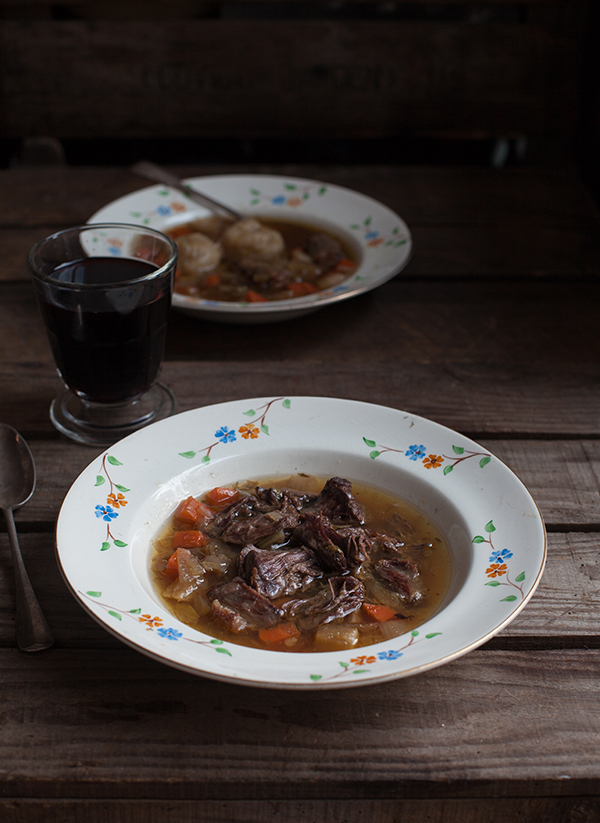 19th century Victorian England saw a rapid growth of population and urbanisation stimulated by the Industrial Revolution. The elite became more wealthy and the poor became poorer.  Eliza Acton noted in her book published in 1845, that soups or pottage was hardly eaten by the English. The poor didn't have means to heat up the dish that had sustained them for centuries, and often they didn't even have access to the ingredients to make a soup. This was an era of slum housing, starvation and disease.
Alexis Soyer, who was chef at the prestigious Reform Club and regarded by many as Britain's first celebrity chef, saw the horrendous poverty of the lower class and took it upon him to do something about it. He invented a soup kitchen and went to Ireland to give out his 'famine soup' during the Great Irish Famine in 1847. During his time in Ireland he wrote 'Soyer's Charitable Cookery' and gave the proceeds of the book to various charities.
His book, 'A Shilling Cookery for the People' was a recipe book for ordinary people who could not afford the modern kitchen utensils or large amounts of ingredients.
In it he writes about how he goes around London and sees the poor attempt to cook but can't quite manage because of a lack of knowledge. He takes it upon him to teach an old lady to cook an ox cheek in her one precious pot, over a coal fire. The old lady learns and is surprised to find out that the ox cheek is tender and that there is even enough liquid to make a soup from it.  After tasting it and approving it, she said she would teach her neighbours how to do it. Soyer, possibly very pleased about this, said to her that if she would do that, he would sent more recipes for her to learn and teach to her neighbours.
Of course the old lady was illiterate and Soyer realising that he might have sent a useless bit of paper to her, went to see her and found 'six elderly matrons and an old man holding council together', trying to make out Soyer's writings. He then read the recipes to them.
Of soup he says that he finds it is no wonder that people have abandoned this dish as the recipes in most cookery books are complicated and expensive. Many contemporary cookery writers like Mrs Beeton made notes on how to cook economically but showed their ignorance by not grasping the fact that most lower class families were lucky to have some kind of roof over their heads, so a kitchen or fire would most probably been a luxury they could only dream of.
Soyer saw that knowledge was the next big in the poor being able to feed themselves and had the dream of opening a school to teach the poor how to cook. On this notion he remarked "Some of the money spent on our new palace prisons would be much better employed for this purpose."
As my local farm doesn't offer ox cheek – although they probably would if I asked – I made Soyer's oxtail soup instead. I had been saving these oxtails – which are always sold out at the farm so quite precious – for a special occasion. Since I finished the first part of my book, I thought, let's get out the Oxtail! That's how it is with meat you buy straight from the farm, you treat it with the utmost respect and it becomes so much more valuable.
I had Soyer on my mind, because this week there is a fabulous lecture about him at the Guildhall Library in London. Sadly because of the book deadline I couldn't spear a day to head over to London to attend this lecture, but at least I have now eaten his oxtail soup.
To make this into a main dish for your supper, you can add dumplings, I give you here the recipes as adapted from Soyer's book The Modern Housewife or Menagerie.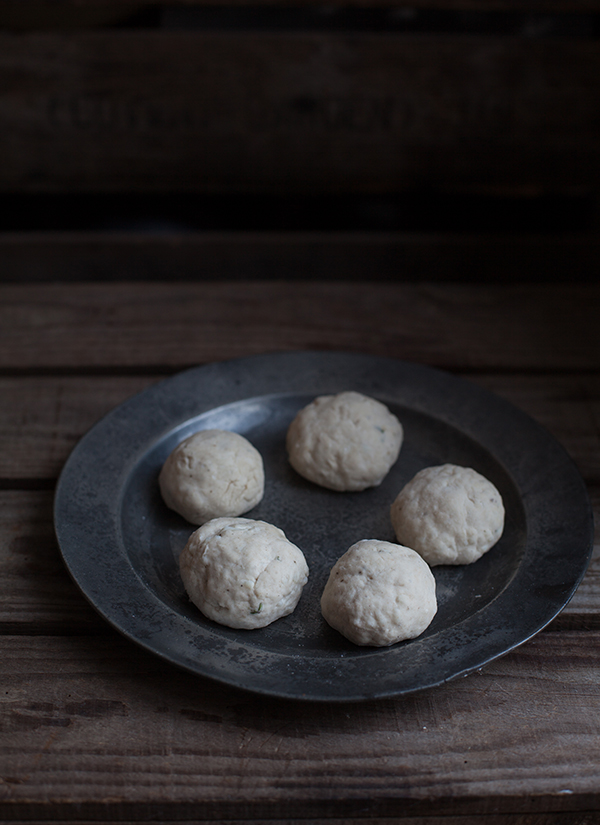 Oxtail soup with dumplings
Some might find this soup bland, this might be so for our modern palate, this dish is not laden with salt – sweet – spicy like we are so used to today. Give it a go, and try to taste. It really is lovely to have these pure flavours. And then after you've tasted it, make it again and use white wine instead of water.
1 oxtail
1 carrot
1 turnip
3 medium sized onions
1 stalk of celery
2 bay leaf
a few sprigs of thyme
a few sprigs of parsley
600ml water
1tsp of peppercorns, or about 15 corns
1tsp salt
Preheat your oven to 140°C
Cut up your vegetables in dice of around the same size; no smaller than 0,5 cm.
Add a generous know of butter to a cast iron pan and melt.
Add the vegetables, and glaze for flavour, then take them out
Add another knob of butter, wait until it is melted and gently brown the two sides of the oxtail, when the juices are starting to stick to the pan, add the vegetables and then add about 600 ml water to deglaze the pan and drown the oxtail. Make sure the meat is completely covered in water.
Now add the pepper, salt and herbs and bring to a boil, uncovered.
When the water boils, put on the lid and place in the oven for 3-4 hours, or until the meat falls from the bone and the fat is nearly all melted away.
When ready to eat, strain the soup, pull the meat off the bone and keep aside.
Now make your garnish for the soup, or use the soup as it is, without straining it – I prefer this as I like to just use the soup as it is with flavoursome mushy veg. I don't like to throw this away.
Garnish (optional)
1 carrot
1 stalk of celery
1 leek
1 turnip
Cut all these vegetables in small dice of about 0,5 cm.
Put them in a pot and pour over the strained soup, simmer for as long as it takes to cook the vegetables but make sure you don't reduce them to a mush.
Just before serving:
Place your pulled oxtail meat in a saucepan, add some of the soup and heat up.
Serve your soup with some of the pulled oxtail in each plate.
To make this a main meal
Plain Suet Dumplings (makes 8-10)
220 g plain white flour
110 g shredded suet
0,5 tsp salt, the same of pepper
150-180 ml water
optional: a tsp of thyme leaves or parsley cut finely
Combine the flour, the suet and the salt and pepper – and herbs if you are using them – in a bowl.
Make a well and start adding the water in small portions to make sure you don't use too much and the dough gets sticky. You might need all the water, you might need less than the 18ml
Use a blunt knife to do this so your hands don't get covered in sticky dough.
When the dough comes together you can use your hands to knead it into a stiff paste.
Roll into ping-pong ball sized dumplings and place on a tray.
When your meat is at its last 45 minutes of stewing, add the dumplings and allow them to stew together with the meat.
Serve together.
Enjoy