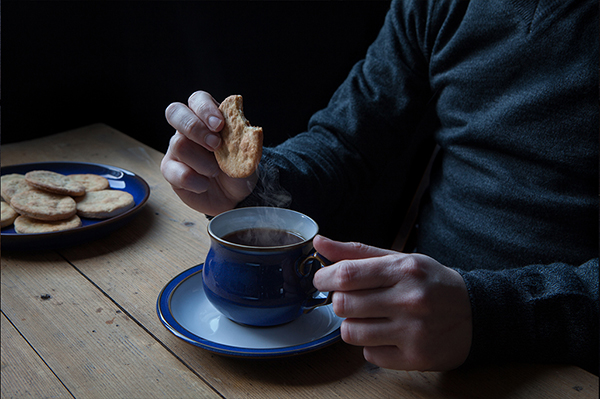 The question is… are you a Digestive or Rich Tea kind of person.
Anyone who loves to dunk a biscuit in their hot drink will have an answer for you straight away. Tea and biscuits are as essential to Britain's cultural history as the Queen, the moody skies of Turner, pudding and queuing.
FOOD52 asked me to investigate the Rich Tea biscuit, and to provide you with the recipe to enjoy this quintessentially biscuit at home.
Britain is a tea drinking nation and has been since tea was introduced in the 17th century during the reign of Charles II. Naturally biscuits would soon be dunked in the delicate porcelain teacups which were produced for those who could afford this absolute luxury.
Rich Tea's have a plain flavour which makes them ideal for dunking and getting the flavour of your hot drink soaked into the biscuit. Scientists also proved in may last year that Rich Tea biscuits are in fact the superior dunker. This because of its close texture and lower fat and sugar content. The Digestive crumbles whilst the Rich Tea snaps, and it is that snap a lot of people enjoy as part of their dunking ritual. Research showed that while the Digestive takes five second until it starts to wobble, the Rich Tea can stay in shape for a whopping 20 seconds.
Both these biscuits have a long history. The Digestive is said to have been developed by Scottish doctors in 1839 and a patent was granted in 1890, while the Rich Tea is believed to date back to 17th century Yorkshire. What they have in common is its use, not just as dunkers, they were both served in the afternoon as a sweet, yet slightly savoury biscuit to get through the last few hours until dinner.
Another pointer for the Rich Tea team came when Prince William requested a Rick Tea biscuit cake for his grooms cake at the royal wedding. 1,700 biscuits and 40 pounds of chocolate were used to create this fridge cake which is reported to be a favourite tea-time treat of the Queen herself too.
With the royals and nearly half of the British population approving them we need to give home made Rich Tea biscuits a go. They are definitely more rustic than the smooth Rich Tea's by the favoured iconic British biscuit brands, but all the same they dunk just as well. My advise is to dunk long and enjoy the soaked biscuit to the full.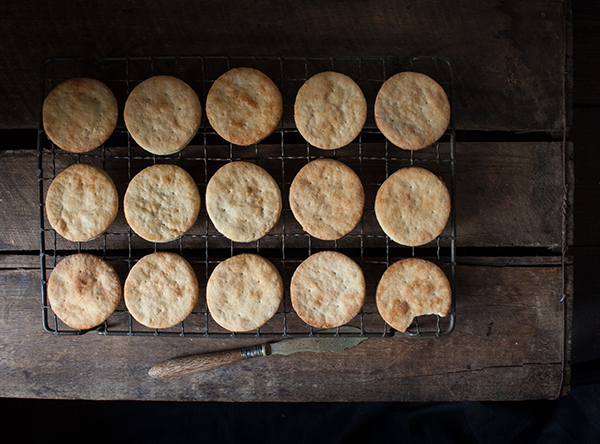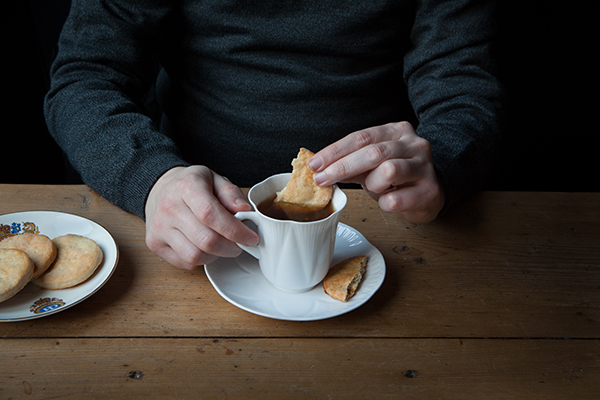 What do you need
makes 22-24 6cm wide biscuits
280 g plain white flour
1tbsp – 20 gr of baking powder
0,5 tsp – 5gr  seasalt
3 tsp – 30 gr cane sugar
65 g butter
150 ml cold milk
Method
To prepare, preheat your oven to 200°C  and line a baking sheet with parchment paper.
In a medium bowl, combine the flour, baking powder, salt, and sugar. Cut the butter into small cubes, transfer it to the bowl, and start rubbing the butter into the flour until you get a mixture that resembles coarse breadcrumbs. Pour in the milk and use your fingers to mix it together until it becomes a dough. Press and knead briefly.
Turn out the dough onto a floured surface, divide it in half to make it easier to work with, and roll out half of it as thinly as possible. (Keep in mind that the biscuits will rise and be twice the height!) Using a biscuit or cookie cutter, cut the dough into individual 6cm circles. Repeat with the other half of the dough.
Prick the biscuits all over with a fork and transfer to your lined baking sheet. Bake the biscuits until lightly golden but not brown. This should take around 10 minutes. Remove them from the oven and let them cool on a baking rack.
In the meantime…
Boil fresh water, place tea bag in your cup, pour hot water over it. Wait. Now break a Rich Tea biscuit in two, enjoy the snap, and dunk.
Enjoy.
What is your favourite tea biscuit?