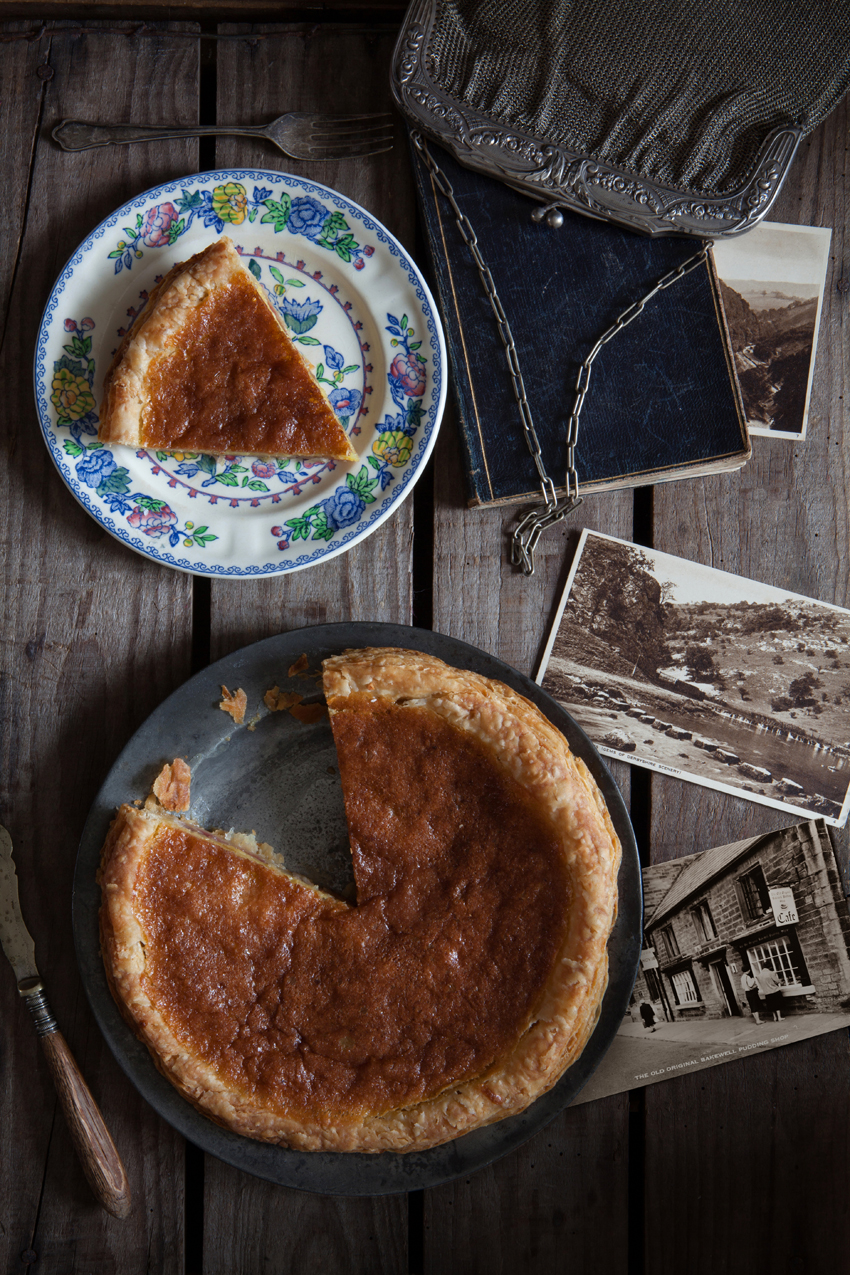 It was Bakewell tart on Great British Bake Off yesterday last week! And when Mary said this is what a Bakewell tart should look like… I had to disagree. Traditionally early Bakewell tarts did not have a topping of icing. Nor do they have that lonesome cherry which we associate with cheap shop bought mini-bakewell tarts. Mary's Bakewell tart didn't have the cherry but did have the icing with a fancy pattern. It looked the part, don't get me wrong, but if you visit the town of Bakewell you will see that proud Bakewell tart bakers clearly state that they do not add icing to their Bakewell tarts as icing is not part of the original recipe… But what is the original recipe? When does it stop or start being original? It's a tough question.
And then there's that other Bakewell bake… The Bakewell pudding!
Imagine a pub in a quintessentially English village: you enter with an appetite and the special on the menu is a pudding named after that village. You just have to try it, don't you? And so the Bakewell pudding rose to fame. Even though Wonders of the Peak, the first travel guide to the Peak District, was written by Charles Cotton in 1681, tourism reached a high in Victorian times, helped by the development of the railway and an increasing interest in geology. Victorians also came to 'take the waters' in the spa towns of Buxton, Matlock Bath and Bakewell.
Today, when visiting the Derbyshire village to which this pudding owes its name, you can't ignore the many quaint-looking bakeries claiming to present to you the one true Bakewell pudding or tart. Its heritage has intrigued me for years, so naturally when I first came to visit Bakewell, I needed to explore and also perhaps ask some questions in those Bakewell bakeries. Recipes for this type of pudding pop up in cookery books and manuscripts as early as the 1830s, but there are a number of versions of this pud and it is not clear who first linked it with the little Peak District town. Most probably it was one of the inn landlords of which the legend speaks: it is said that the pudding was invented in the White Horse Inn (now the Rutland Arms) by a waitress called Ann Wheeldon who made a mistake while preparing a pudding from the recipe book of mistress Ann Greaves. Mrs Greaves's great-great-great-grandson believes the pudding must have been created in the 1850s. This is, however, quite a few years later than other Bakewell pudding recipes and about the date of a manuscript recipe I have in my possession by a person from Oxfordshire, which is not at all in the north. This means that by the 1850s the pudding was already quite well known and so was the recipe. The Bakewell pudding also appears in American cookery books before the 1850s.
As for the Bakewell tart… it seems it is a more recent bake. If you look at how both these bakes are made, you will see that the pudding is the kind that was made for a hundred years before it became known as a Bakewell. But the Bakewell tart is truly Victorian. You can read more about the Bakewell pudding in my book Pride and Pudding of course, but I'l share with you this recipe which is a very old Bakewell pudding recipe. This is a descendant from a much older pudding and that is what makes this bake so exciting. Truly. You will never look at Bakewell pudding the same way after you've bashed some apricot kernels with rosewater for the filling.
Bakewell pudding
Makes 2 puddings in 23 cm (9 inch) shallow plates
25 g (1 oz) bitter apricot kernels
1 teaspoon rosewater
110 g (3. oz) clarified butter, melted
110 g (3. oz) raw sugar, powdered in a food processor
5 egg yolks
1 egg white
1 quantity puff pastry or rough puff (the recipe is in my book)
2 tablespoons raspberry jam
50 g (1. oz) candied lemon peel, cut into strips
over them to make the skins come off. Rinse under cold water and dry them using a clean tea towel (dish towel) to rub off the last of the skins.
Using a mortar and pestle, pound up the blanched apricot kernels with the rosewater. This will prevent the apricot kernels from producing oil and also will add a heavenly scent. Transfer to a bowl and whisk in the clarified butter and the sugar, whisking until creamy. Add the eggs and whisk to combine.
Don't be alarmed if the filling seems runny to you, it is normal.
Line a pie dish or plate with the puff pastry rolled out as thin as you can manage and spread the raspberry jam over it, leaving a 2 cm (. inch) border that will become the rim. Neatly arrange strips of candied lemon peel over the jam, then gently pour in the filling mixture.
Bake in the bottom of the oven for 15 minutes, then move to the middle of the oven and bake for 15 minutes more or until the pastry is puffed and golden brown.
Serve on its own or with fresh raspberries.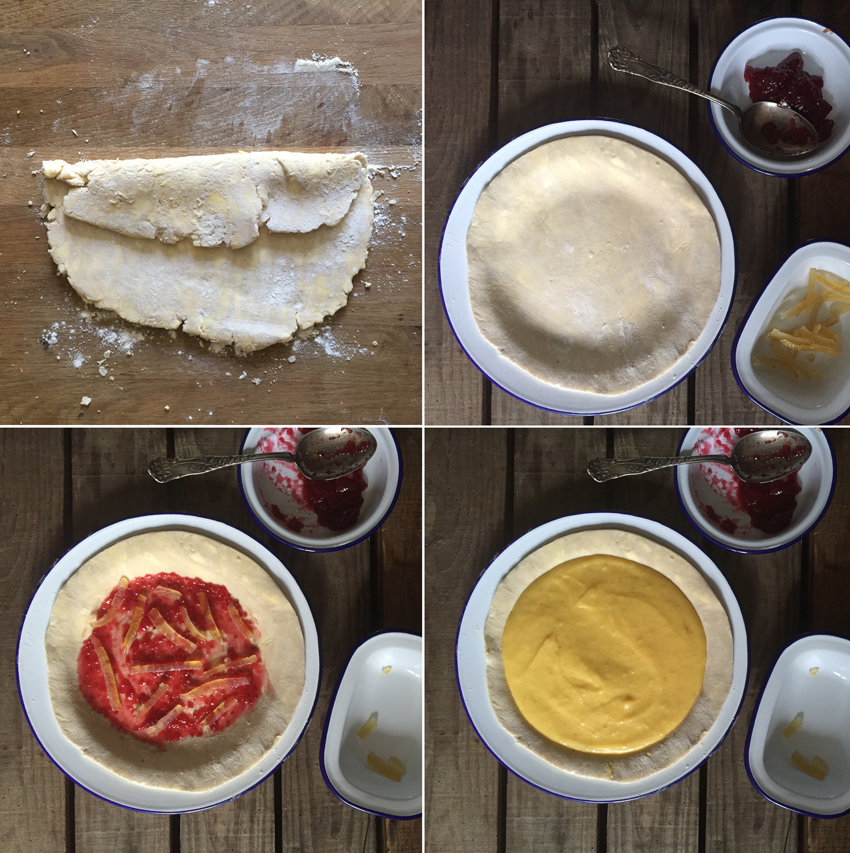 Finally, the last few spots for our Creative Gathering are up for grabs, see here for more information or get on the waiting list for the spring edition!
You might also enjoy
A friendly reminder that it is time to make Damson Cheese >
Get ready to make your plum pudding! >