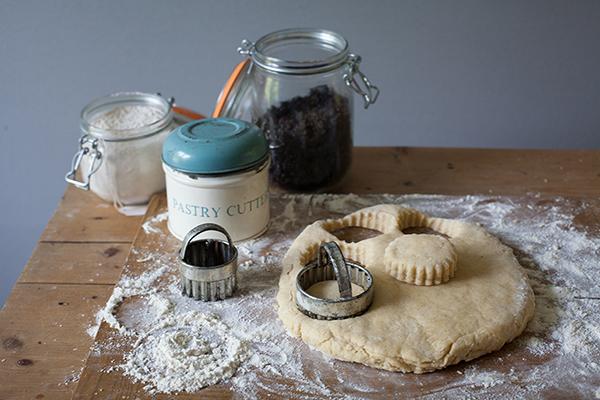 While I am wondering where summer is hiding, and rain is dripping down on my evergreen garden, it feels like the perfect time to start baking scones for tea. How else will you lock out the dreariness that comes with the looming end of joyeus long days, summer dresses and dainty shoes. There has to be tea, and something to go with it.
Tea was introduced to England by Catherine of Braganza, the Portuguese wife of Charles II, in the mid 1600s. Her dowry included a chest of tea.
It isn't certain when exactly the afternoon tea ritual was introduced. The most popular tale is that the 7th Duchess of Bedford had invented it in the 1840's to fight a 'sinking feeling' during the late afternoon. Knowing that in the 18th century people had to wait for dinner until eight o' clock after having breakfast, I would have had many sinking feelings in the afternoon as well.
The Duchess would have had a tray with tea, bread and butter in her room in the afternoon and soon she started to invite friends to have tea and refreshments with her as well.
By the 1880's it became a social event and soon the etiquette surrounding a proper teatime occasion was born.
There should be fresh water in the teapot at all times, and loose-leaf tea is believed to be best. The tea caddy should always be placed closest to the host to show that she or he is in charge. On the tea tray should be the teapot, a sugar bowl with sugar tongs or a spoon if cubes aren't used, a milk jug, a tea strainer, a bowl for the used tea leaves, a dish with lemon wedges, a lemon fork and a pitcher of hot water to dilute the tea if a guest would require it. On the tea table: teacups and saucers, forks and spoons, small cake plates, napkins – preferably linen. A plate filled with sandwiches, warm scones and small cakes. A pot of the best jam, double cream or clotted cream each with a spoon.
Then there's that other thing, 'the cream or jam first' debate, that Devon and Cornwall have been fighting over for decades. I guess it is no longer about what's proper but how one likes his scone. I like to break my scone in pieces bit by bit, then I spread on a layer of jam (and when that jam is home-made raspberry jam it can be some kind of heaven) then spoon on a generous dollop of clotted cream.
I believe a scone shouldn't be too sweet, that way you can generously spread it with cream and jam without feeling too guilty or going into a sugar coma after 1 scone.
The secret to the best risen scone is not to overwork the dough and not to turn the cutter while cutting out your scones.
This is my perfect scone recipe, I like them rough instead of soft, with a crumbly outside and a soft inside. Just like I remember my first scone and the scones I enjoy most at my favourite tea-room.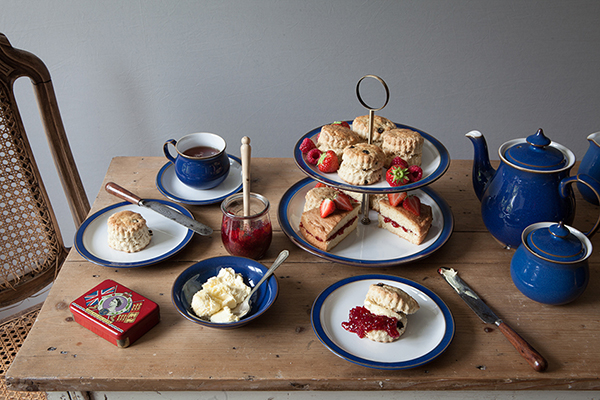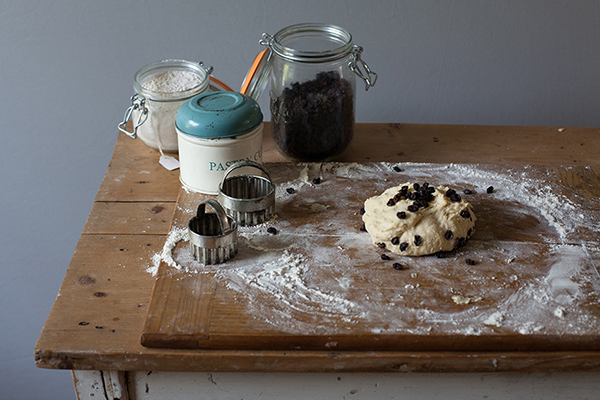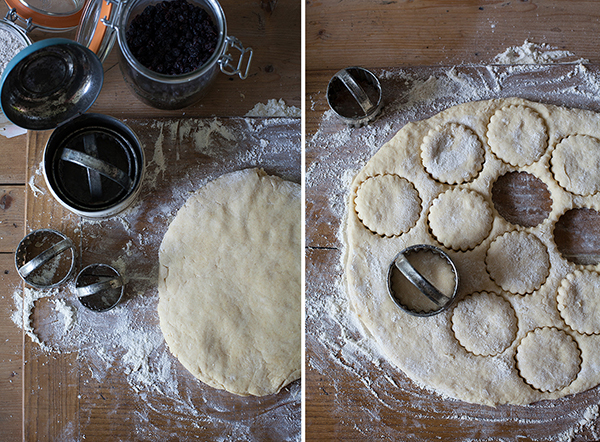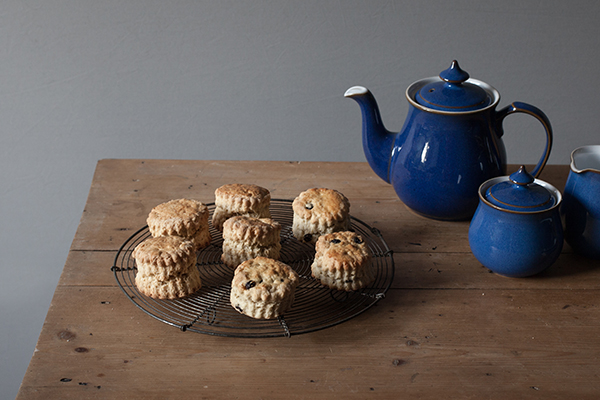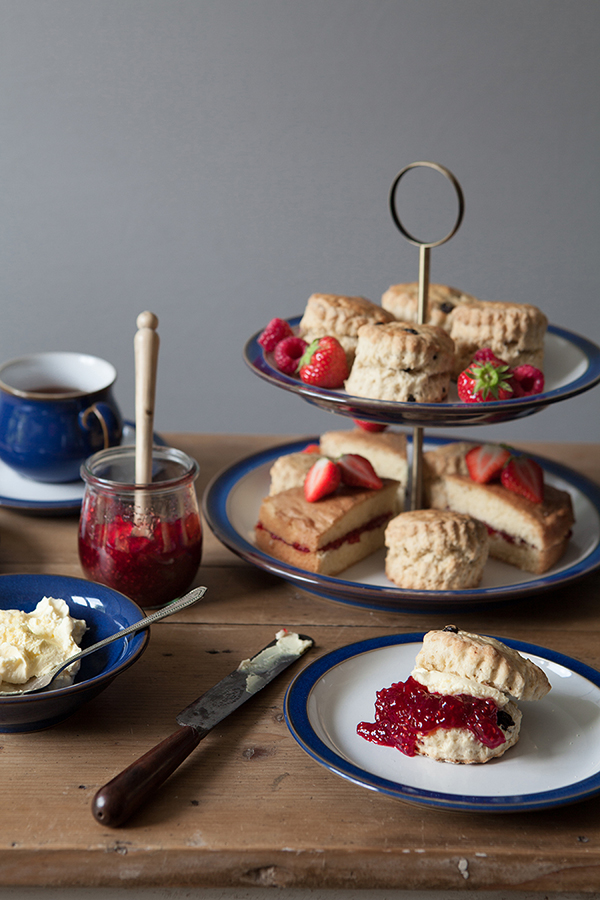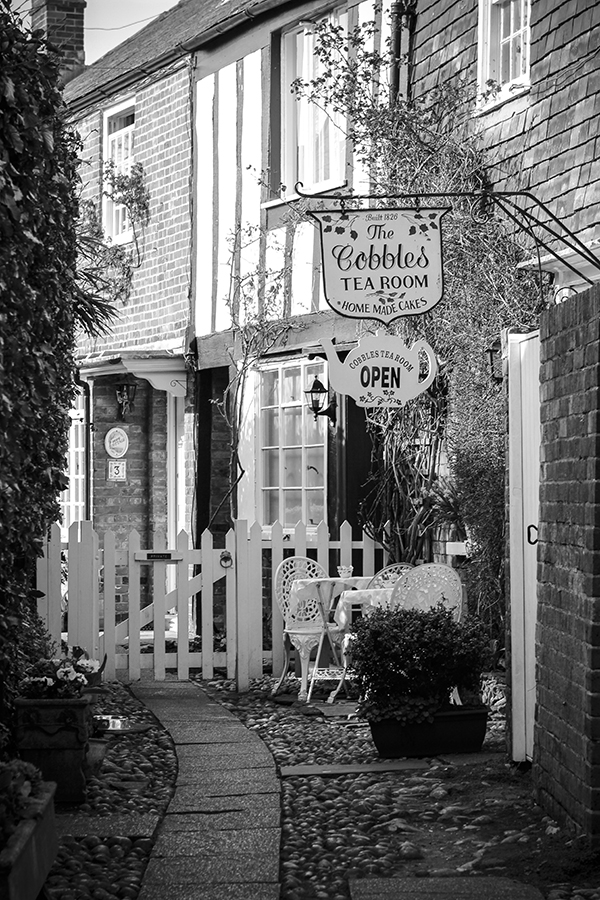 Makes 10-12 scones
450g self raising flour
150 g unsalted butter – room temperature
40 g sugar
2 medium eggs, beaten
a tiny pinch of salt
90ml milk
1 egg, for egg washing
Method
Preheat the oven to 220°C/425°F/gas mark 7
Line two  baking trays with baking parchment.
1. Put the flour into a bowl and add the butter and rub it in until the mixture resembles breadcrumbs.
2. Stir in the sugar.
3. Add the egg and gradually add the milk stirring it in until you have a soft, slightly sticky dough.
4. Turn the dough out on to a generously floured working surface and gently knead it for a minute until it ceases to be sticky but still soft.
5. Now flatten it to a thickness of 2cm. It is better to do this with your hands as opposed to a rolling pin, this will help the scones rise better.
6. Use a 5cm (or use a larger one for larger scones) cookie cutter to stamp out the scones by pushing it straight down into the dough without turning it, then lift it straight out. This will provide a better and more even rise as well.
7. Push the leftover dough together and knead lightly, add currants if you like and flatten again and cut out more scones.
8. Arrange the scones on your prepared baking tray and brush the tops with beaten egg.
9. Bake for 10 to 15 minutes in the middle of your oven until risen and golden.
10. When ready transfer to a wire rack to cool. When cooled, cover them with a tea towel to keep them nice and moist.
Serve warm, reheated in a warm oven, or cold, with clotted cream or whipped double cream and the best raspberry jam you can find or freshly crushed raspberries …
You can freeze scones perfectly, just defrost the evening before in the fridge and warm as suggested above before serving.
Part of this article first appeared on the Denby UK Blog 10/08/15
Enjoy!
You might also like
EDITED
While moving my blog the comments on my last few posts got lost, I'm so sorry if you are looking for your comment and it isn't there. I'm really sad about losing our conversations!